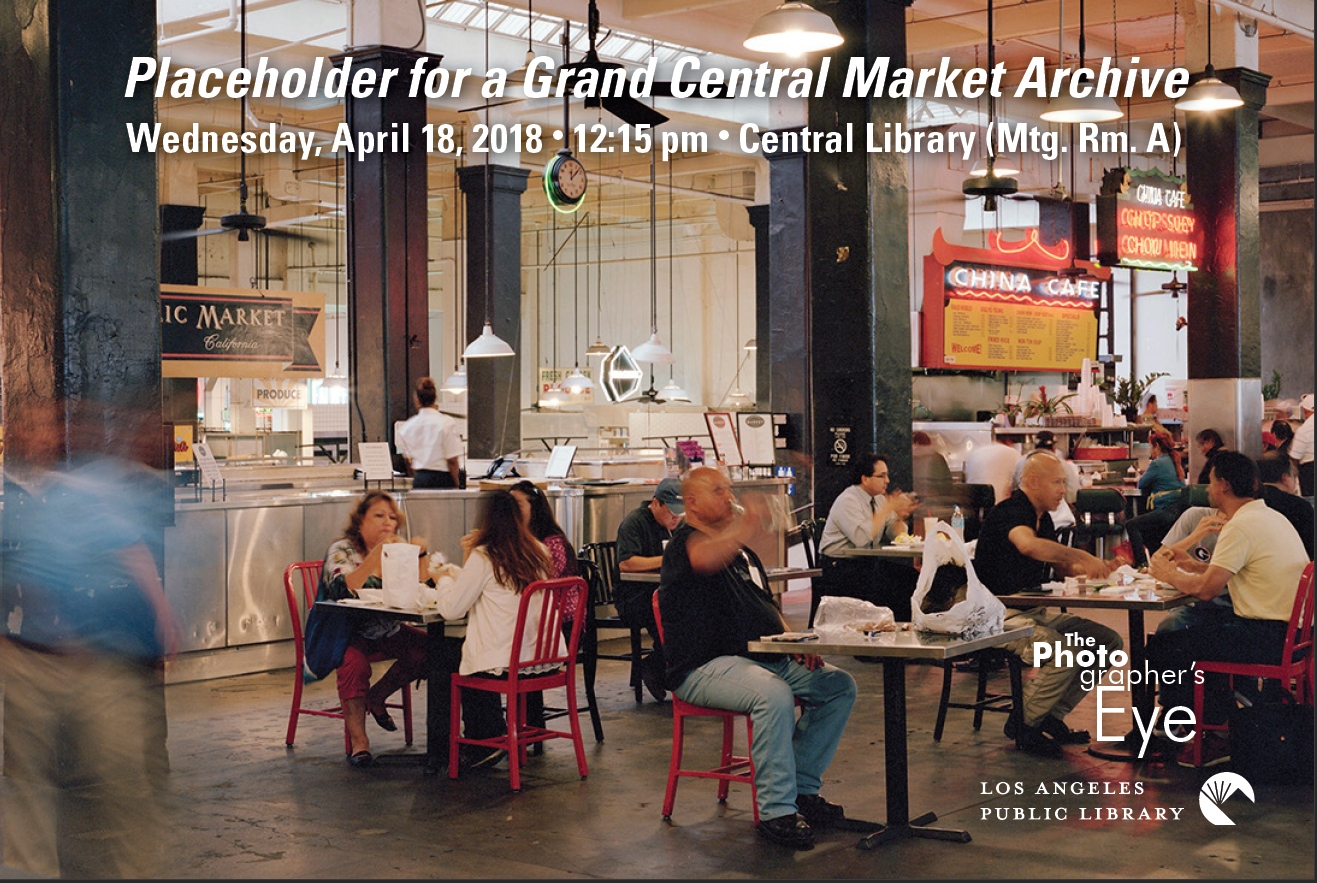 Photographer's Eye: Placeholder for a Grand Central Market Archive
Wednesday, April 18, 2018
12:15pm
Central Library, Meeting Room A
Reservations not required. Doors open at approximately 15 minutes before the start of the program.
Fiona Connor set up a large format Toyo View camera in the middle of Grand Central Market, a bustling culinary bazaar in downtown Los Angeles whose rapid makeover in recent years has been the source of cheerleading as well as anger over the changing nature of the city's urban core. Opened in the late 1800s, Grand Central was long seen as a celebration of the city's melting-pot character. Immigrants from Michoacan served up carnitas near stands that hawked cheap bowls of Hong Kong-style wonton soup. It was a place for everybody, and anybody, or so goes the narrative of those opposed to its recent evolution.
As city leaders have pushed for a downtown L.A. "renaissance," with historic buildings transformed into stylish lofts and skid row's homeless population pushed farther and farther to the margins, Grand Central has transformed, too. In just a few years, dozens of food stalls were pushed out as new ones serving up oysters and craft beer to the neighborhood's growing class of young professionals moved in.
Over the course of 12 months, Connor documented this change in a work titled "Placeholder for a Grand Central Market Archive." Once a month, she returned to the exact same spot at lunchtime and took a single photograph. The result is an edition of 12 sets of 8×10 prints that are a telling record of the market's evolution. From one photo to the next, paint-cracked pillars change suddenly from black to white. A construction wall goes up. When it comes down, a brand new stall has been erected, an upscale bar opened by a pair of Hollywood restauranteurs that offers a collection of upscale wines as well as chicharones, fried pork rinds are a nod to the market's not-so-distant past.
Connor's prints will become part of the photo collection at the Los Angeles Public Library, joining other historical images of Grand Central Market for the public to use. The edition is designed so it can be seamlessly added to the collection, which is housed at Central Library downtown.
For her talk she will discuss this project and other examples where she has worked with existing archives.
Fiona Connor is a New Zealander born in 1981, currently living and practicing her art in Los Angeles. She received a degree in Fine Arts and History from the University of Auckland, and she earned her Masters in Fine Arts at California Institute of the Arts. Connor's work uses strategies of repetition to produce objects that interrogate their own form by engaging different histories embedded within our built environment. For her, fabrication is a form of research. Her work was recognized in New Zealand when she was shortlisted in 2010 as one of four finalists for the bi-annual Walter's Prize for contemporary art. Her installations are held by the Auckland City Art Gallery, The Dowse Gallery, the Te Papa in Wellington, the Christchurch Art Gallery, and the Hammer Museum in Los Angeles. During the past eight years since being resident in Los Angeles Connor has devoted her energies both locally and across a global spread with exhibitions in New York, Barcelona, Basel, Istanbul, Sydney and Auckland. Connor's artistic career has displayed a consistent attraction to working in a collaborative way and fluidly between curating, facilitating and object making. An example being the Newspaper Reading Club founded in 2011, and the conversion of her own Los Angeles apartment over 12 months into a gallery titled Laurel Doody in 2016.
Sponsored by Photo Friends. Presented by the Los Angeles Public Library Photo Collection.