Valley Times Collection Project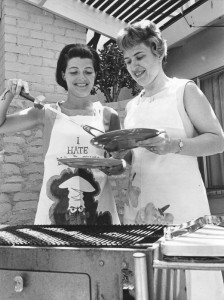 Published daily from 1946 – 1970 and featuring innovative photo spreads unlike any other paper in the region, the Valley Times produced a pictorial treasure trove of the San Fernando Valley's history during its most dynamic period of growth.
In 2013, LAPL launched a five-year plan to digitize 45,000 images from the Valley Times Collection and make them accessible through the LAPL website.
For more information, visit valleytimes.org.
Shades of L.A. and Shades of California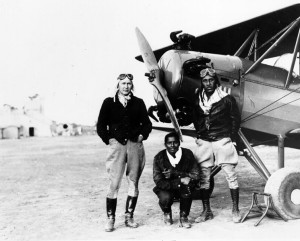 This archive of 10,000 photographs reflects the rich diversity of families in Los Angeles. Working directly with people from all areas and backgrounds, we selected and reproduced images from family photo albums. The photos convey the broad experience of Angelenos — daily life, social organizations, work, personal and holiday celebrations, and political action.
Approximately 7,000 of these images are now available online at lapl.org (Photo Collection).
The project was launched in 1991 as "Shades of L.A.: A Search for Visual Ethnic History." The six-year project involved copying photographs from family albums throughout Los Angeles, broadening the Collection's representation of ethnicities in the city. Exhibits were displayed at the Central Library and several branch libraries throughout the city, and a companion book, Shades of L.A.: Pictures from Ethnic Family Albums, was published by The New Press.
The "Shades of L. A." archive at the Los Angeles Public Library represents a wide range of Los Angeles families — including African Americans, Asian Americans, Mexican Americans and other Latinos, urban American Indians, Jews, Armenians, families of Middle Eastern descent (including Arabs, Israelis, Turks, and Iranians), families of European descent, people of mixed race and ethnicity, and people who do not identify with any ethnic group.
In 1997, "Shades of California" was created. It was modeled on the Los Angeles Public Library's "Shades of L. A." Sponsored by the California State Library and with assistance from the L.A.P.L. Photo Friends, "Shades of California" held photo days at public libraries throughout the state where people were invited to share their family albums. The host libraries archived the images copied from the albums and sent an additional set to the California State Library. This project model is still being used today by libraries throughout the nation!
The "Shades" projects have been featured on KCET. In 2003, Huell Howser, who originally suggested that "Shades of L. A." be expanded throughout the state, produced an hour-long "Shades of California" program, based on a photo day in the L. A. neighborhood of Cypress Park.
A number of oral histories from the project are available on the LAPL website. Read Shades of L.A. Oral Histories >
L.A. Neighborhoods Project
Beginning in 1996, Photo Friends supported the L.A. Neignborhoods project by commissioning photographers to create a visual record of the neighborhoods of Los Angeles during the early part of the 21st century.
Initial funding of the project was provided by a grant from the Ralph M. Parsons Foundation through the Library Foundation of Los Angeles. Documentary photographs collected from this project are now part of the Library's Photograph Collection.
Industrial L.A. Project
The Library's Photograph Collection contains thousands of photographs documenting the history of industry in Los Angeles.
To ensure that the Library's Collection will continue to reflect such an important part of Los Angeles's history, a generous grant enabled Photo Friends to hire five contemporary photographers out to document present-day industrial L.A. These images have become part of LAPL's permanent collection and are available through the Library's Photo Collection Database at lapl.org.