L.A. in Focus
L.A. in Focus is a free series of lectures presented by Photo Friends and the Photo Collection of the Los Angeles Public Library, healing spotlighting images from the Library's collection and unique stories of L.A. history.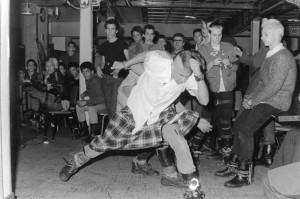 Held about six times a year, the lectures address different photographers and other themes, with special guests sharing expert insights on images from the collection. Past topics include the architecture of John Parkinson, industrial aerial photography, Jean Harlow in Hollywood, and a panel of past photographers from the Herald-Examiner.
Videos of past L.A. in Focus programs are available on the LAPL website. Watch videos of past programs >
The series is generously sponsored by Stephen and Christy McAvoy.
Photographer's Eye
Also a free lecture series, Photographer's Eye features Los Angeles photographers discussing their work. Topics run the gamut from rock and roll to the Olympics and much, much more.
These lunchtime lectures take place during the week in an informal, brown-bag setting.
This series is also generously sponsored by Stephen and Christy McAvoy.