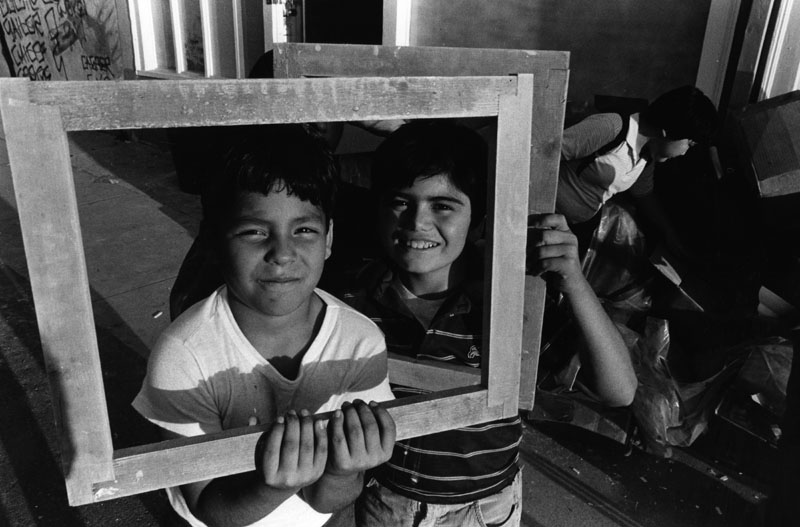 Photos capture, convey, reflect, inspire, document, hide, reveal — who we are, how we got here, what makes us human.
The Los Angeles Public Library (LAPL) has an extraordinary collection of millions of photographs that tell the countless stories of this great city and its people.
The Library's Photo Collection focuses on the history of Los Angeles and dates from the 1880s to the present. It includes images from the historic Security Pacific National Bank collection and the photo morgues of the Los Angeles Herald Examiner and Valley Times newspapers. Over 135,000 photos are available on the Library's website, along with instructions for ordering, and a list of reproduction and usage fees.
Formed in 1990, Photo Friends is a nonprofit organization that supports the Los Angeles Public Library's Photograph Collection and History & Genealogy Department. Our mission is to improve access to the collections and promote them through programs, projects, and exhibits.
We're an enthusiastic group of photographers, writers, historians, business people, politicians, academics, and many others, all bonded by our passion for photography, history, and Los Angeles. Join us!
Photo Friends Board of Directors
Amy Inouye, President of Photo Friends, is a graphic designer specializing in books about Los Angeles. She is "mom" to Chicken Boy, the Statue of Liberty of Los Angeles.
Kim Creighton is a librarian and cataloger at Woodbury University.  A Southern California native with a professional background in archives and local history, she wrote Mt. Baldy, published by Arcadia Publishing, in 2008.
David Davis  is an award-winning journalist and author of four books: Waterman: The Life and Times of Duke Kahanamoku; Showdown at Shepherd's Bush: The 1908 Olympic Marathon and the Three Runners Who Launched a Sporting Craze; Play By Play: Los Angeles Sports Photography: 1889-1989; and One Golden Moment: The 1984 Olympics Through the Photographic Lens of the Los Angeles Herald Examiner; and one eBook: Marathon Crasher: The Life and Times of Merry Lepper, the First American Woman to Run a Marathon. His work has appeared in Sports Illustrated, Smithsonian Magazine, the New York Times, the Wall Street Journal, Vice, and Deadspin; his writing has been anthologized in "The Best American Sports Writing" series. He lives in Los Angeles.
Lynell George a journalist and essayist based in Los Angeles, telling the city's story one sentence at a time. Her latest book "A Handful of Earth, A Handful of Sky: The World of Octavia E. Butler"— a Hugo Award finalist — traces the California-born writer's early formation, through an assemblage of objects drawn from her personal archive.
Kathy Kobayashi is a third-generation Japanese American from Texas who has lived in Southern California for almost 40 years. With a background in American social history, she has been a historical consultant with a particular interest in Los Angeles. She was project historian for the Shades of L. A. project, co-author (with Carolyn Kozo Cole) of the Shades of L. A. book, and co-chair of the L. A. Neighborhoods project.
Dennis Kopp is a New Jersey native who has lived in Los Angeles for the past 40 years. A graduate of Pepperdine University, Dennis has been an executive for multimedia, entertainment, and educational software companies.
J. Eric Lynxwiler is a Southern California native and the co-author of Wilshire Boulevard: Grand Concourse of Los Angeles and Knott's Preserved: From Boysenberry to Theme Park, the History of Knott's Berry Farm. His most recent books are neon-based photo essays — Spectacular Illumination: Neon Los Angeles, 1925–1965 and the Los Angeles Public Library's Signs of Life: Los Angeles is the City of Neon. As an urban anthropologist, he leads tours for the Art Deco Society of Los Angeles and guides the Museum of Neon Art's nighttime Neon Cruises.
Glynn Martin is a Southern California native and a graduate of USC who spent more than 30 years in and around the LAPD, including 11 years as the executive director of the LAPD Museum. Glynn has discussed LA crime on a variety of television shows, including multiple episodes of Mysteries at the Museum and A Crime to Remember.  Glynn collaborated on the bestseller, LAPD '53, with acclaimed author James Ellroy.
Cindy Olnick is communications director for the Los Angeles Conservancy, a historic preservation organization serving all of L.A. County. She has written about preservation for publications including Looking at Los Angeles, CA-Modern, and LA Architect.
Joan Renner is a social historian and writer with a particular interest in crime. She is currently organizing a collection of Daily Bulletins for the Los Angeles Police Historical Society. She is a guide for Esotouric, a company specializing in off-beat tours of Los Angeles. In 2010 she will appear in the Turner Classic Movies "Film Fanatics" series, and in the ID Discovery Channel's series "Deadly Women."
Tom Zimmerman is a photographer and Los Angeles native. His photography and prose have been widely published, and his work resides in a number of permanent museum collections. His books include Paradise Promoted: The Selling of Los Angeles 1870-1930, A Day in the Season of the Los Angeles Dodgers, and Wednesday at the Pier.
Library Liaison, Christina Rice, is the Senior Librarian of the Los Angeles Public Library Photo Collection. She holds a Bachelor of Arts in Communications from California State University, Fullerton and a Master of Library and Information Science from San Jose State University. She is the author of Mean…Moody…Magnificent! Jane Russell and the Marketing of a Hollywood Legend (University Press of Kentucky, 2021), Ann Dvorak: Hollywood's Forgotten Rebel (University Press of Kentucky, 2013) and multiple issues of the My Little Pony comic book series (IDW Publishing).