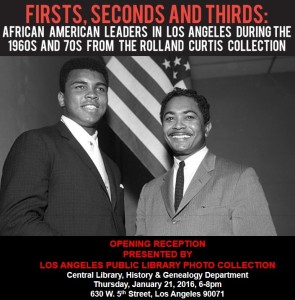 Firsts, Seconds and Thirds: African American Leaders in Los Angeles During the 1960s &70s from the Rolland Curtis Collection
Civil Rights took shape in 1960s Los Angeles as African Americans broke color barriers and began to occupy positions in government. Progress during this time extended past politics, to the realm of entertainment, commerce, public service and activism. It is in the midst of this exciting time that Rolland J. Curtis took thousands of photographs while serving as a Field Deputy for Council Members Billy Mills and Tom Bradley.
Curtis' images provide a unique view of the African American experience in South Los Angeles during this time. This exhibit presents a sampling of the city's black leaders of the period. Some famous, some forgotten, these individuals were true trailblazers: the first, second, or third African Americans in the history of Los Angeles to accomplish their feats.
Made possible through a grant from the John Randolph Haynes and Dora Haynes Foundation.
This event presented by the Los Angeles Public Library Photo Collection and sponsored by Photo Friends.
Firsts, Seconds and Thirds: African American Leaders in Los Angeles from the 1960s and '70s from the Rolland J. Curtis Collection