On Friday, March 10, 1933, in the depth of the Great Depression, the Southland experienced a major earthquake, centered off of Long Beach. While named for that city, the event, and the many aftershocks, affected the entire Los Angeles basin and was felt as far south as Tijuana. Some 120 persons were killed (the exact number is disputed*): about half in Long Beach proper and the rest in communities including Compton, Cerritos, and Huntington Beach. Serious property damage occurred throughout the region, including in Los Angeles City itself.
A young seismologist named Charles F. Richter counted seven aftershocks of "marked intensity." Richter went on to tell the United Press: "Thereafter a series of continuous quakes began. They were too frequent to be correctly tabulated. I should estimate them at from 100 to 200 up to noon Saturday." (Quoted in Seattle Times,  "12Towns….") Two years following the event, Richter developed his famous scale which rated the initial 1933 earthquake at 6.4.
Residents and newspapers photographers documented the devastation and the recovery efforts. In this photo essay, we will focus on immediate aid efforts and the resilience of the citizenry.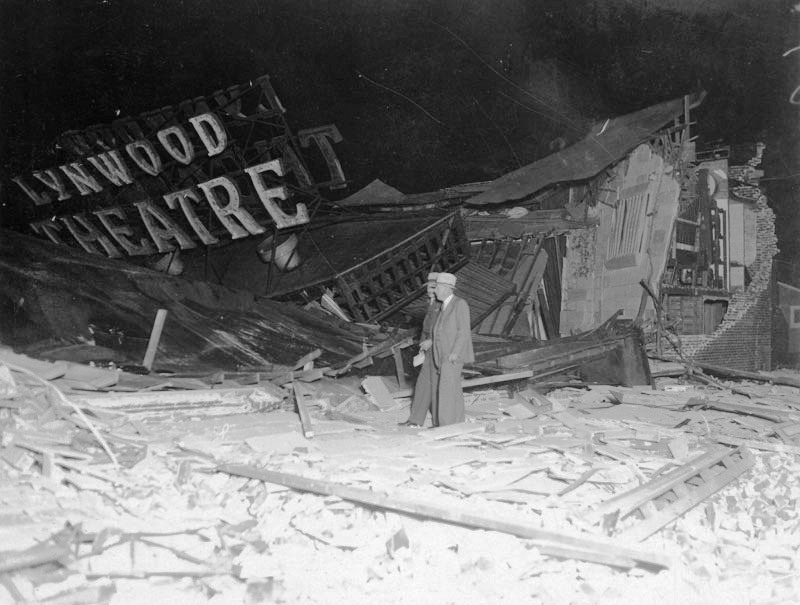 Security Pacific National Bank Collection, Image #00058879
The earthquake caused widespread devastation, collapsing many buildings, including 70 schools and public buildings such as the Lynwood Theater. Another 50 schools and many other buildings sustained serious damage. Fortunately, the quake occurred at the dinner hour, after school had recessed for the day. Had it happened earlier, the death toll would have been much higher and much younger!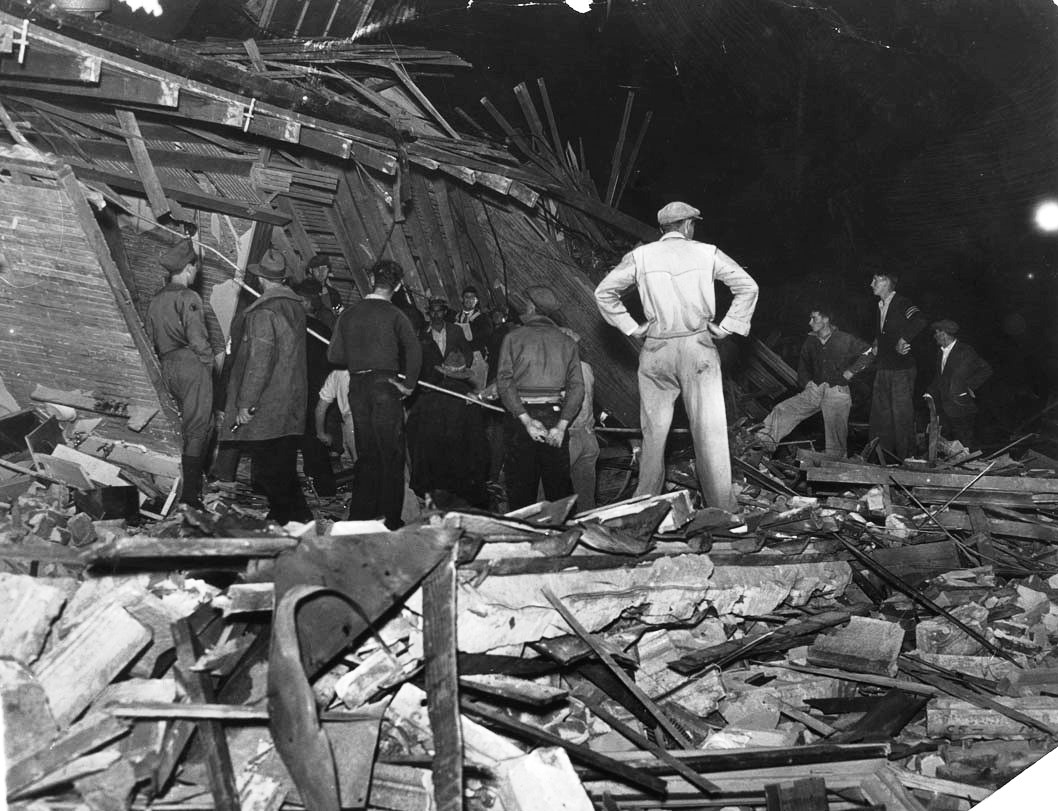 Herald Examiner Collection, #00047523
Rescuers pause to listen for victims who may be trapped in the wreckage of the Stockwell Building in Compton, March 11, 1933. Compton suffered extensive destruction in its core commercial district.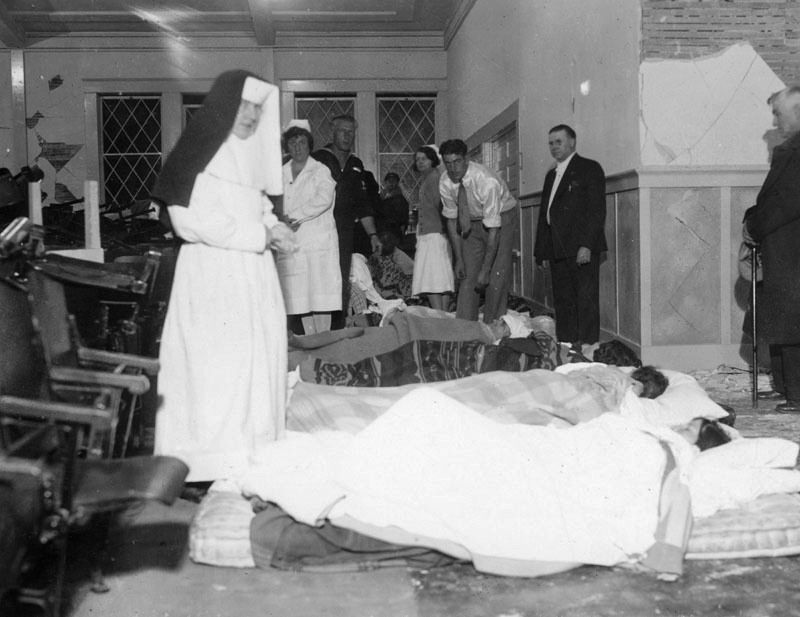 Security Pacific National Bank Collection, #00058878
Medical personnel, including Catholic sisters and staff from U.S. Navy ships at San Pedro were called in to help with the wounded. With hospitals damaged, the wounded were brought to churches, parking lots, and other locations. Another photo, not shown here, shows covered bodies on mattresses behind Seaside Hospital (Herald-Examiner Collection, Image #00057404).
Many were injured or killed by falling bricks in the streets.
Making Shift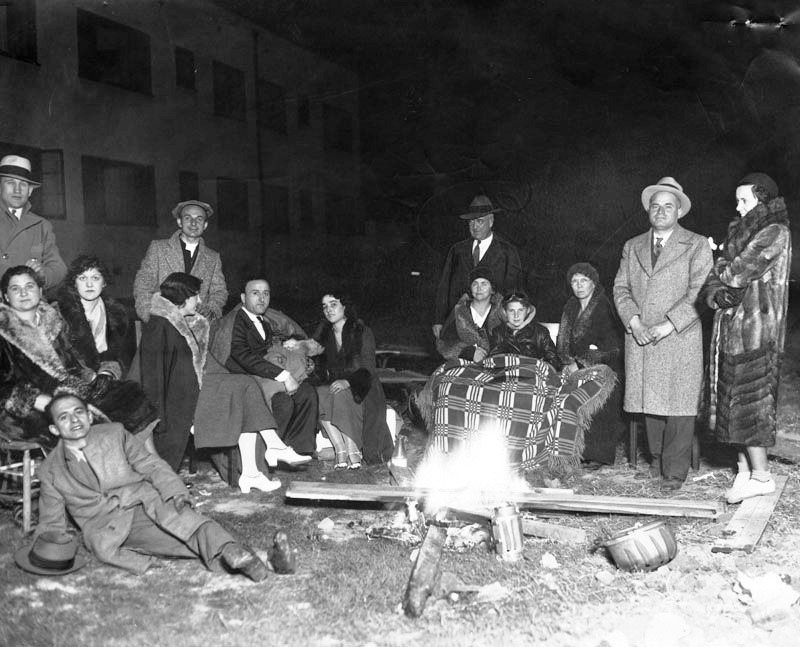 Herald Examiner Collection, Image #00057405
In the days following the quake, and with after-shocks coming thick and fast, most families in the quake zone chose to camp outdoors, either in parks or in their own yards. The Long  Beach area was dotted with small fires such as this one. The caption accompanying this photo in the Herald Examiner read: "Through the night of the March 10 earthquake, thousands of men, women and children sat up beside bonfires in vacant lots and yards as they feared to enter their homes lest there be further temblors."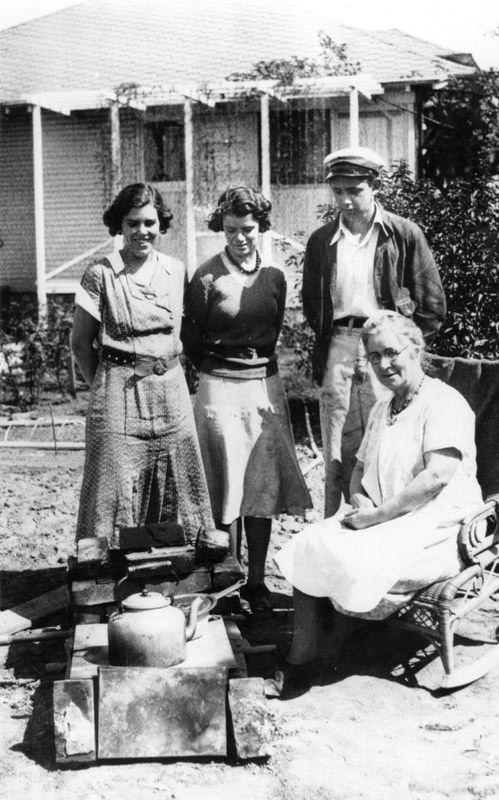 Security Pacific National Bank Collection, Image #00020435
This family in Compton has set up a makeshift camp stove in their yard. The quake took out electric power and officials shut off gas, likely preventing further disasters.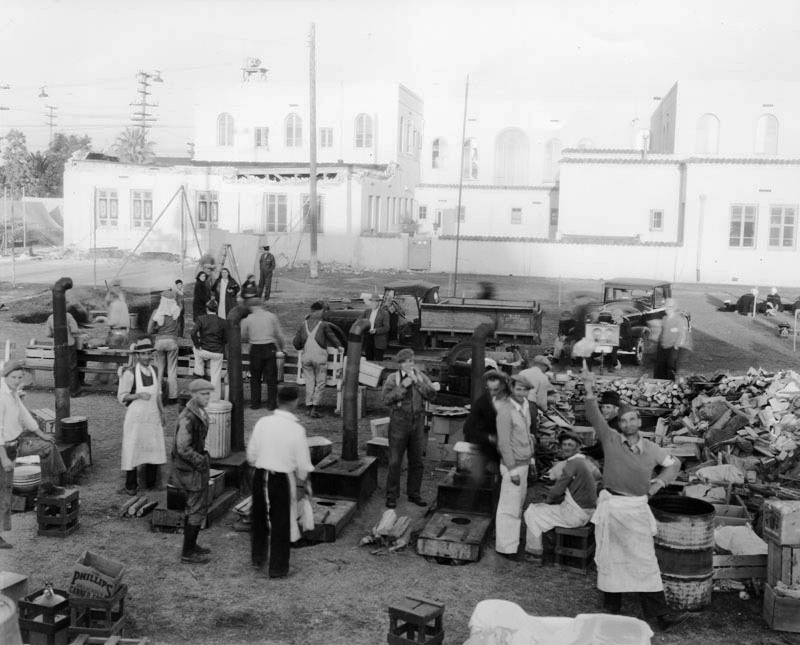 Security Pacific National Bank Collection, Image #00020448
There's a lot going on in this photo, including several makeshift stoves with fuel at the ready. The men in charge may be running a pop-up business, catering to those without means to heat food.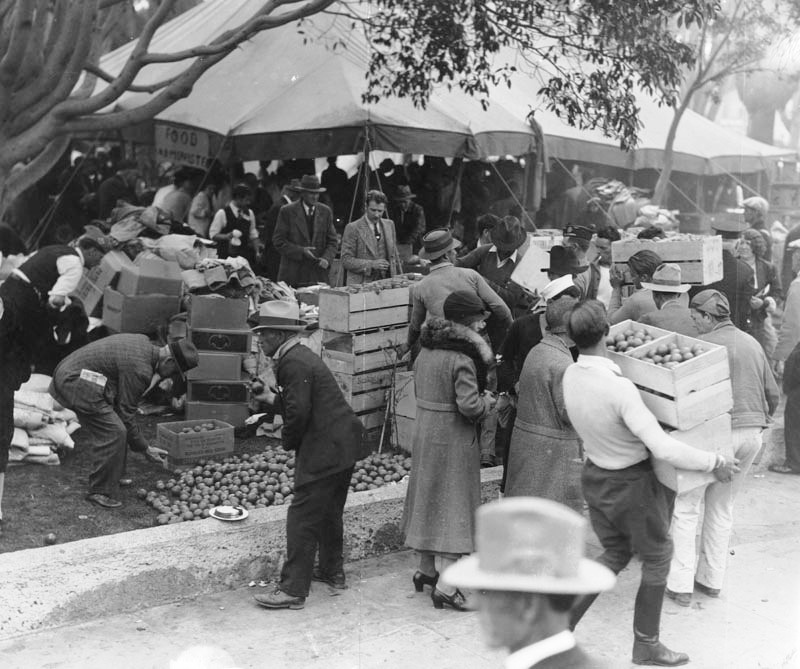 Herald Examiner Collection, Image #00084131
The Community Pulls Together
It takes a community to recover from a disaster. The Herald-Examiner's caption for the above photo, dated March 14, 1933, read "All Southern California opened its heart and sent food and medicine to the homeless and injured. Volunteer workers are shown carrying boxes of supplies prepared by sympathetic Angelenos."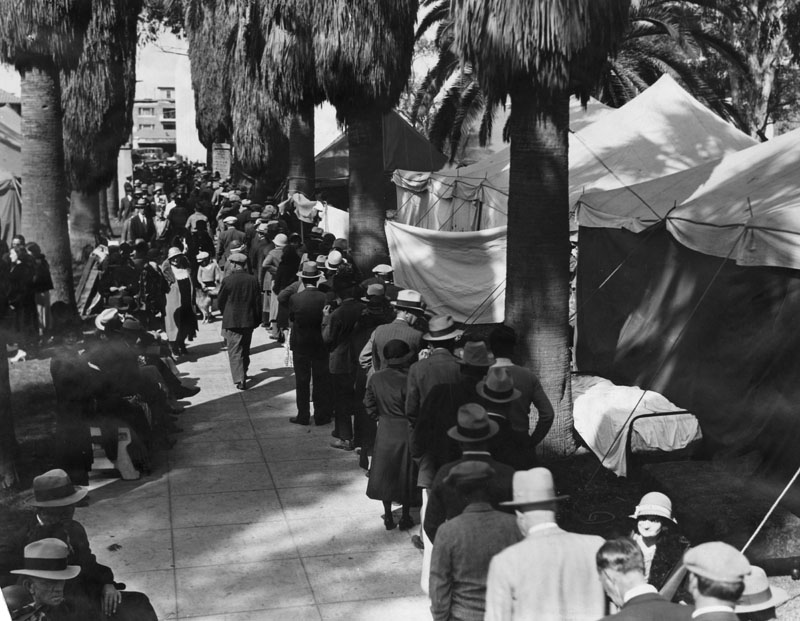 Photo by "Crory," Herald Examiner Collection, Image #00057407
Residents line up for food and other assistance at Lincoln Park, close by Long Beach City Hall, March 12, 1933, two days after the quake. The Red Cross and Salvation Army set up first aid tents and feeding stations. Long Beach city officials trucked in fresh water. Some restaurants offered what they had on hand at no charge.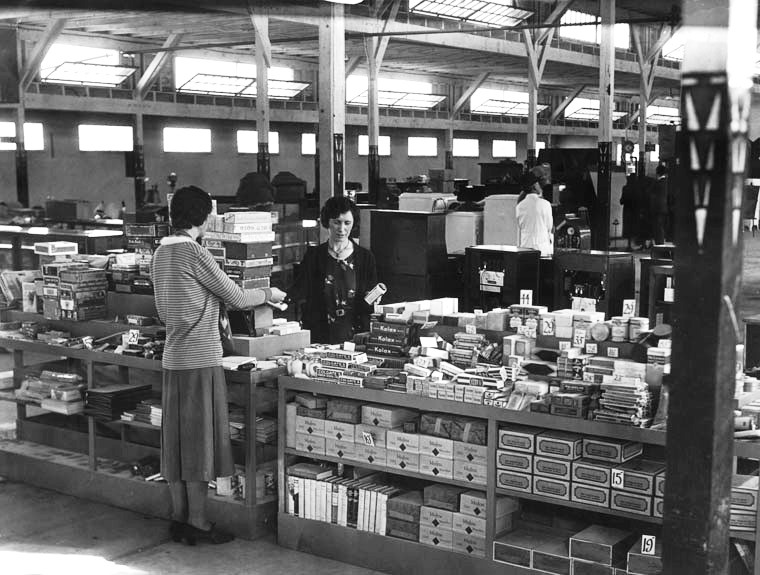 Herald-Examiner Collection, Image #00047510
Commerce must go on. With most stores and businesses at least temporarily uninhabitable, merchants took to the streets to sell their wares. In Compton they were allowed to set up within an undamaged structure — the Oil Exposition building — where they arranged themselves in the same order as their main street shops.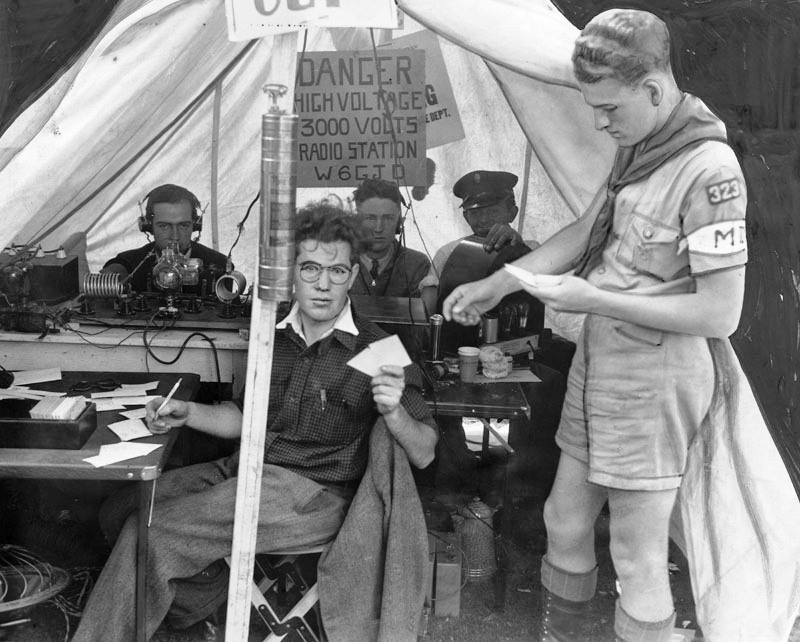 Frank Bentley, photographer, Herald Examiner Collection, Image #00057399
With power and telephone poles down throughout the region, communication with the outside world was difficult. Ham radio stations were credited with offering the only reliable communication for the first week following the cataclysm. According to some, the first word of the disaster came from a boy's ham radio station ten minutes after the initial quake. Here, amateur radio enthusiasts, assisted by the Boy Scouts, offer the services of their short-wave radio station. Survivors were able to send messages to anxious loved ones via wireless technology. Press services also availed themselves of on-the-ground reports transmitted via short-wave. With the region under virtual martial law for a number of days, reporters had a difficult time gaining access to the quake zone.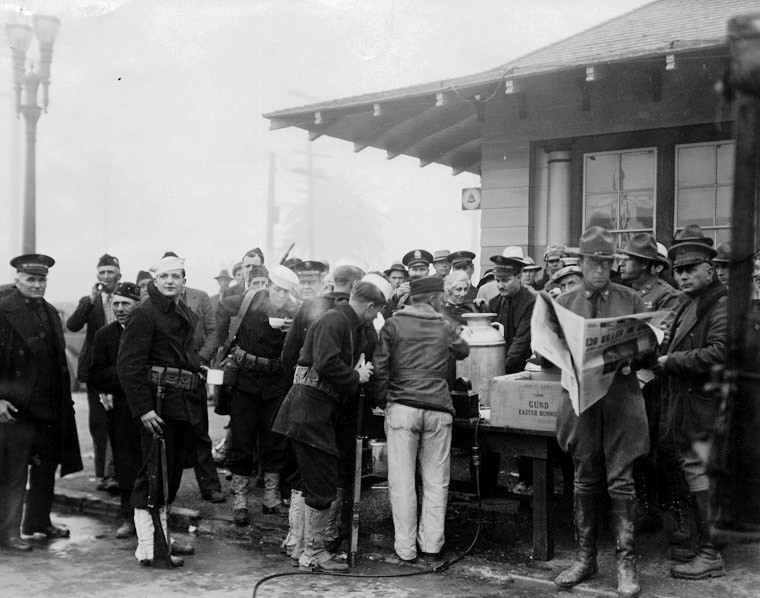 Herald Examiner Collection, Image #00034804
Military personnel called out to assist with the recovery efforts take advantage of coffee and donuts provided by the Salvation Army in Compton. The soldier at right is reading an "EXTRA" addition of the paper with the headline "120 Killed in Quake." Curiously, the number is fairly accurate.
If not for the newspaper, one might be led to believe this was a photo from World War I. The sailors, referred to in the press as "bluejackets," carried bayonets while patrolling disaster-stricken streets.
Some of the men pictured appear to be members of the American Legion. The Disaster Relief Committee of the American Legion stepped up to the challenge , distributing supplies and patrolling streets. An interesting press item, copied from a March 16 letter of the American Legion post in Long Beach to his fellow commanders, offers a glimpse at the state of things five days following the quake:
Dear Comrade Commander:

Pay no attention to radio broadcasts, either commercial or amateur, requests for food until broadcast by Colonel A. C. Wyman or Ole Olson. Clothing of all kinds needed, especially men's shoes. Send to Compton or Long Beach American Legion. Fraternally yours, L.F. Olson, acting disaster relief chairman, The American Legion, Department of California (Coronado Eagle and Journal, March 21, 1933)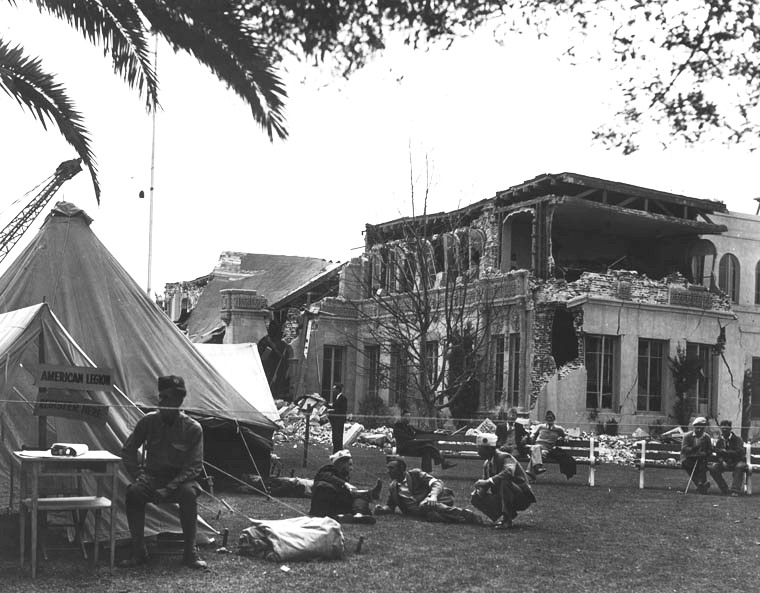 American Legion relief station adjacent to the ruins of Compton City Hall, March 13, 1933. Herald Examiner Collection, Image #00047508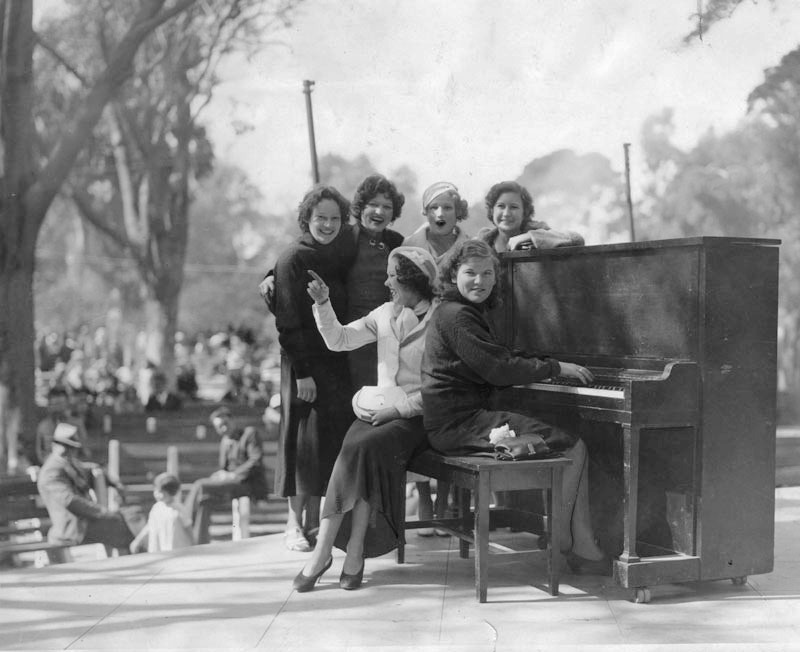 Herald Examiner Collection, Image #00084132
Four days after the quake, with most folks still camped out in parks and on golf courses, boredom became an issue. These young women attempt to alleviate the problem with the aid of the old upright at Long Beach's Bixby Park.
Finding Fault?
Thanks to its location within a major metropolitan area, and with access to trained emergency response and federal assistance, recovery from the Long  Beach earthquake was relatively rapid. Within two weeks most families were able to return to their homes. Lessons were learned. Many who had believed Southern California immune from big earthquakes found out otherwise. The need for construction standards and the risks of building on landfill became apparent. A month following the disaster, the state legislature passed the Field Act, mandating state-approved standards for school-building.
At this writing, fall of 2016, a new geological report suggests that the 1933 earthquake and others of the same era and location may have been caused by indiscriminate oil drilling in Huntington Beach and the resulting effects on soil and fault lines. The past never stays dead and buried.
*Early on, the United Press reported that 151 persons had died in the immediate aftermath of the quake.
Selected sources:
"12 Towns Take Stock of Damage Done by Quakes," Seattle Times, March 12, 1933. Several pages of the Seattle paper are devoted to articles and pictures of the disaster, with information taken from wire services and short-wave radio stations.
"1933 Long Beach Earthquake," California Department of Conservation website accessed November 11, 2016 (http://www.conservation.ca.gov/cgs/News/pages/longbeach.aspx).
Tim Grobaty, Long Beach Chronicles: From Pioneers to the 1933 Earthquake (Charleston: The History Press, 2012), 148-158.
Clinton B. DeSoto, "Southern California Amateurs Rise to Earthquake Emergency," QST, May 1933. Reprinted in EverythingRF, 2016, accessed November 11, 2016 (http://www.rfcafe.com/references/qst/california-amateurs-earthquake-emergency-qst-may-1933.htm).
Ron-Gong Lin II, "Southern California's deadliest quake may have been caused by oil drilling, study says," Los Angeles Times online, October 31, 2016, accessed November 6, 2016 (http://www.latimes.com/local/la-me-ln-oil-drilling-earthquake-20161031-story.html).