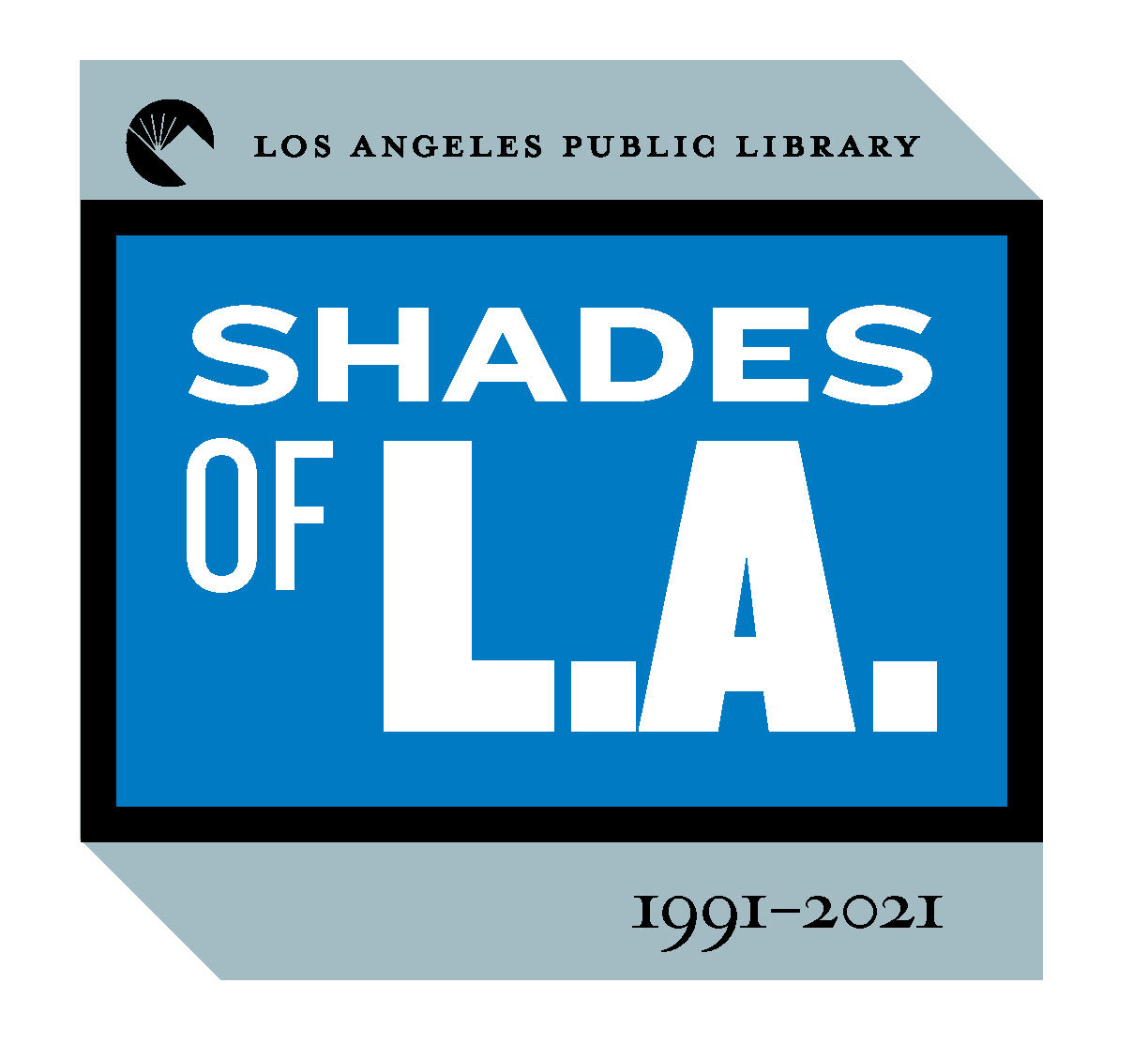 Thirty years ago the Los Angeles Public Library embarked on a ground-breaking, collection-building project – reaching out to the diverse communities of the region for family photographs that would provide depth and nuance to an understanding of this region's multi-cultural history. The project and its results are called Shades of L.A. The support group Photo Friends of the L.A. Public Library was formed to assist in that effort. The group endures.
Los Angeles is a place literally built on the intersection of cultures: from the Tongva and other Native tribes that lived here for centuries to the Spanish, Mexican, and Black pobladores who established the pueblo in 1781, to the Hispanic and White cultures that duked it out for dominance in the early 19th century. As so often happens, the dominant culture, in this case the White American settlers, was quickly able to put their stamp on the historical narrative.
In the 20th century, Los Angeles has seen further waves of immigration, from Eastern Europe, the Middle East, East Africa, and Latin America. Asian immigration has come in distinctive waves, beginning with Chinese in the late 19th century, to Japanese and Filipinos in the first part of the 20th, and, more recently, Southeast Asians, the refugees of the wars that decimated that region.
With major funding from Security Pacific National Bank and California Humanities, LAPL staff and volunteers were able to reach out to many ethnic communities and collect or copy over 7,000 images documenting family businesses, celebrations, religious and cultural traditions, and ordinary life. In addition, volunteers and staff taped a dozen oral histories from participants. These photos and stories go far to balance the collection of the library. For a more detailed overview of the project, see https://www.lapl.org/collections-resources/photo-collection/shades-la.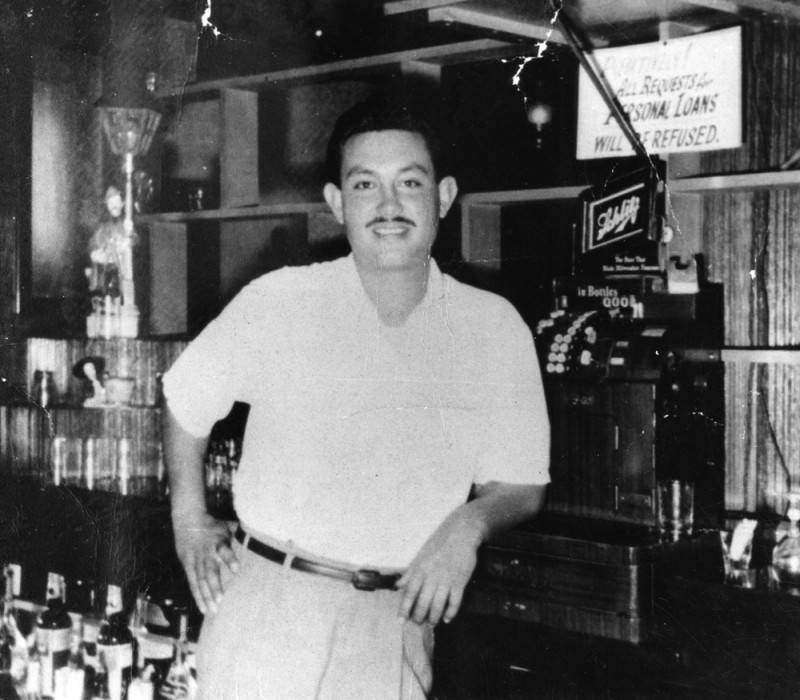 Pete moonlights as bartender at Carioca Bar in Boyle Heights, 1949. Image #00002145, Shades of L.A: Mexican American Collection.
Pete Rodriguez was a toddler when his family migrated from Sonora, Mexico, to the Los Angeles area in 1923. In 1994, Pete sat for an interview with interviewer Sojin Kim.
Pete's dad was involved in the Mexican Revolution that began in 1910 and left that country to protect his family from the repercussions of his political activity. Pete inherited his father's activist spirit, becoming an advocate for Mexican Americans in the entertainment industry. He told Kim that he considered California a conquered part of Mexico:
I don't consider myself an immigrant. I consider myself a migrant, because we came to Mexico — occupied Mexico. And even though I may fight some of the things that are done here . . . I still like America.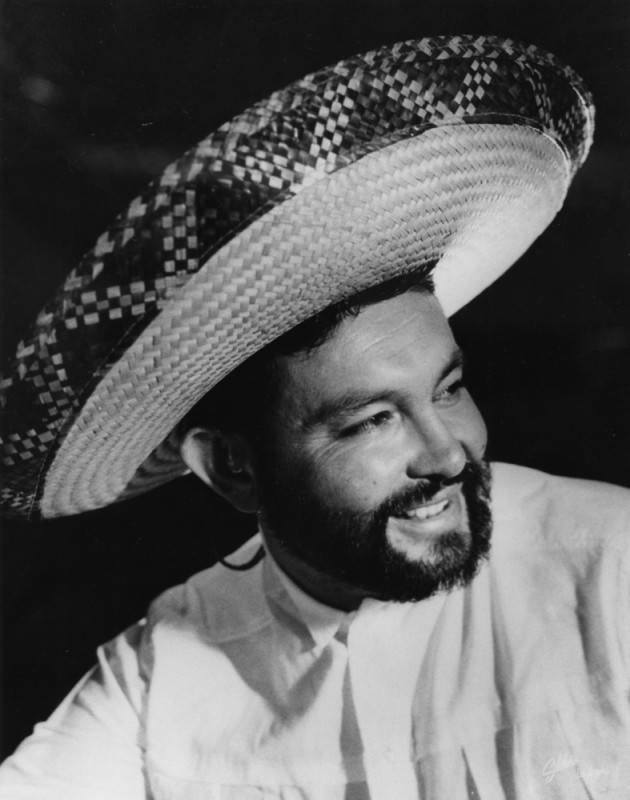 Studio portrait of Pete Rodriquez, 1949, Saldana Photography. Image #00002133, Shades of L.A: Mexican American Community.
Rodriguez' family moved several times around the Southland, living in the Hispanic neighborhood called Old Sonoratown (downtown L.A. around Olvera Street) and Russian Flats (a section of Boyle Heights). The family also spent a stint on Catalina Island where Pete's uncles were working in construction. Later he moved with his mother and brother to a small town in Orange County called Olive — a town which was soon swallowed up by the City of Orange.  Here he became, in his words, a "Mexican Huckleberry Finn."
I didn't like school. I couldn't understand what was going on, so I'd try to get out of it as much as possible. I would fish all day in the reservoir. No fishing allowed! But I became friends with the caretaker. I was nine years old. I'd fish all day and with my slingshot I'd hunt in the hills for crows.
In 1931 the family returned to the Boyle Heights neighborhood, an ethnically-mixed area:
I grew up on Soto Street and Brooklyn Avenue there with Russians. They used to call me "Rodriguezov," can you believe that? Because I used to hang around with a lot of Russians, you know, and Armenians. [I went to] Stevenson for Junior High. And then to Roosevelt [High School]; they used to call it "Jewsavelt," there were so many Jewish people. Great friends, great people to me. I was drinking tea and eating bagels when I was 14 or 15 years old at Canter's and Ratner's Bakery, you know? We used to have bagels and cream pies.
He also recalls hanging out with Blacks and Japanese, as well as fellow Mexicans. From a Japanese friend, he learned a bit of kendo, a form of martial arts using bamboo sticks.
Youth on the Edge
While Pete describes something of an idyllic childhood, he acknowledges that in his teen years, things got a bit rough. Social and ethnic divisions became more pronounced. The "friendly rock fights" he remembers having with Russian kids became more serious:
We'd be down here and then, they'd see us and we'd throw rocks at them just to — ah, kids, you know! — And they'd throw them back and we'd have all these terrible rock fights on Sundays when they're going to [Russian Orthodox] church.

I remember just that we were having a ball at the time. The Big Band era was around and we used to have these record dances. And people from all over different neighborhoods would come to these dances: Benny Goodman and Artie Shaw and all those big band guys. Duke Ellington — we were very influenced by Black music in those days. [But] there's another thing that I'm not too proud of. We got a little wild. It was during the beginning of what they called the Pachuco Era, Zoot Suit era, you know. My mother didn't like me to dress with those tight pants — she tore a couple of my pants. But we got a little wild. And it was the beginning of the gangs in East L.A. We were influenced by these guys, what they call Pachucos — really, like people from El Paso who came from El Paso to Los Angeles to work during the war. And we were hicks, you know, here in L.A. compared to them. And they used to dress real sharp and have these zoot suits and tailored clothes and dance real good. They used to talk real funny — what we call "Caló ." And we learned how to imitate them, and we started to get a little out of hand. And we were starting to get into some different fights with different neighborhoods.
The reputation of the zoot suiters for violence, whether earned or exaggerated, resulted in one of the worst outbreaks of ethnic violence in the history of Los Angeles: the Zoot Suit Riots of 1943. In fact, what the media of the day described as rioting between Mexican gangs and White servicemen based in L.A. was really a coordinated beatdown of Mexicans by Whites whipped up by a biased press. Hundreds of Mexican young men were targeted, beaten, and stripped of their zoot suits during a weeklong free-for-all. Allegedly, the attackers were incensed by the generously draped apparel at a time of restrictions on material goods.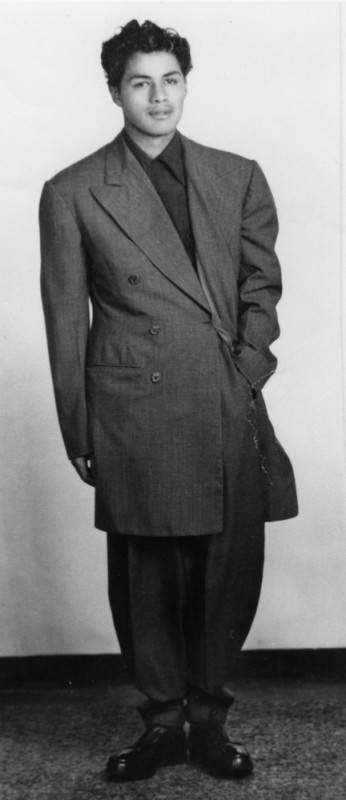 A zoot suit sported by a young Mexican American youth, 1944. Image #00002818, Shades of L.A: Mexican American Community.
Pete managed to avoid the worst of the violence. However, he recalls vividly how he and his friends were called out by a group of "goons" that he believed were sent by the FBI. The men, who had badges and guns, warned them to stay out of fights or be killed.

From right, Eddie and Pete Rodriguez set up for the first Spanish language television and radio simulcast of the Rose Parade in 1952. Image #00002144, Shades of L.A: Mexican American Collection.
On the Air
In the late 1940s, Pete's life took on a new direction. He credits his older brother, Eddie, with introducing him to the world of radio, and later television, broadcasting. Eddie Rodriguez was making a name for himself in Spanish-language radio, beginning with a small station in Pomona and later at KMPC Los Angeles. Pete joined him, learning the trade.
So I started working with him. And I began to enjoy it. I began to enjoy radio. I started just bringing him the records that he'd ask me for and answering the phones for requests. Mexican people do that a lot; they call in for requests — "Will you please play a song for my birthday?" and the name of the show was "Buenos Dias," "Good Morning." And it was from 6:00 to 7:00 a.m. It's amazing. I didn't know there were so many people up so early in the morning, you know what I mean? It had a great rating.

[We played] all the old Pérez Prado, Trio Los Panchos, and mariachi music, and big band. We even used to play Anglo music. That's what made it so different. My brother used to play Mario Lanza, this big operatic song, and then he'd put on these dogs barking in the background. He'd do these crazy things.
Eddie became involved with early Spanish-language television programming, beginning on KHJ, and Pete came along for the ride learning film editing and producing on the job.
It was called "The Spanish Theater Hour." And then he got another program after that which was called "Momentos Alegres," "Happy Moments." And this used to be a Latin variety show, and it was "Pachuco Boogie" and all this stuff. Then we got "Fandango," which was a highly rated show in Los Angeles on KNX TV [CBS affiliate]. Do you know what a Fandango is? Fandango is a big Mexican party. And we were on for 86 weeks.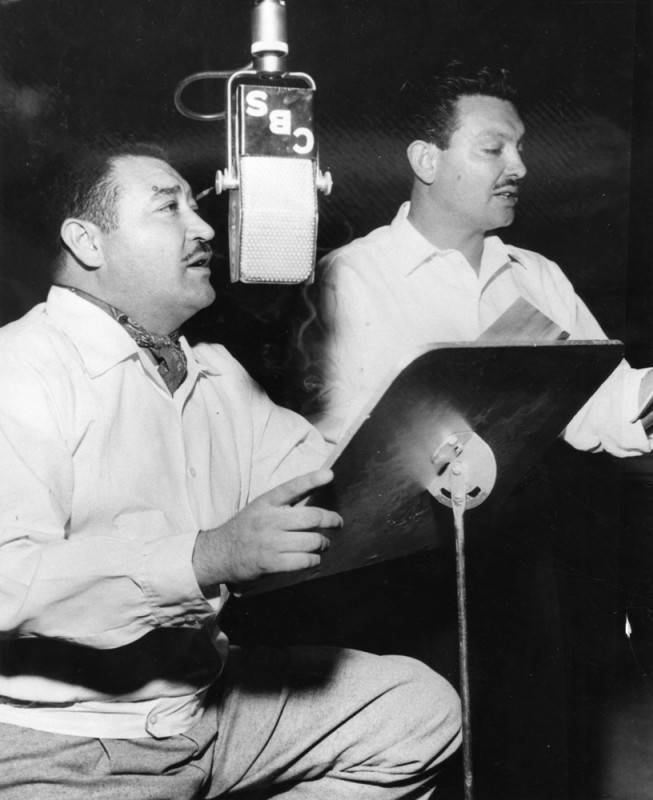 Eddie and Pete Rodriguez at CBS, 1955. Image #00002166, Shades of L.A: Mexican American Community.
Working for Justice
Following Eddie's death, Pete's career took another turn. He had been on the production staff of two movie shorts: "The Cadillac"(1962) and "The Legend of Jimmy Blue Eyes" (1965) — both nominated for Oscars as best short subjects. However, he found himself increasingly bothered by the treatment of Latinos in the entertainment industry — from negative and  stereotyped roles in Hollywood to limited opportunities behind the camera. He was drawn to the activism of Justicia, a radical group that fought for better treatment of Chicanos in movie making. Justicia staged protests and boycotts, demanded meetings with studio executives, and confronted actors directly, accusing them of complicity.
We made a lot of demands — that they stop stereotyping Mexicans as 'sleeping under a cactus,' lazy, worthless, no-good, treacherous, and killers; that they give them some meaningful parts and hire people that can help them do this. They listened! That's the reason I got the job at ABC. A lot of people got jobs in television and the movie industry. Still, it's not fair.
In the hurly-burly 60s, Justicia earned a reputation as a fringe group, became the target of police harassment, and eventually disbanded. Nonetheless they had an impact. As a result of talks with ABC Television, Pete was hired as community affairs director to oversee relations with the Latino community beginning in 1972. From that point, he allied himself with Nosotros, a group of Latinos in film and television led by Ricardo Montalbán, attending fundraisers and mingling with celebrities. Nosotros established an award program for those working to promote positive images of Latinos in show business (the Golden Eagle Award, established 1970).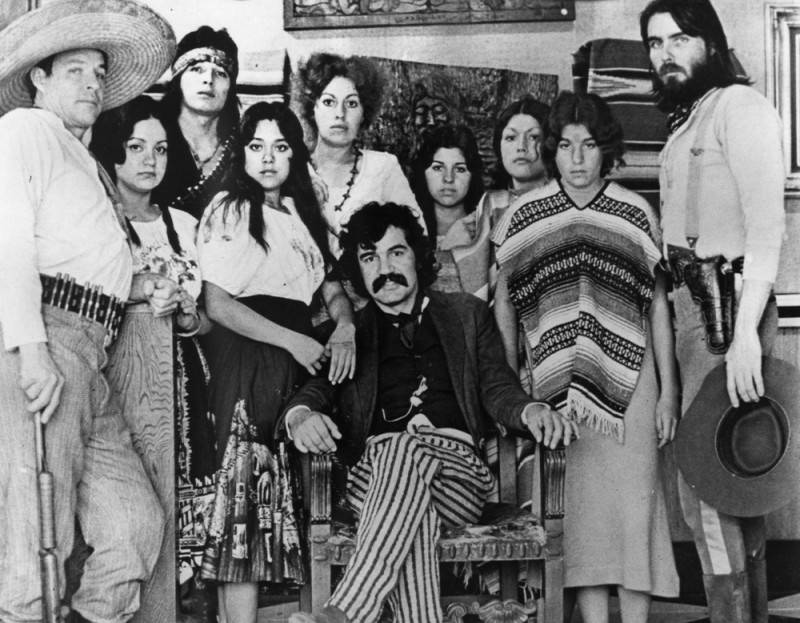 The firebrand founder of the Justicia movement, Ray Andrade, is pictured surrounded by Chicano actors in 1973. These may be bit players in one of the films of Sam Peckinpah, a favorite target of Justicia for his racist and violent depictions of Mexicans. Later, Andrade had a hand in mounting the first English-language sitcom to feature a Chicano character: "Chico and the Man".  Image #00002174, Shades of L.A: Mexican American Community.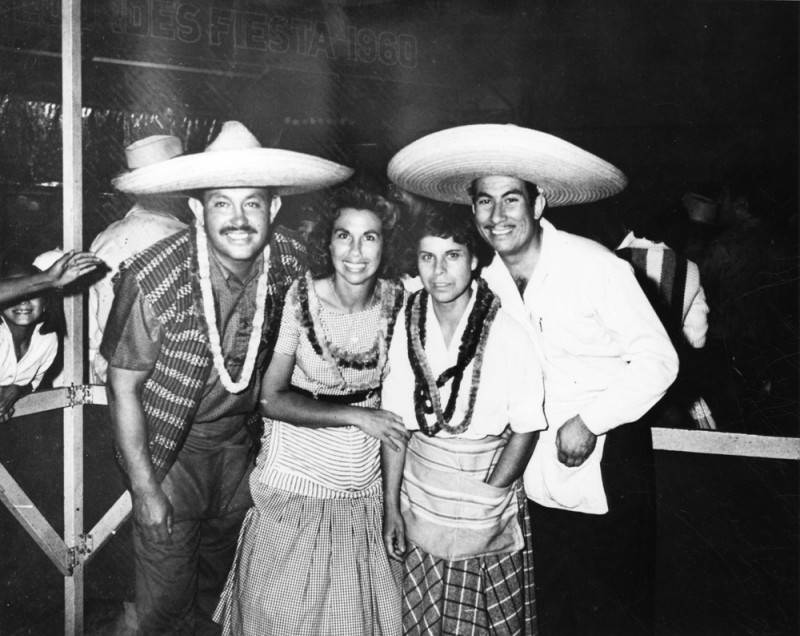 From left: Pete and his wife, Helen, at a carnival at Our Lady of Lourdes Catholic Church, 1960. The second woman is Pete's sister-in-law. Image #00002168, Shades of L.A: Mexican American Community.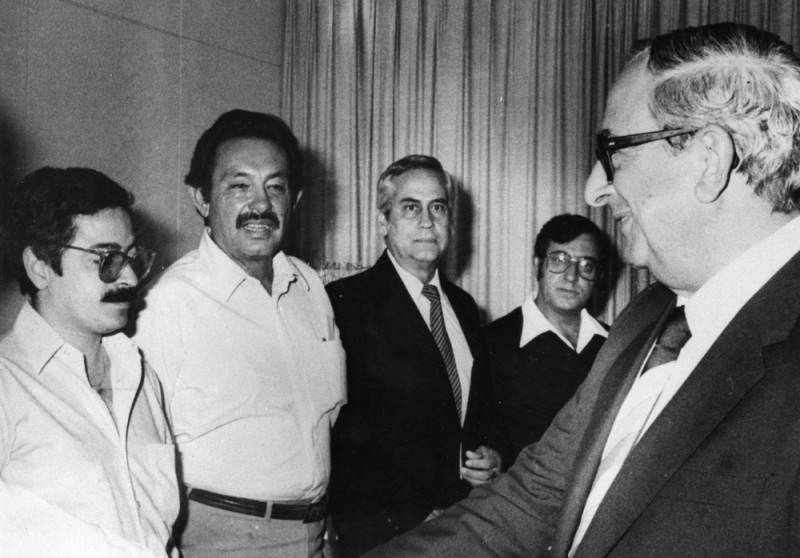 Pete Rodriguez, second from left, and a group from the National Association of Hispanic Journalists meet with Israeli President Yitzhak Navon in Israel, 1978. Image #00002154, Shades of L.A:  Mexican American Community.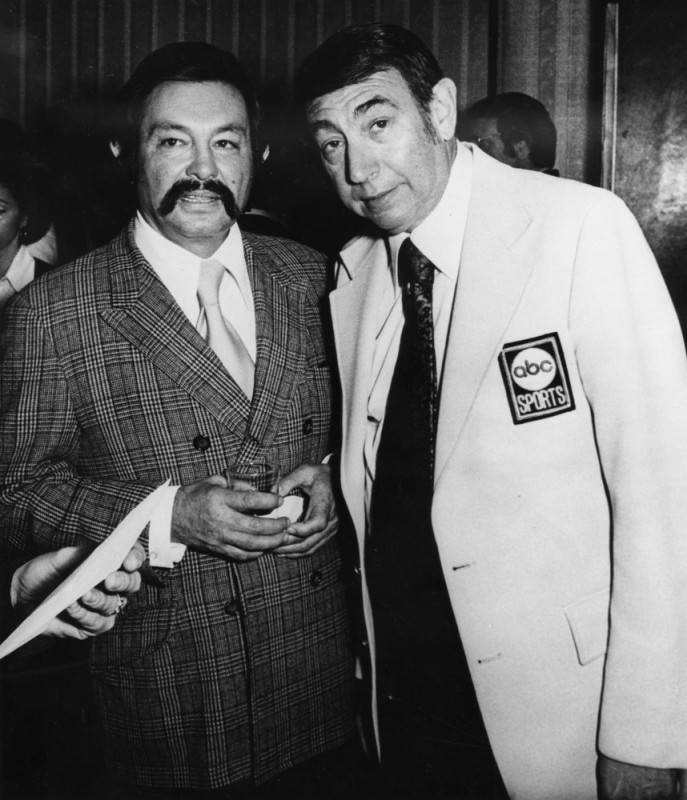 Pete Rodriguez and Howard Cosell of ABC Sports at a fundraiser for the International Youth Boxing Club, 1978. Image #00002139, Shades of L.A: Mexican American Community.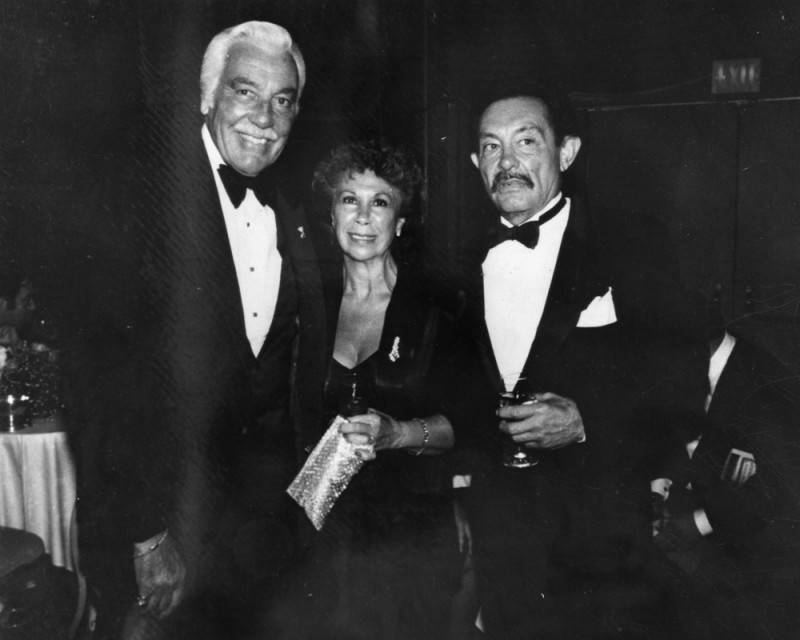 Pete and Helen Rodriguez with famed actor Cesar Romero at a banquet for Nosotros, 1980. Image #00002173. Shades of L.A: Mexican American Community.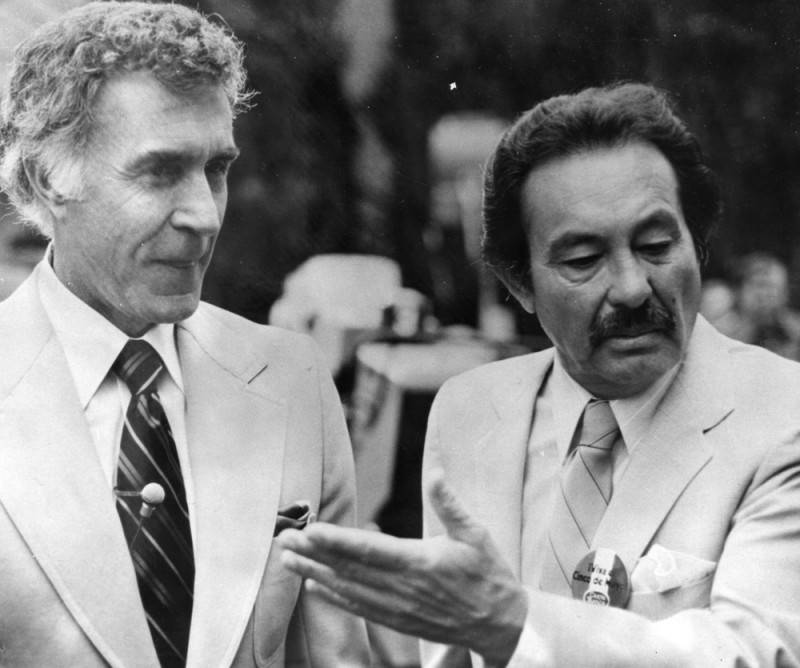 Pete with Ricardo Montalbán at an event for Nosotros, 1980. Image #00002153, Shades of L.A: Mexican American Collection.
While the entertainment industry has increased opportunities for diverse groups, including Mexican Americans, much remains to be done.