Los Angeles is a city and county ringed by mountains where it doesn't touch the ocean.  With the mountains come canyons, lots of 'em. Some of the most famous declivities are Laurel Canyon, north of Hollywood, Malibu Canyon, and Topanga Canyon. Images from the Los Angeles Public Library give glimpses of life and loss in Topanga Canyon, a winding ravine descending from Woodland Hills in the San Fernando Valley to the ocean between Santa Monica and Malibu. It is contained within the Santa Monica Mountains National Recreation Area (SMMNRA).
Topanga Canyon has a checkered history combining bohemian lifeways, sensational crime, and environmental catastrophes such as fires and mudslides. No doubt the remoteness of the locale and relative inaccessibility contributed to all three. Through it all, folks come to Topanga for its natural beauty and breathtaking views.
Early Days
The name Topanga comes from the local native people, generally called the Tongva, who originally occupied the area in close proximity to the Chumash. Despite its remoteness and unsuitability for ranching or agriculture, Topanga Canyon was part of two Spanish land grants in the early 19th century. By the late 19th century enough families were settled in the canyon's folds to justify a small one-room schoolhouse. The chief occupation was cutting wood to sell to flatlanders. The beautiful canyon and its beach soon began attracting day trippers.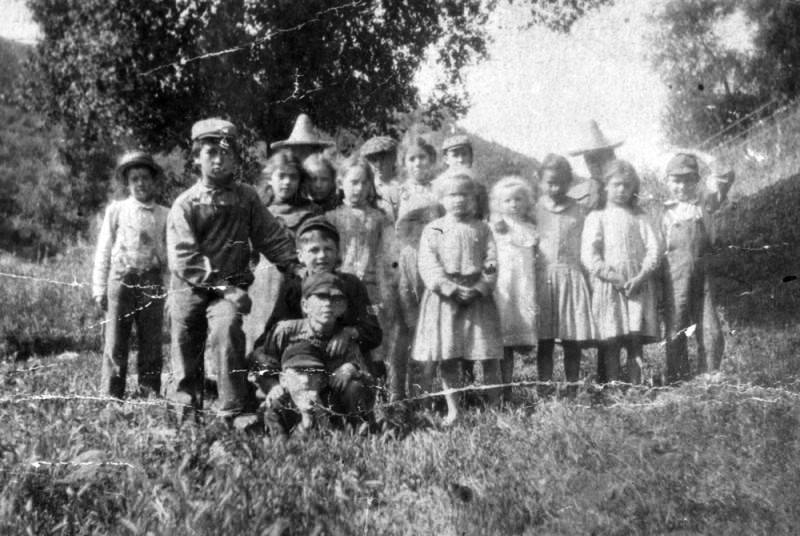 A 1902 photo shows students from the Topanga one-room school. Security Pacific National Bank Collection, Image #00024675. Below, teacher Bessie Greenleaf stands in the school doorway in 1915. The Greenleaf family has deep roots in Topanga. Security Pacific National Bank Collection, Image #00069672.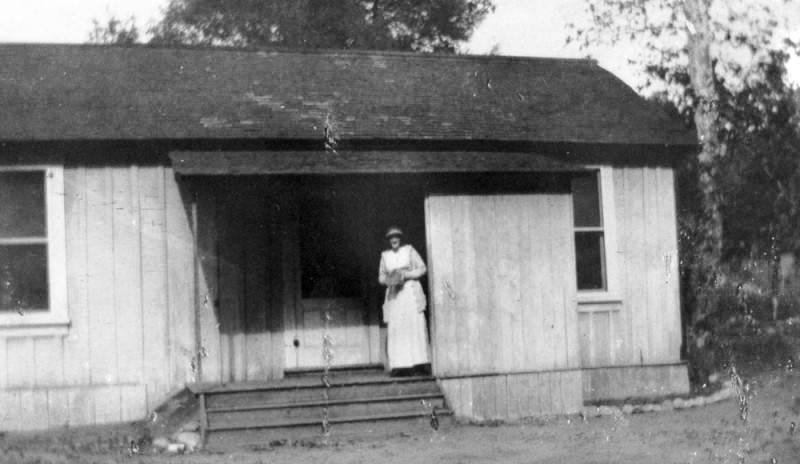 The creek that carved the canyon ends at Topanga Beach. A group of folks enjoy an interlude on the sand, amidst seaweed, about 1898. A small child plays at right, background. Although the picture is labeled "Topanga Beach Picnic," there is no food visible. The party likely arrived by horse cart and may have traveled over "Old" Topanga Canyon Road which had just opened. Security Pacific National Bank Collection, Image #00069667.
Away from it All
In the 1920s, Topanga attracted Hollywood stars looking for a quick getaway from the pressures of celebrity. Some, like Cecil B. DeMille and actress Pola Negri, built homes here.
Like so many other canyons, Topanga came to be a mecca for artistic types in the 1950s and beyond. The remoteness and natural beauty attracted many musicians. Neil Young recorded his album "After the Gold Rush" in his Topanga Canyon basement. Canned Heat's Alan Wilson was inspired to write the rock anthem "Going Up the Country" here. Linda Ronstadt and Jim Morrison were frequent visitors. Beach Boy Dennis Wilson had a home nearby. More on that later.
Artists and fringe types still shape the culture of Topanga. The community includes an outdoor theater founded by blacklisted actor Will Geer in 1973, fairs and music festivals, and an annual film festival. A famous nudist colony closed in 2002.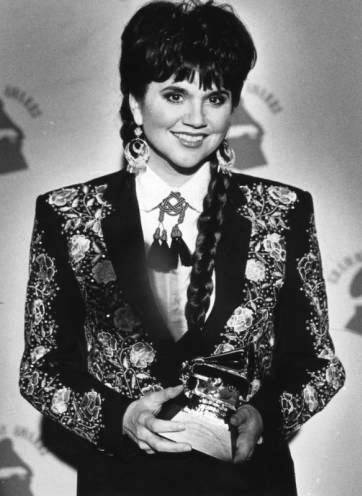 Linda Ronstadt accepts a Grammy in the "best Mexican-American Performance" category, February 22, 1989. Photographer, James Ruebsamen, Herald Examiner Collection, Image #00083175.
The Dark Side of the Canyon
In the spring of 1968 Dennis Wilson of the Beach Boys picked up a couple of cute girls on PCH and brought them to his home just outside Topanga State Park. A day or two later he came home to find his house overrun with a group of strangers — a man named Charles Manson and his "family." This encounter set off a series of unfortunate events, beginning with the murder of Topanga Canyon musician, Gary Hinman, who had befriended the group. That act was the first (or maybe not!) in a murder spree that took the lives of seven people (and likely more), including actress Sharon Tate and her friends.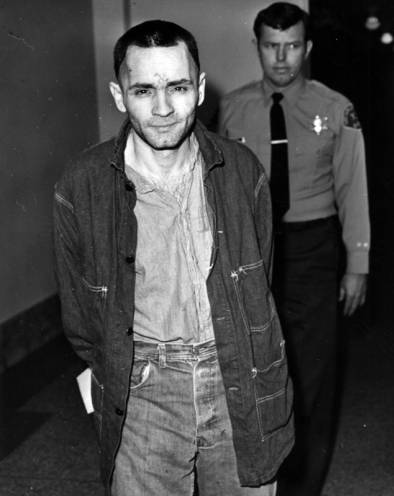 Charles Manson, in a rare shaven appearance, during the penalty phase of his trail in Los Angeles, March 23, 1971.  The swastika he carved into his forehead is visible. Herald Examiner Collection, Image #00020778.
An earlier crime also involved the canyon. In 1951 Valley resident Barney Mapes dumped the bludgeoned body of his estranged wife in the ravine. In an unusual twist for the times, Barney was acquitted on the grounds of self-defense.
Fire and Rain
Wild fires are a perennial problem in the hills of Los Angeles. Topanga is no exception; spectacular and destructive fires have broken out many times.
 The fire in this 1948 image destroyed 25 homes. Herald Examiner Collection, Image #00045944.
Firefighters battle the 1938 fire in Topanga Canyon. Herald Examiner Collection, Image #00045945.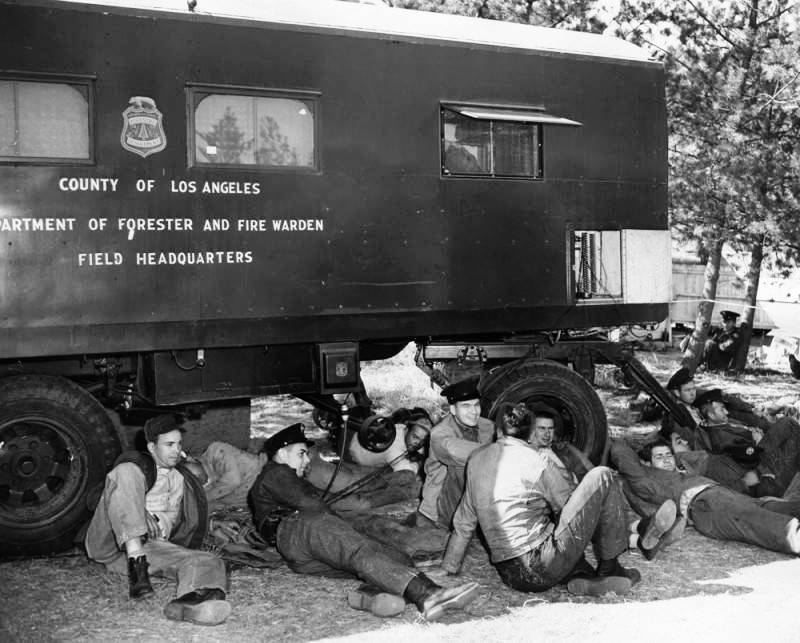 A group of firefighters rest in the shade of their headquarters vehicle in Topanga Canyon, in November 1948. How many do you see? Herald Examiner Collection, Image #00057029.
Women with a child and pets wait to evacuate the canyon in the wake of a 1943 fire which destroyed their home. Herald Examiner Collection, Image #00057132.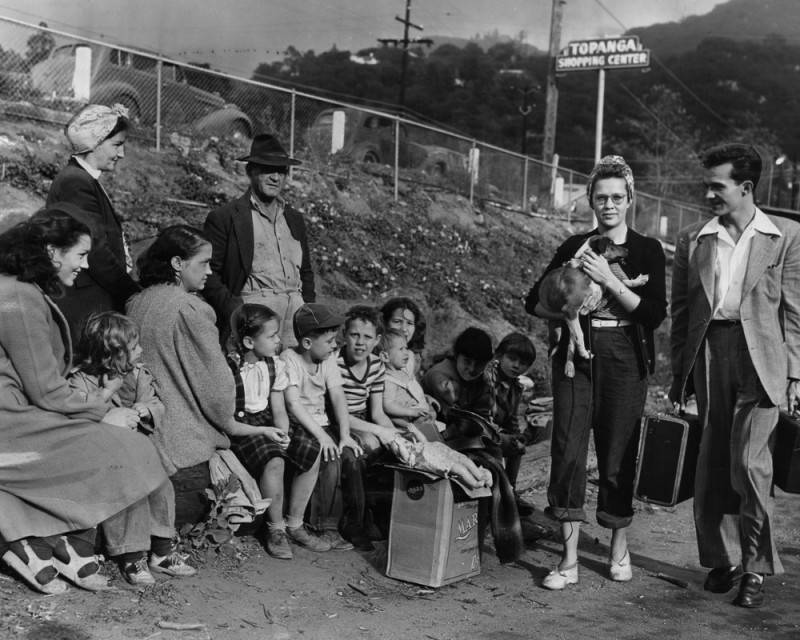 Families fleeing the 1948 fire gather at the Topanga Canyon shopping center waiting for evacuation. Herald Examiner Collection, Image #00057062.
Where there are fires, can flash floods be far behind? Topanga has suffered from repeated cycles of floods and mudslides, sometimes trapping residents for days due to washed out roads. In recent years, mudslides have been an annual occurrence.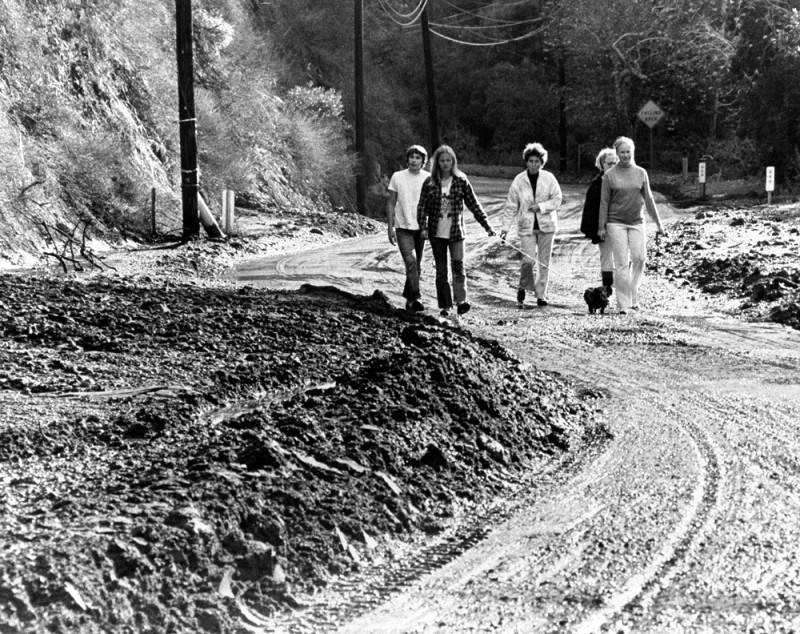 Five people and a dog walk past mounds of muck following a 1973 mudslide that closed the main road for several days. Photographer, E. Bruce Howell, Herald Examiner Collection, Image #00045957.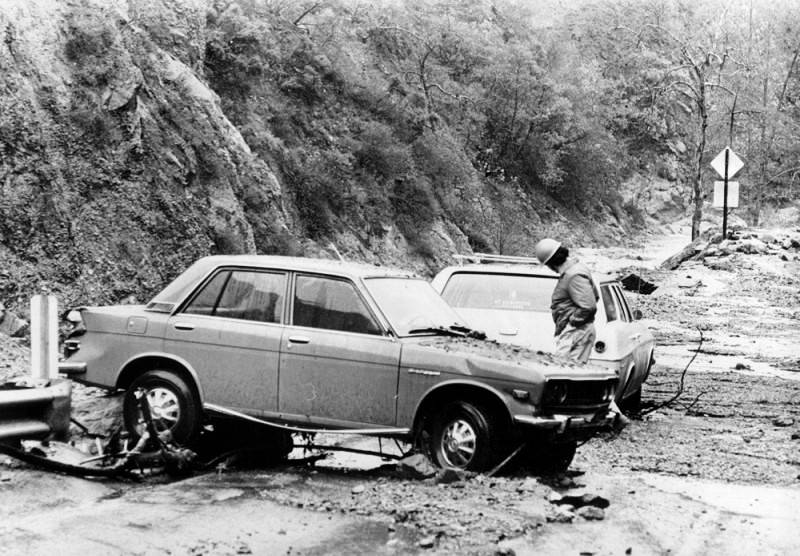 Several cars were washed fifty yards down the canyon in a 1974 mudslide, about a month after the photo above. Photographer, Mike Mullen, Herald Examiner Collection, Image #00045960.
Rocks and fossils: The Ecology of the Canyon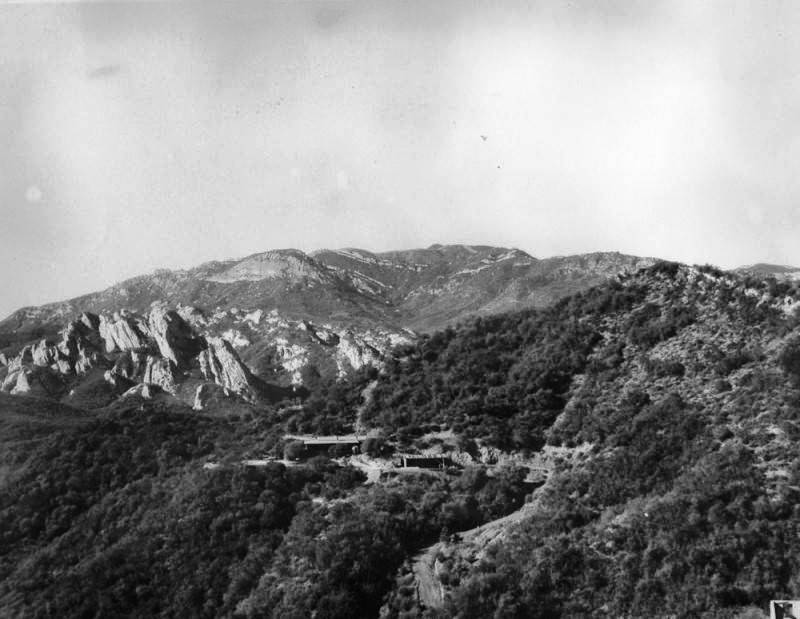 Old Topanga Road (possibly called simply Topanga Road at the time), with Calabasas Peak in the background, in 1937. Topanga Canyon Boulevard, now State Route 27, was put in at about the same time. Works Progress Administration Collection, Image #WPA 147.
Topanga Canyon is a geologist's dream. Cliffsides contain fossils, everything from scallops to whales, left by retreating ocean waters millennia ago. Sandstone structures, part of what is called the Vaqueros Formation, make dramatic appearances on the hills. Remnants of indigenous culture are found in the many bedrock mortars, man-made holes used to grind food products.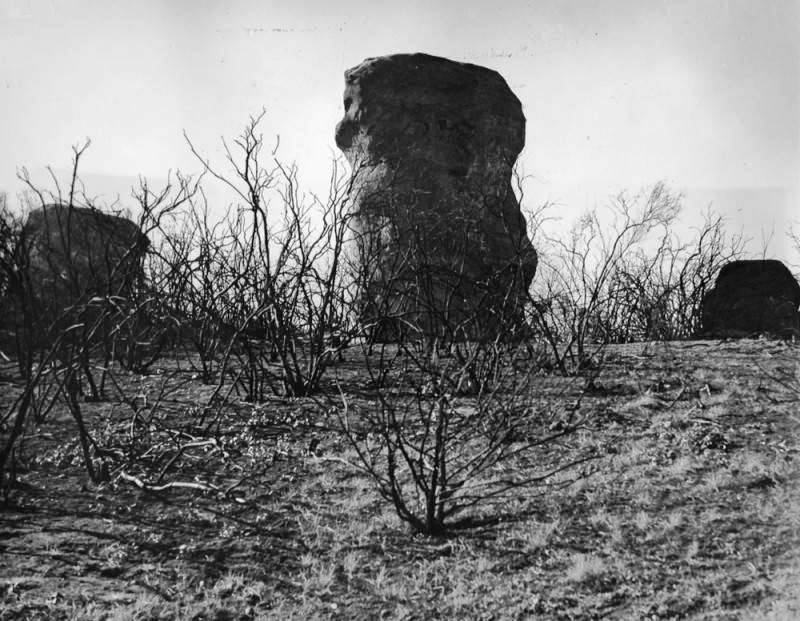 Vaqueros sandstone monoliths stand near Saddle Peak Road in Topanga Canyon, 1937. Works Progress Administration Collection, Image #00030237.
Vaqueros sandstone outcropping, 1936. Security Pacific National Bank Collection, Image #00030364.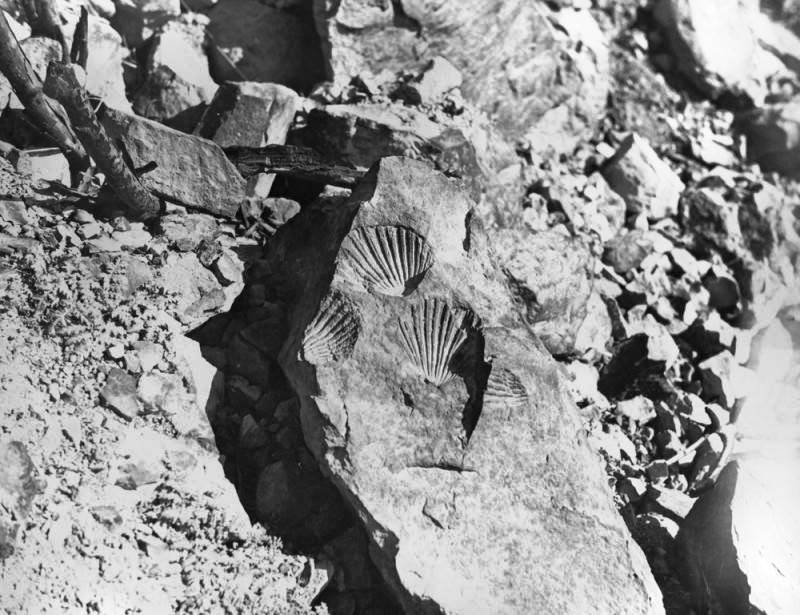 Scallop shell fossils uncovered during road construction. Undated photo, Works Progress Administration Collection, Image #00030359.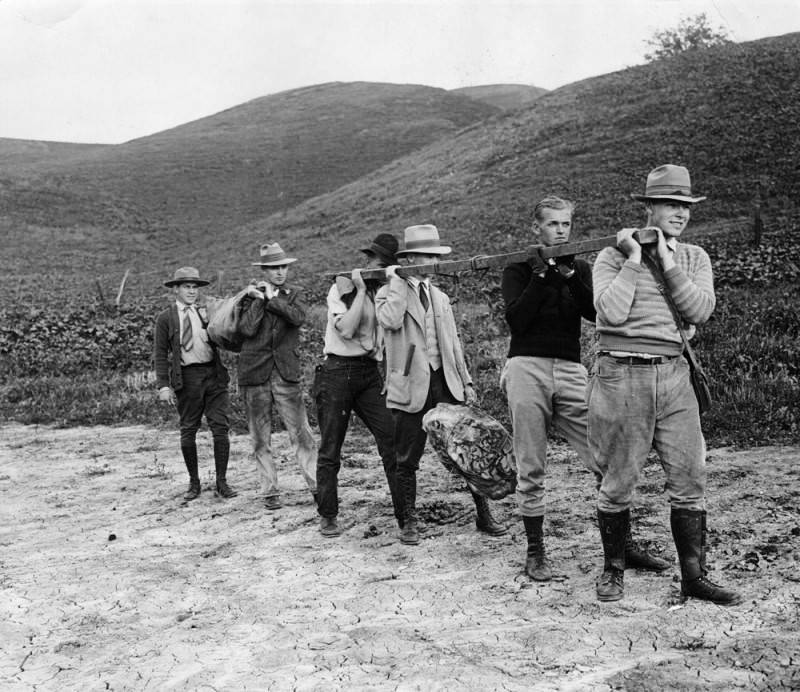 USC Geology students carry a fossilized whale flipper and vertebrae out from a dig in Woodland Hills, circa 1920. The professor in charge, A.J. Tieje, may have been the photographer. Herald Examiner Collection, Image #00071898.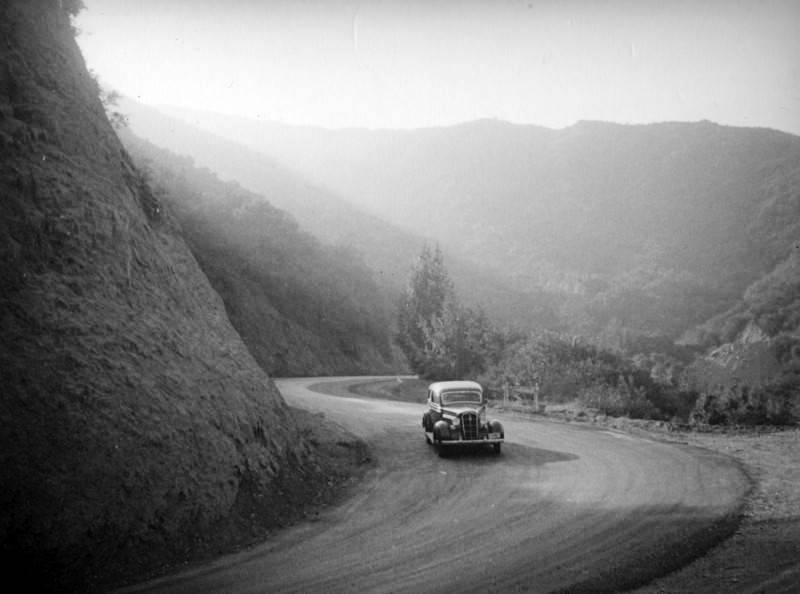 Herman J. Schultheis Collection, Los Angeles Photographers Collection, Image #00097866.
We'll leave with this magical view of Topanga Boulevard taken by prolific German-born photographer Herman J. Schultheis in or about 1937.