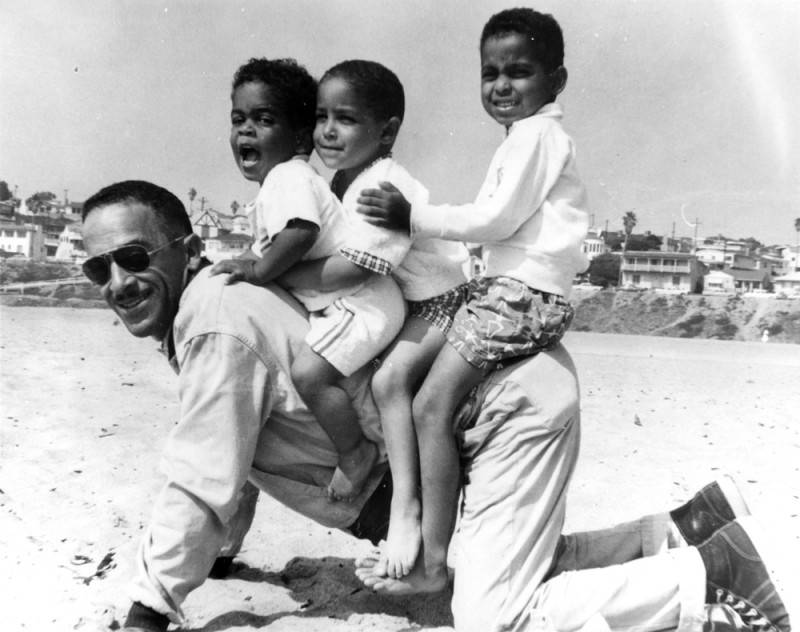 Man and boys horsing around at Santa Monica Beach. Image #00025341, Shades of L.A.: African American Community Collection, c. 1965.
The Los Angeles basin cannot escape the fact that it's climate tends to extremes, particularly of the hot variety. Global warming and galloping urbanization have exacerbated the situation Temperatures have increased over the past century, while heat waves are becoming ever more common and last longer.
While the sunshine draws many to the region's palm-lined shores, there are dark sides to the bright skies. In this post we'll look at how Angelenos both meet and beat the heat. The essay features images from the photo collection of the Los Angeles Public Library and the captions that accompanied them when first published in the region's newspapers.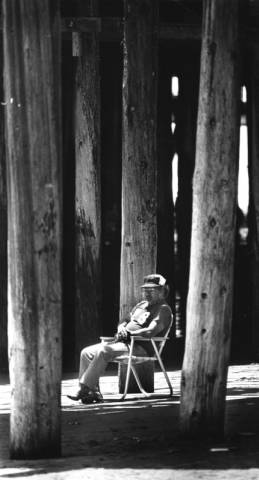 This fellow has found a way to enjoy the beach while still keeping out of the direct sun under the Santa Monica Pier. "Beach temperatures in the 80s and highs in the 90s inland." Image #00043682 by James Ruebsamen, Herald Examiner Collection.
Thanks to industrial pollutants, the sun is often visible in the daytime. "Visitors from France and Italy seek refuge from the heat and smog in the Hotel Bonaventure's pool." Image #00051486, Leo Jarzomb, Herald Examiner Collection, July 10, 1984.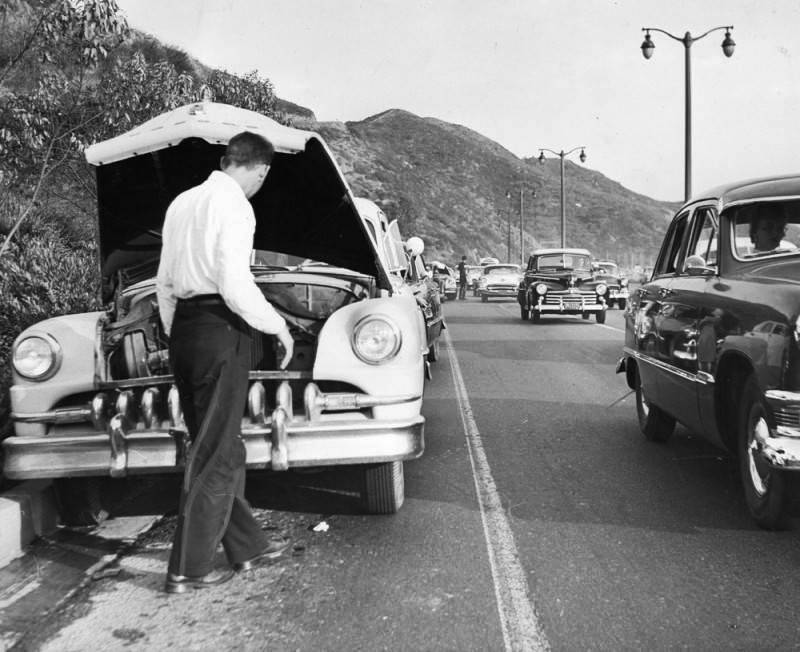 "Vapor locks stall traffic: Hot impatient motorists pulled to side of Hollywood Freeway, enroute to Valley, as vapor locks caused by excessive heat stalled at least 200 cars. Later afternoon traffice was near standstill, with one lane blocked off for stalled cars. Extra police and tow cars were assigned to area." Image #00058807, John Rinaldi, Valley Times Collection, 1955.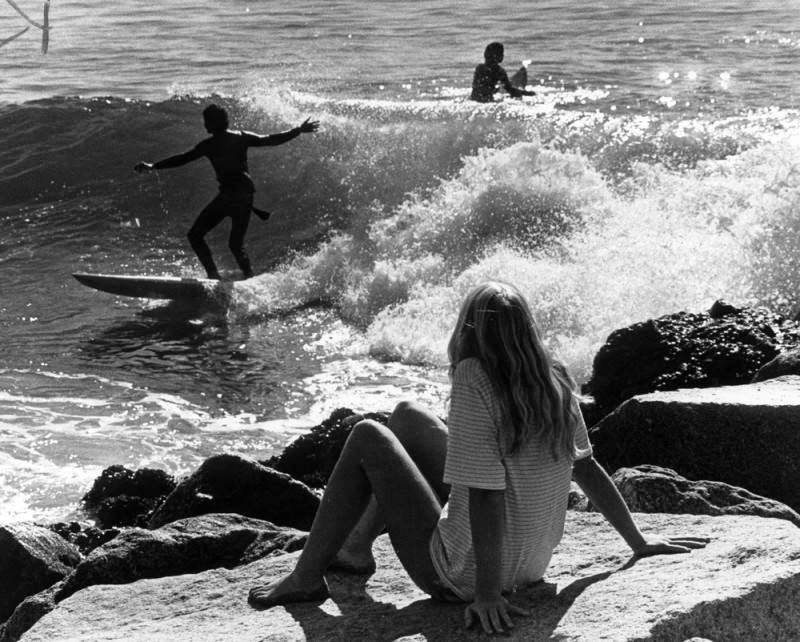 Quintessential Los Angeles in summer: Surf, sun, and youth. Except that this photograph was taken on December 21, 1972 at Will Rogers State Park. Image #00050694, Herald Examiner Collection.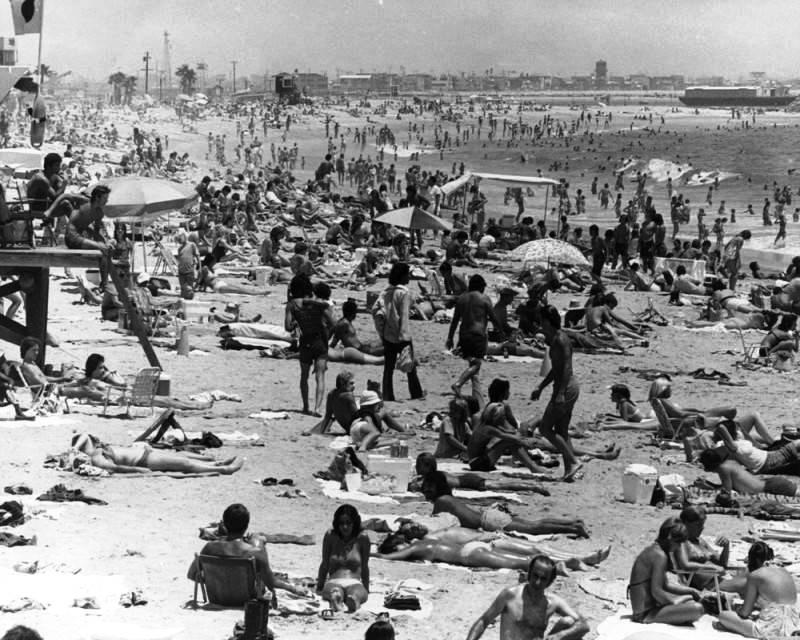 Another classic beach scene — a bit sweatier than the one above. "The current Southland heat wave has sent thousands scurrying to local beaches, as witnessed here in Seal Beach. Another scorcher is on tap today, with temperatures expected again to eclipse the 100-degree mark." Image #00083385, Chris Hosford, Herald Examiner Collection, June 28, 1976.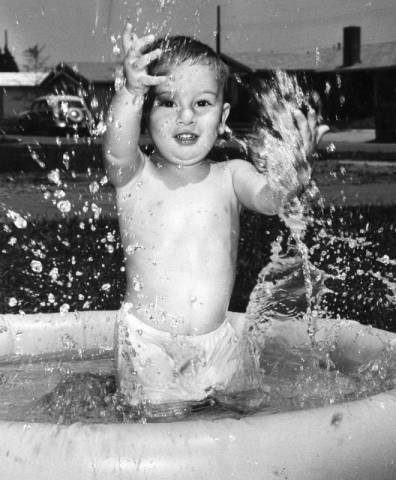 "Real cool pool: Little David Allan Siddon, 2 1/2, splashes happily in his plastic wading pool….while young David was cooling off, temperatures soared to highest this year — a scorching 107." Image #00112664, Valley Times Collection, June 4, 1957.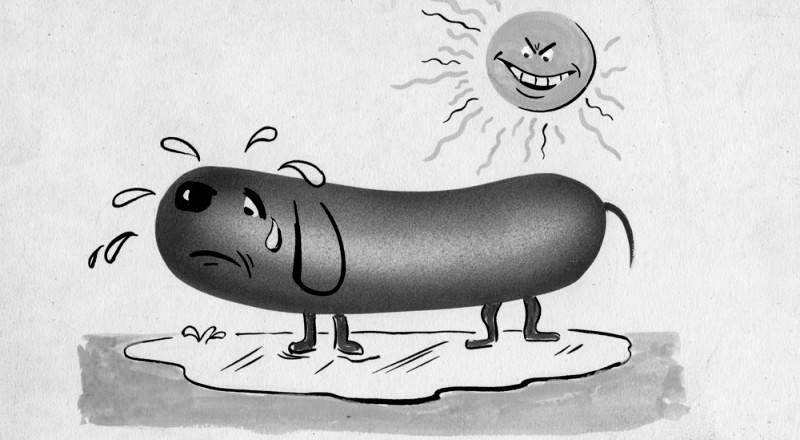 Valley Times staff artist Bob Hyde gives us a hot dog. The accompanying article described a proposed "pooch cooler" at Hoover Dam in Nevada for dogs and other animals. It is unclear what the proposed cooler was to consist of and unknown if it was ever built. Today no dogs are allowed at the dam site, with the exception of service animals. Image #00112760, Bob Hyde, Valley Times Collection, May 19, 1961.
"Valley geyser gushes: The Van Nuys intersection of Oxnard Street and Ethel Avenue became the scene of a geyser-type eruption Monday afternoon when heat caused the concrete roadway to expand, breaking a valve of an eight inch water pipeline." Image #00125918, W.F. Gaskill, Valley Times Collection, August 8, 1961.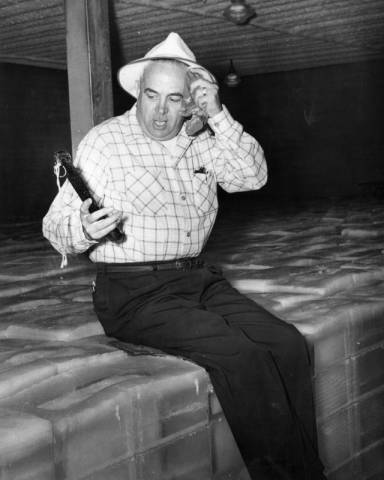 Newspapers love to provide life hacks for "beating the heat." Here "Charles E. Lambert, office manager at the Union Ice Co. in Van Nuys, beats record Valley heat which rose to 110 degrees outside with ice block chair in company's ice storage building. Ice house's coolest room registered 30 degrees below." Image #00143286, Valley Times Collection, September 1, 1955.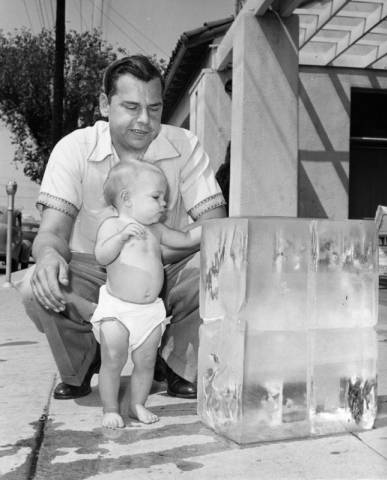 "There wasn't much point to the gag of placing a 100 pound block of ice on the sidewalk in front of the Valley Times office, but the hot weather stunt did give folks something cool to talk about." Image #00143288, Valley Times Collection, September 7, 1955.
"Road collapses in heat: Valley heat proves too much for road patch at Sherman Way and Havenhurst. Blacktop gave way, dropping rear wheel of bus into three-foot hole." Image #00143290, Valley Times Collection, June 28, 1956.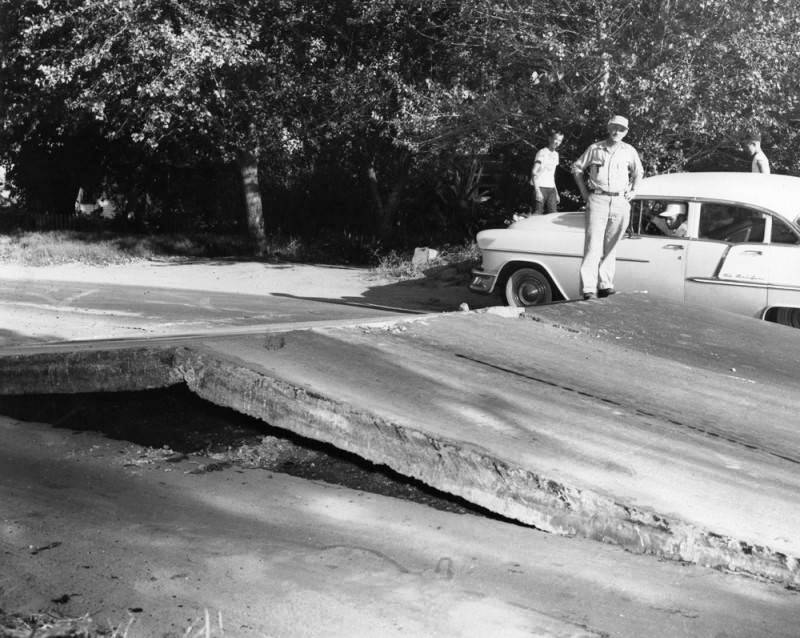 "Harold L. Schrock, Winnetka, takes amazed look at road at Saticoy and Mason avenue which was buckled by 105 degree temperatures in West Valley. Pavement rose two and one half feet above dirt bed." Image #00143292, Valley Times Collection, June 19, 1957.
"Desperation over perspiration: Los Angeles City Councilment James Corman, left, and Lemoine Blanchard are just two of city's officials about to break precedent and loosen collars and ties in heat wave that has 'really hit City Hall.' Officials say they have it in for weatherman, building's executive elevator, and its air-conditioning system. Elevator is on blink, making men walk up to offices; air-conditioner is out of order, will be for three weeks, and weatherman, only one of three working, is busy predicting more heat." Image #00144159, Dean Gordon, Valley Times Collection, August 4, 1960.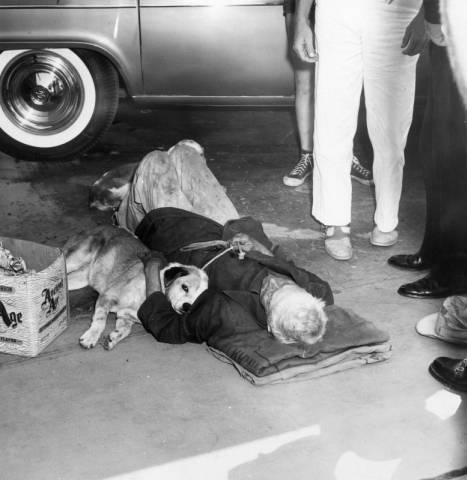 "Dog comforts heat victim: Kathren Noerr, 75, of San Fernando, lies on on concrete after being felled by Valley heat. Her dog, Cha-Cha, guards mistress. She was given first aid on scene." Image #00154679, Valley Times Collection, July 16, 1957.
And finally, one lucky enough to have a private pool: "A resident polar bear at the LA Zoo cools himself off after a dip in the pool." Image #00084299, Paul Chinn, Herald-Examiner Collection, August 2, 1987.