Portions of this essay were first published on the website HistoryLink.org.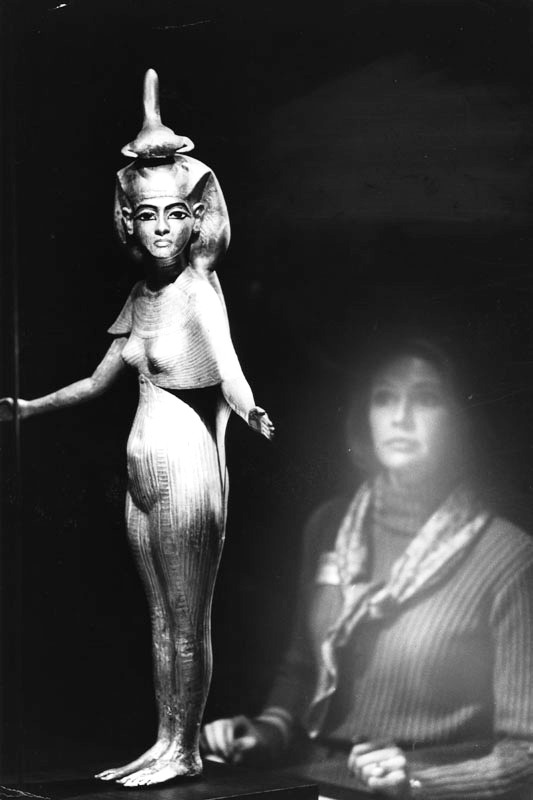 Jerry Anne DiVecchio, Food and Wine Editor for Sunset Magazine, admires the statuette of Selket. The sensuous goddess was one of the most popular artifacts in the collection, as testified to by sales of replicas. The photo is dated February 15, opening day, but was likely taken the day before at the press preview which was attended by some 600 reporters, editors, and photographers. Photo by Michael Haering, Herald-Examiner Collection, #00078081.
In 1974, United States President Richard Nixon, just a few months shy of his abrupt departure from his office, traveled to Egypt to negotiate a bilateral agreement with that country's President Anwar Sadat. Among other minor matters, such as peace in the Middle East, the pact included provision for an American tour of artifacts from the tomb of the pharaoh Tutankhamun (c.1341-c.1323 B.C.) so famously unearthed by British archaeologist Howard Carter in 1922. In exchange, the United States would remit a share of retail sales to Egypt to help renovate the Cairo Museum, the home of the Tut trove.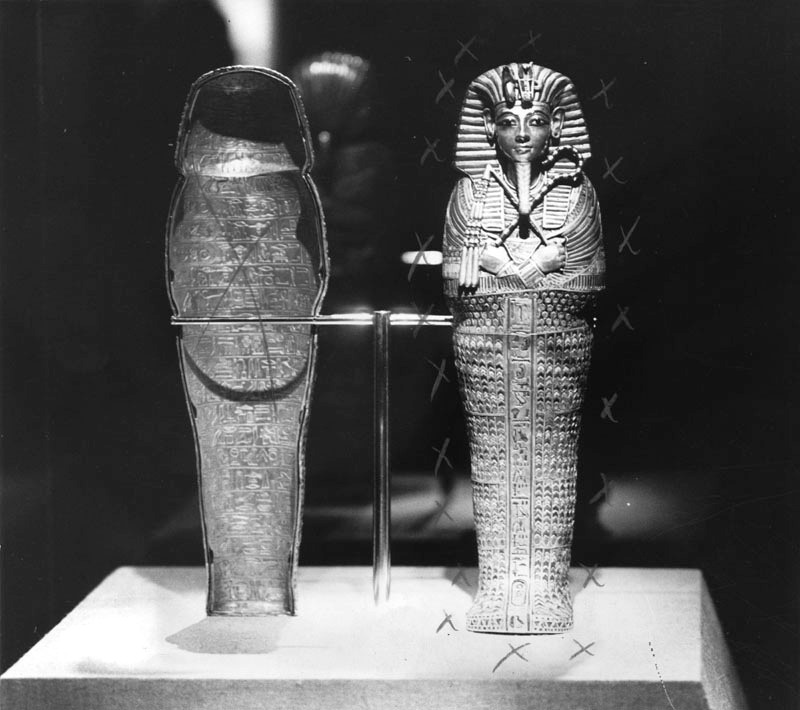 One of Tut's canopic coffins. This one held the boy king's intestines. Photo by Michael Haering, dated February 15, 1978, Herald-Examiner Collection, #00078083. A photo editor has indicated how the photo is to be cropped.
A year later curators from the U.S. and Egypt selected 55 artifacts for the 1976-1979 tour – the number symbolic of the number of years, roughly, since the opening of the tomb.
The arrival of Treasures of Tutankhamun was planned to coincide with America's bicentennial celebration in 1976; the show opened first at Washington D.C.'s National Gallery of Art on November 17, 1976. The U.S. State Department, in consultation with Egyptian authorities, asked the Metropolitan Museum of Art in New York to coordinate the tour. Tut touched down in seven U.S. cities: Washington D.C., Chicago, New Orleans, Los Angeles, Seattle, New York City, and San Francisco (a last-minute addition).

A shawabty — one of 413 "servants" left for Tut in his tomb. This one appears to be modeled after the pharaoh, himself. Photo by Michael Haering, dated February 15, 1978, Herald-Examiner Collection, #00078085.
TUT FEVER
It is impossible to overstate the phenomenon that was Tut during the run of the blockbuster exhibition. As Egyptomania goes, perhaps it can only be compared to the excitement that greeted the discovery and unveiling of the young pharaoh's tomb in 1922.
In the late 1970s, during and immediately after Treasures, Tut appeared in movies, documentaries, television series, cartoons, and an unforgettable bit of Americana – comedian Steve Martin's costumed musical send-up "King Tut," which premiered on Saturday Night Live on April 22, 1978. ("Now if I'd known they'd line up just to see him/I'd have taken all my money and bought me a museum.")
Leonard Nimoy devoted an episode of his show In Search of to examining the alleged Tut curse. Jim Rockford of The Rockford Files mounted a fake Tut exhibit to entrap a corrupt businessman ("Never Send a Boy King to do a Man's Job") in an episode that included footage of the real Los Angeles Museum of Art. The 1978 film Death on the Nile, featuring Peter Ustinov as Hercule Poirot, had nothing to do with Tut, but was released in the United States with his image on the poster. Meanwhile Steve McGarrett of Hawaii Five-O investigated the theft of the famous Tut mask from a fictional exhibit in Honolulu ("Death Mask").
TUT ON THE MIRACLE MILE
Treasures of Tutankhamun broke attendance records at the Los Angeles County Museum of Art (LACMA) – including the record for attendance of a single exhibit at that museum that is yet to be broken. Some one and a quarter million folks toured the show in Los Angeles between February 15 and June 15, 1978. Thinking to get out in front of the crowds that had thronged the exhibit in other cities, LACMA allowed advance sale of tickets. Nonetheless, long lines and waits were the reality.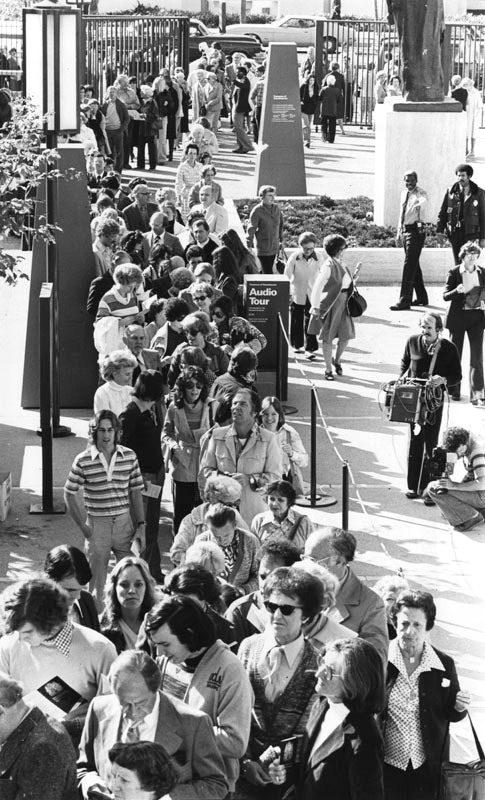 Opening Day of Treasures of Tutankhamun in Los Angeles. The patient people appear to have their tickets in hand. Photo by Michael Haering, dated February 15, 1978, Herald-Examiner Collection, #00078077.
On opening day, a colorful crowd lined Wilshire Boulevard waiting for the doors to open: According to one reporter, "there were scenes more suited to the movie 'Abbott and Costello meet the Mummy.' A ventriloquist walked around with a dummy dressed up like King Tut. A man in a chicken outfit handed out T-shirts publicizing an FM radio station. A woman in a gold lamé dress, colorful feather-pattern headdress, and Egyptian-style make-up said she was Tut's mother incarnate." (Los Angeles Times, 2.16.1978) And, of course, there were vendors hawking Tut memorabilia.
As in other cities, the Tut craze was great for museum publicity. Membership doubled during the run of the exhibit and people were still looking for Tut merchandise three months after the show closed. The glass enclosed Tut gift shop built for the exhibit was converted to a permanent retail space.
ENTERING THE TOMB
Treasures of Tutankhamun was configured to mimic the layout of the tomb itself and its five rooms – corridor, antechamber, burial chamber, treasury, and annex. Artifacts were placed in the space corresponding to the chamber in which they had been discovered. Photomurals created by the Metropolitan Museum of Art from original glass plate negatives taken by the exhibition photographer Harry Burton were placed on the walls to re-create the atmosphere of the newly opened tomb. One of these showed Tut's unwrapped mummy in situ, some consolation for those who might have expected to see an actual mummy.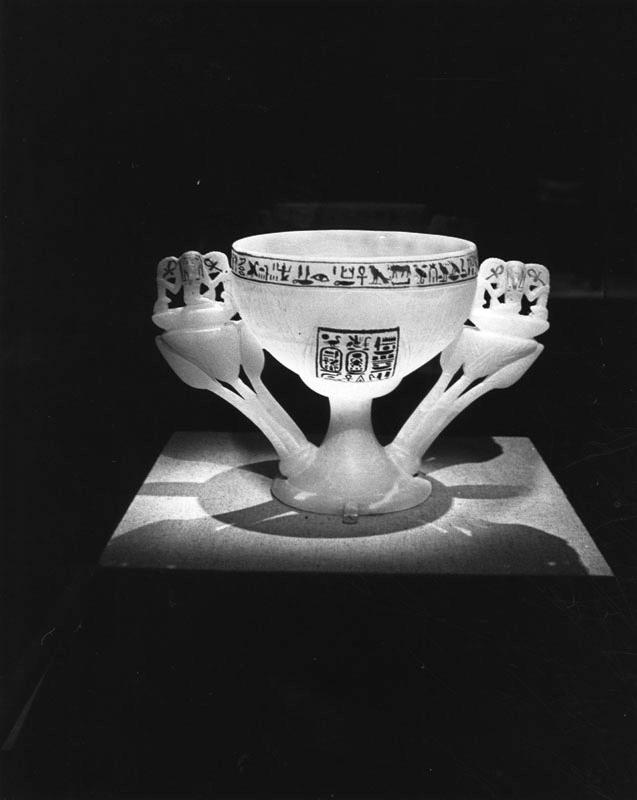 The white lotus chalice, made of alabaster. Photo by Michael Haering, dated February 14, 1978, Herald-Examiner Collection, #00078080.
The first object visitors laid eyes on upon entering was a wooden image of Tut, the same artifact Howard Carter viewed in his first glimpse into the antechamber. Other popular objects were the slinky statuette of the goddess Selket, an alabaster unguent vase in the shape of a rearing lion, the canopic "coffins" that held Tut's internal organs, and, of course, the piece that came to symbolize the entire exhibit – the golden death mask of Tutankhamun.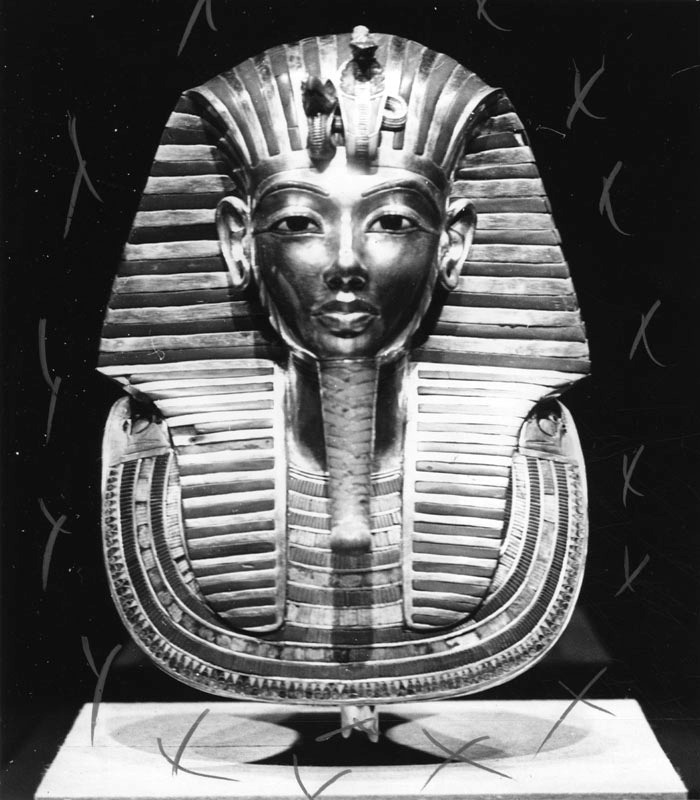 The famous death mask of King Tut. Photo by Michael Haering, dated February 15, 1978, Herald-Examiner Collection, #00078086.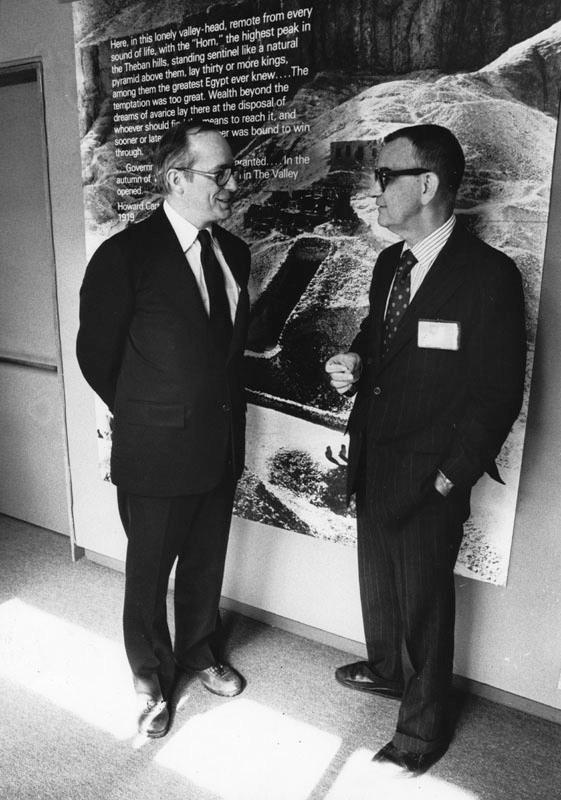 National Endowment for the Humanities chair Joseph Duffey speaks with LACMA director Kenneth Donahue on the exhibit's opening day. The men are standing in front of one of the photo murals showing Howard Carter's excavation. Photo by Linda Brundige, dated February 15, 1978, Herald-Examiner Collection, #00078084.
RETURN OF THE BOY KING
In 2018 Los Angeles prepared to welcome Tut once more. The exhibition King Tut: Treasures of the Golden Pharaoh opened at the California Science Center in Exposition Park on March 24 and will run until January 6 of next year. The latest traveling Tut exhibit boasts three times the number of objects of the 1978 tour, including many that have never left Egypt before. Don't miss it!
Sources for this essay include:
Treasures of Tutankhamun, ed. by Katherine Stoddert Gilbert, with Joan K. Holt and Sara Hudson (New York City: The Metropolitan Museum of Art, 1976)
Meredith Hindley, "King Tut: A Classic Blockbuster Museum Exhibition That Began as a Diplomatic Gesture," HUMANITIES: The Magazine of the National Endowment for the Humanities  (https://www.neh.gov/humanities/2015/septemberoctober/feature/king-tut-classic-blockbuster-museum-exhibition-began-diplom)
Deborah Vankin, "King Tut exhibition comes to L.A., but its not the same as you might remember," Los Angeles Times, March 21, 2018, http://www.latimes.com/entertainment/arts/la-et-cm-king-tut-exhibition-20180322-story.html.
Steve Martin, "King Tut," YouTube (https://www.youtube.com/watch?v=FYbavuReVF4)
Steve Harvey, "Tut Crowd Offers Show of Its Own," Los Angeles Times, February 16, 1978.
Sylvia Townsend, "King Tut 'Treasures' Still in Demand at County Art Museum, Los Angeles Times, October 20, 1978.