On June 20, 1947, Benjamin "Bugsy" Siegel, the East Coast mobster who had relocated to and prospered in Los Angeles and was now intent on building up Las Vegas, sat in his girlfriend's living room in Beverly Hills. He chatted with his long-time friend and associate, Allen Smiley, while reading the Los Angeles Times. Suddenly, shots exploded through the front window. An unknown assailant wielding an M-1 carbine had fired point blank at the couch. Smiley took three bullets through the sleeve of his jacket, while Siegel took many more bullets, including two to the head. Smiley lived and became an oilman in Houston. Siegel died immediately. The assailant disappeared into the night. The crime was never solved.
The photo archives of the Los Angeles Public Library provide a photographic history of Bugsy Siegel's life in Los Angeles (including its end), giving viewers a glimpse into a life that was as glamorous as it was dangerous.
Benjamin "Bugsy" Siegel was the second child born to Jennie and Max Siegel, poor Jewish immigrants from Russia who had settled in the Williamsburg section of Brooklyn. Determined to overcome the poverty that permeated his life, Bugsy became a bootlegger, strong arm, and hitman in his teens. He became successful and enjoyed a cultivated life, visiting swanky New York nightclubs and wearing custom tailored suits.
In 1936, Siegel moved with his wife, Esta Krakower (also known as Esther or Estelle), and their daughters, Millicent and Barbara, to Los Angeles. Though the couple would eventually divorce and Siegel's ex-wife and daughters would move back to New York, Siegel's ex-wife always insisted that her ex-husband was a good man who helped others.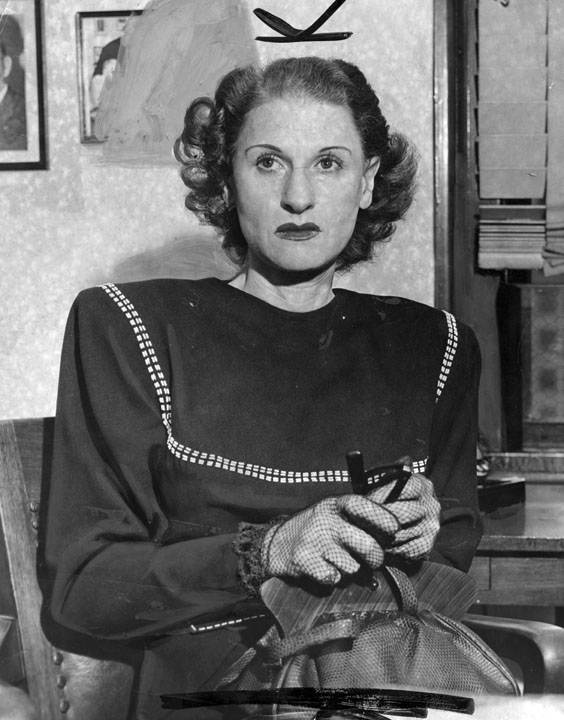 Herald-Examiner Collection, photograph taken June 22, 1947, by Art Worden.
Siegel was known for his fearlessness, his quick reflexes, and his prowess with guns. He was linked to the deaths of many rival gangsters, including Joe Masseria, Salvatore Maranzano, three brothers in the Fabrizzo family, and Harry "Big Greenie" Greenberg, who was his personal friend.
Here, Siegel grabs a cup of water during a break in his trial for the murder of Harry Greenberg (aka Harry Schachter), a friend of Siegel and employee of mobsters Lucky Luciano and Meyer Lansky. Greenberg was murdered in Hollywood on Thanksgiving of 1939. Siegel was acquitted of his death and no one was ever convicted for the killing.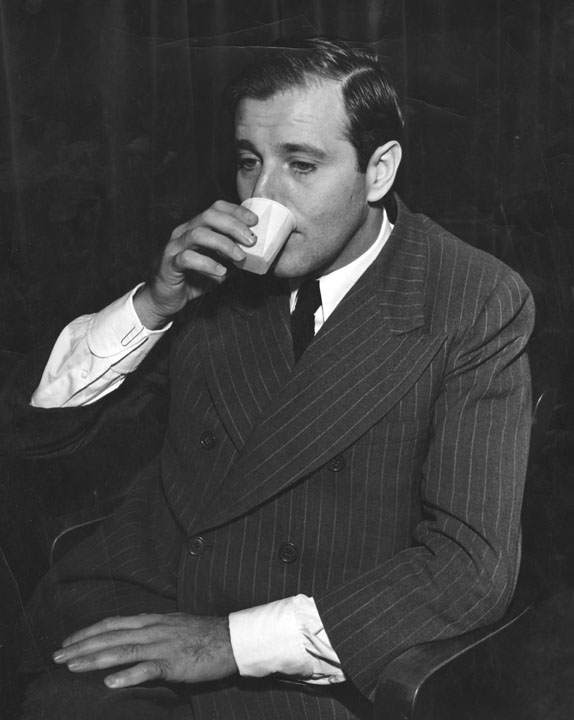 Herald-Examiner Collection, photo taken on October 13, 1941.
Siegel worked in various endeavors in Southern California including the numbers racket (an illegal lottery), prostitution, and the U.S./Mexico drug trade. As charming as he was brutal, he became a fixture in Hollywood nightlife, hobnobbing with politicians, businessmen, attorneys, and entertainment figures including Cary Grant, Clark Gable, Gary Cooper, Frank Sinatra, and Louis B. Mayer.
This photo shows George Raft at the Desert Inn, a popular resort in Palm Springs. Raft was a very good friend of Bugsy Siegel and even testified on his behalf in court. It is curious to note that Raft portrayed a gangster in many movies of the 1930s and 1940s (including the original Scarface) and was so convincing that many speculated that he truly was a gangster. While he denied any involvement with organized crime, Raft was indeed friends with many mob figures. In 1967, he was refused entry to the United Kingdom due to his association with the Mafia.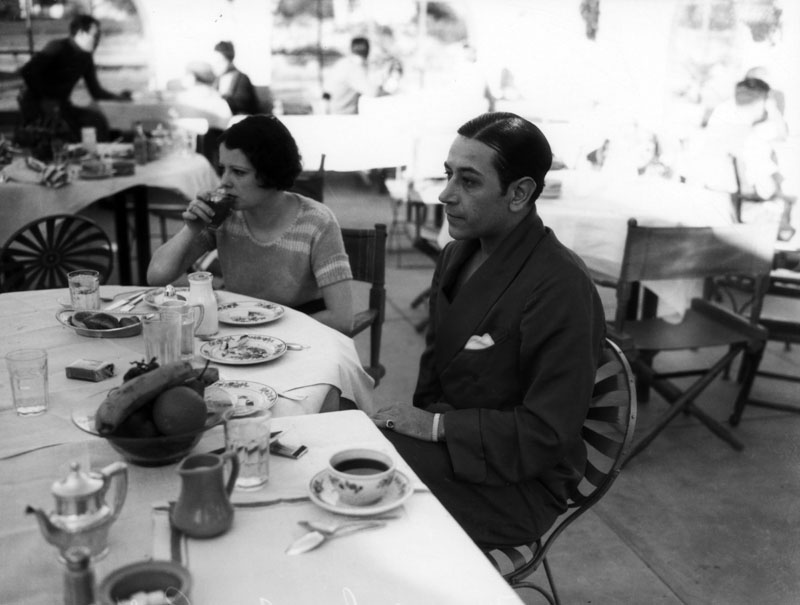 Security Pacific National Bank Collection, photographed in 1930.
Actress Jean Harlow was godmother to Siegel's oldest daughter, Millicent.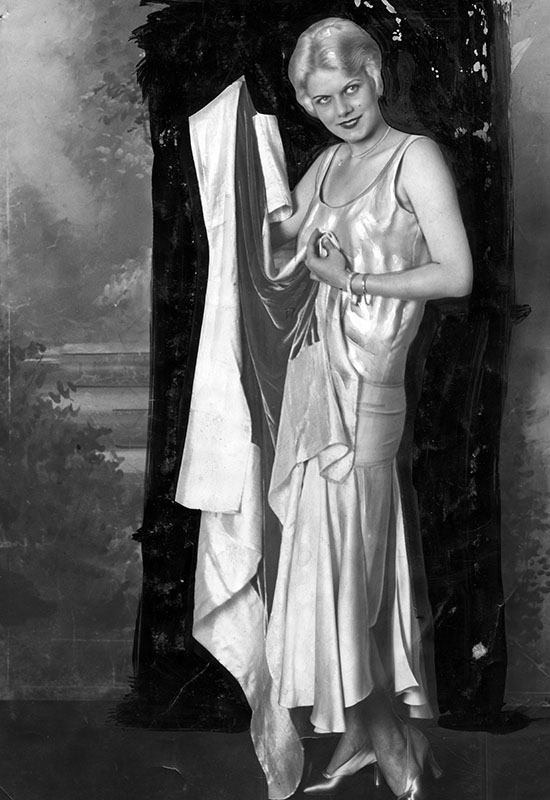 Herald-Examiner Collection, photo taken on September 27, 1928.
Virginia Hill was born in Lipscomb, Alabama, on August 26, 1916. After running away from home at 17 (wearing the first pair of shoes she claimed she ever owned), she landed in Chicago and found work delivering messages and packages for gangsters. She eventually secured steady employment in the accounting office of Al Capone. She moved to Los Angeles, met Siegel, and became romantically involved with him in 1942. He nicknamed her "The Flamingo". (It was rumored that he named the Las Vegas hotel after Hill, but the resort was actually named the Flamingo by a previous investor.) Some years after Siegel was murdered, Hill was ordered to testify in front of the Kefauver Committee, a Senate committee conducting hearings to explore the reach of organized crime. She eventually moved to Europe where she married, raised a son, and died on March 24, 1966, in Austria. (The cause of death was ruled to be suicide.)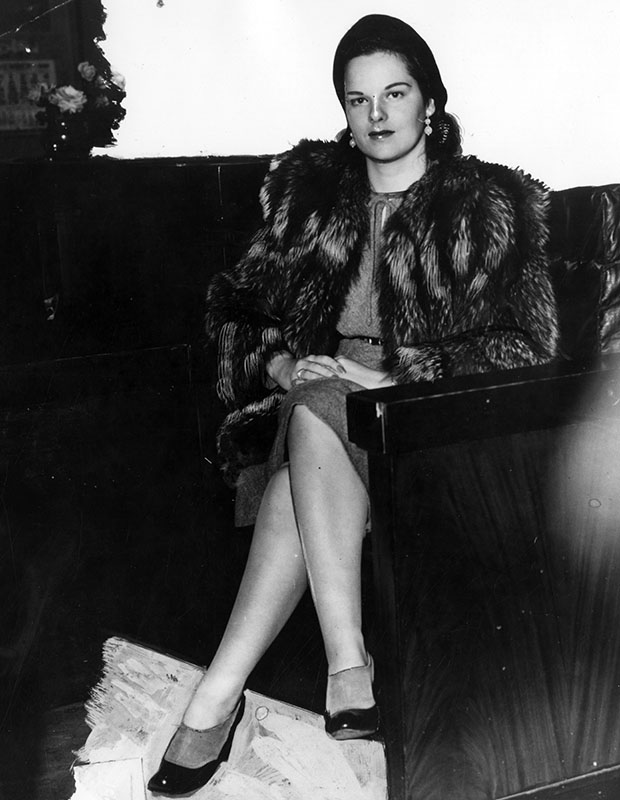 Herald-Examiner Collection, photo dated November 21, 1939.
Despite his success in illegal activities, Siegel desired to be a legitimate businessman. His dream appeared to be within reach with his investment in the construction of the Flamingo Hotel. Backed with mob money, Siegel aspired to create a casino resort of the highest class, with world-renowned entertainment, gourmet food, imported liquor, and luxurious lodging. Unfortunately, the project was fraught with delays, material shortages, rising costs, and personnel problems caused by Siegel's arrogance and violent outbursts. The resort did not turn a profit immediately upon opening, and many speculate that mob bosses, tired of waiting for a return on their investments, arranged for the hit that ended the life of Bugsy Siegel. This photo shows the bullet holes (center) in the window caused by the gunman or gunmen who shot Bugsy Siegel.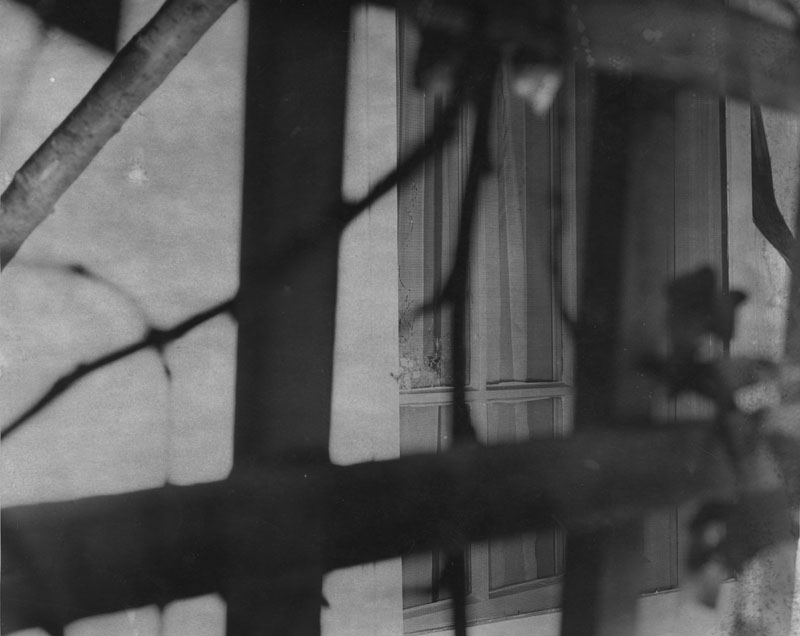 Herald-Examiner Collection, photographed June 23, 1947, by Harold Ballew.
This photo shows a coroner's aide examining the body of Benjamin "Bugsy" Siegel as it lies on the floor of the house at 810 N. Linden Drive in Beverly Hills, the residence of Siegel's companion, Virginia Hill. [NOTE: There are two copies of this photo, with one highlighting key points of the murder scene.]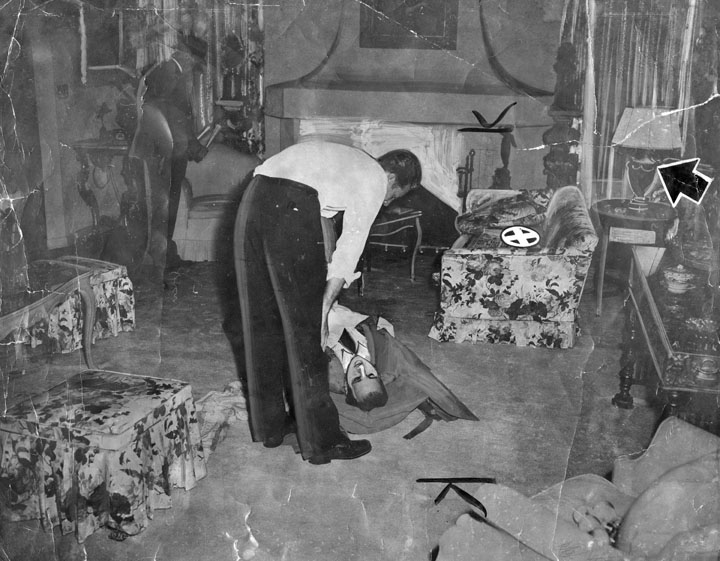 Herald-Examiner Collection, photo dated June 21, 1947.
As noted, Siegel's friend and associate Allen Smiley was sitting on the couch next to Seigel when the shooting occurred but escaped unharmed. This photo shows Smiley leaving the police station in Beverly Hills during the investigation of Bugsy Siegel's murder.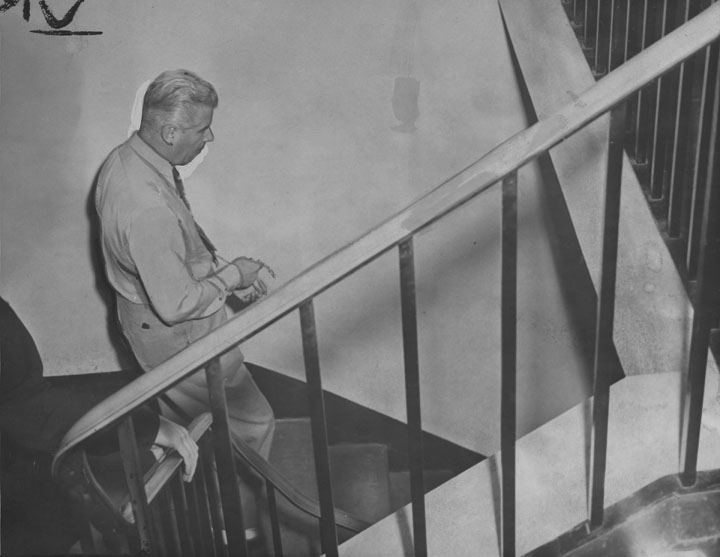 Herald-Examiner Collection, photo dated June 23, 1947.
At the time of the shooting, Siegel's pal Smiley was in the house along with Virginia Hill's cook, brother, and secretary. These three people had retired for the evening and were in other parts of the house when the shooting occurred.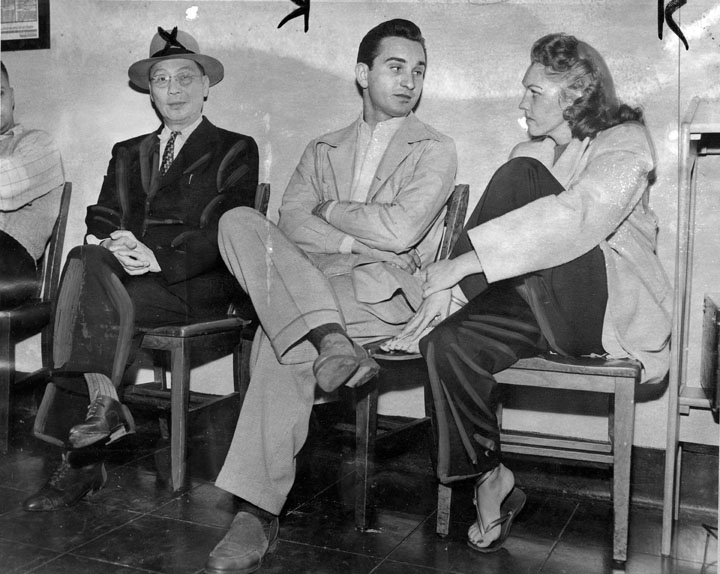 Herald-Examiner Collection, photographed June 21, 1947.
Of course, it goes without saying that Siegel had plenty of enemies.
Two Brooklyn gangsters, Al Tannenbaum and Abe 'Kid Twist' Reles, told the Los Angeles Grand Jury that Siegel was a much bigger threat than anyone knew and that he did indeed kill Harry Greenberg (Schachter). Here, Kid Twist arrives to speak with the Grand Jury.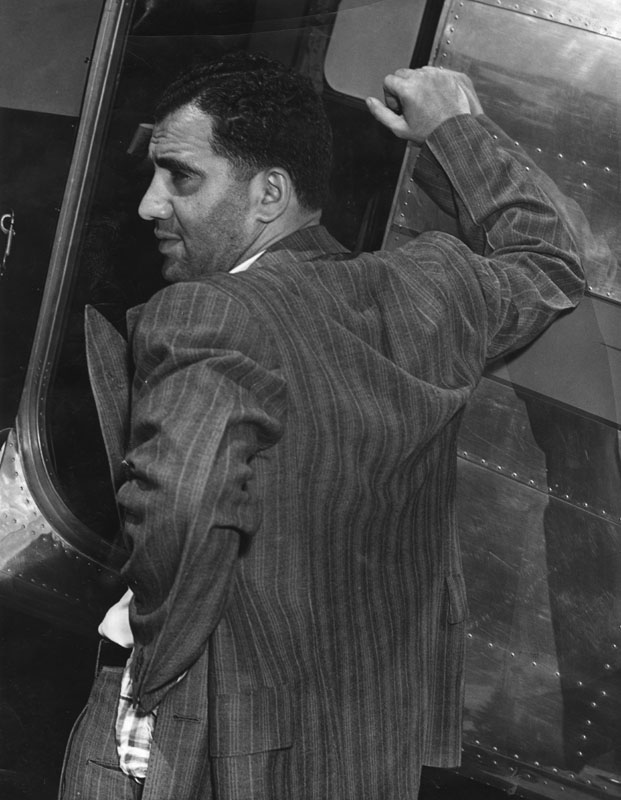 Herald-Examiner Collection, photo dated August 20, 1940.
It was widely speculated that the killing of Benjamin "Bugsy" Siegel (and Siegel hated to be called "Bugsy") was a mob hit, carried out when Mafia bosses became fed up with the runaway construction costs and slow profits of the Flamingo Hotel. One major suspect for the killing was Tony Brancato, a mobster from Kansas City who relocated to Los Angeles and was involved in prostitution, gambling, and narcotics. After robbing the Flamingo Hotel in Las Vegas, Brancato himself became a target and was killed in a gangland-style killing in August of 1951 in Los Angeles along with associate Tony Trombino. This photo was taken hours after they were ambushed in their car.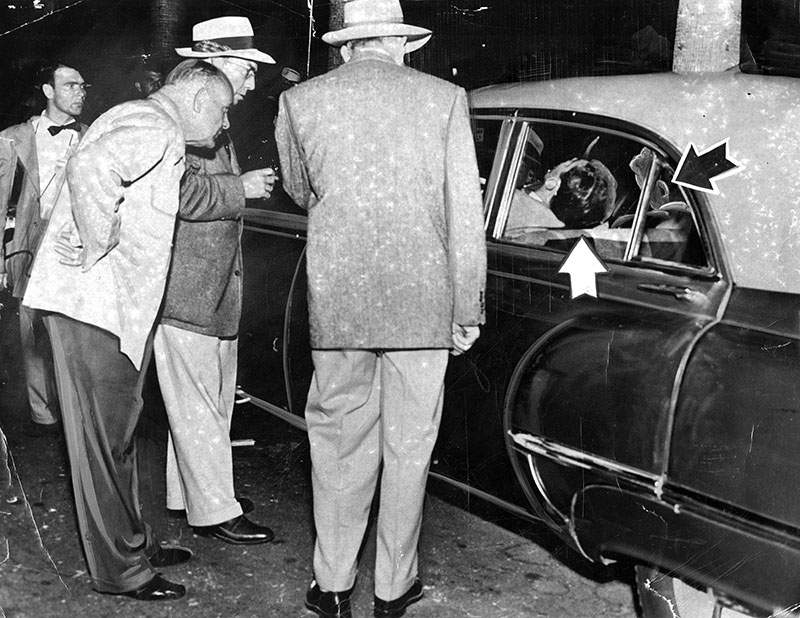 Herald-Examiner Collection, photo taken on August 7, 1951.
Law enforcement created an information pool with the hopes of finding clues as to the killer of Bugsy Siegel.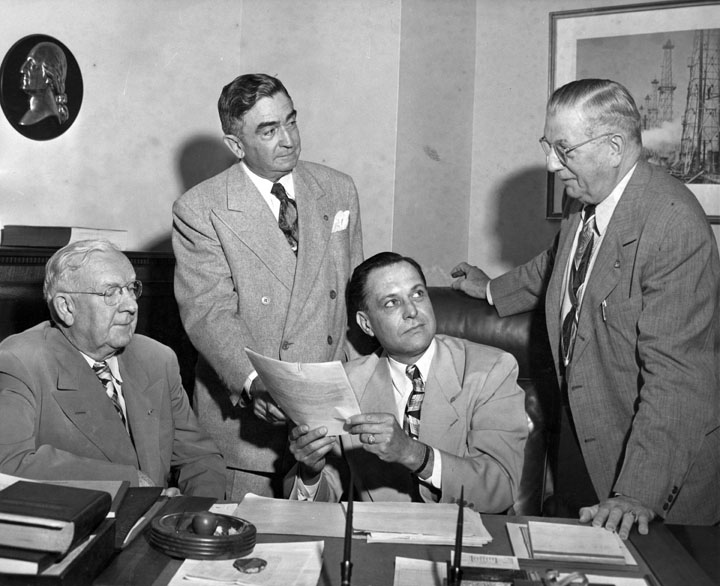 Herald-Examiner Collection, photo taken on June 21, 1947.
Seventy years on, the murder case of Bugsy Siegel remains unsolved. While there were theories and suspects and questioning, no person or persons were ever charged with the killing. Siegel's body went to the coroner and he was then buried in a silver-plated casket in Hollywood Forever Cemetery.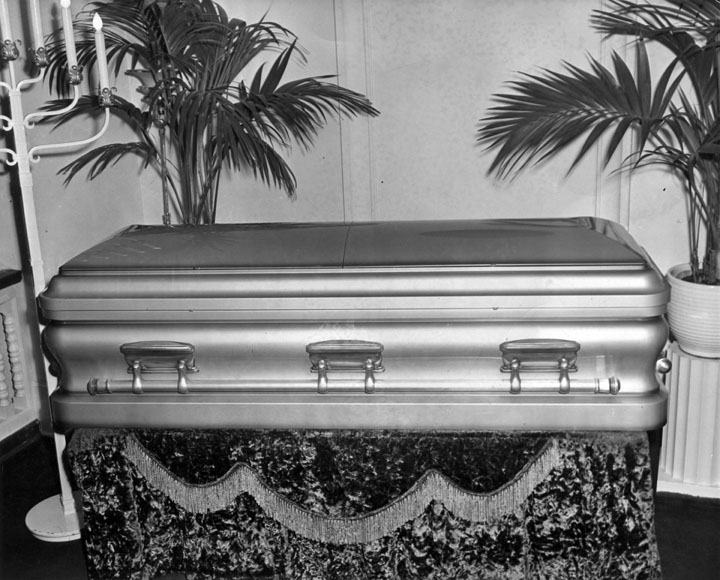 Herald-Examiner Collection, photo taken on June 26, 1947.
Like anyone, Siegel had dreams and desires, triumphs and tragedies. He had glamorous friends and dangerous enemies. He looked out for his friends but could turn on them if they did him wrong. He appreciated luxuries and fine things but wanted others to have them. (He envisioned The Flamingo attracting both high rollers and average vacationers.) He was stylish and charismatic, quick-tempered and violent. He enjoyed drinking champagne with movie stars in nightclubs but also cherished a quiet night at home. Ironically, it was not a shootout, a fight, or a drive through a dark alley that proved his undoing, but a simple quiet night at home.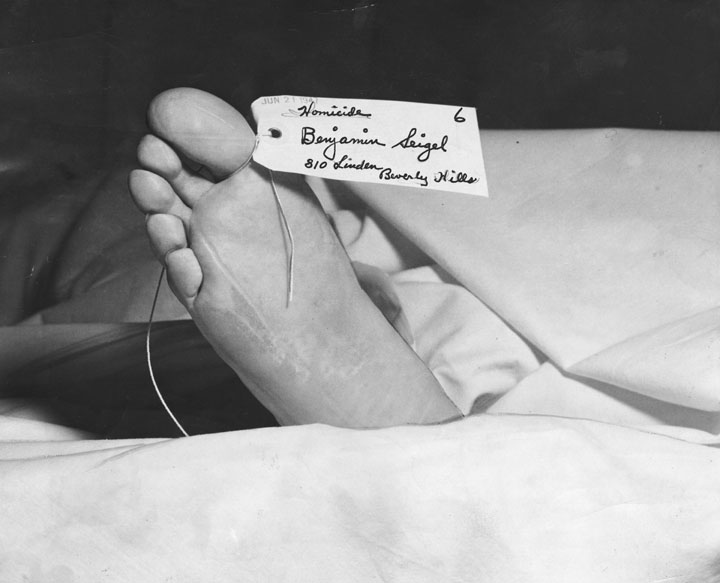 Herald-Examiner Collection, photo taken on June 25, 1947