Los Angeles boasts a number of beautiful gardens and with winters being much milder in Southern California than other parts of the country, you can take a garden stroll anytime. That said, there will be times you can't get to the garden – bad cold, sick kids, a backlog of work. If you're stuck indoors and dreaming of relaxing amongst lush foliage, fragrant flowers, or spiky cholla, the photo collection of the Los Angeles Public Library can help you escape. As with everything in the City of Angels, Los Angeles gardens (present and past) boast plenty of variety.
Japanese Gardens
SuihoEn (garden of water and fragrance), situated on the grounds of the Tillman Water Reclamation Plant in Van Nuys, is an authentic Japanese garden designed by Dr. Koichi Kawana and fashioned after the stroll gardens built during the 18th and 19th centuries for Japanese feudal lords. It features a karesansui (dry Zen meditation garden), a wet garden featuring waterfalls and ponds, and a chashitsu (tatami mat teahouse).
Japanese Garden at Tillman Water Reclamation Plant in Van Nuys, California (Photo taken by Stephen Callis, 1991)
The Botanical Gardens on the grounds of the Huntington Library in San Marino also feature a Japanese garden, complete with koi ponds and an authentic Japanese House considered to be one of the best examples of early twentieth Japanese architecture in the United States.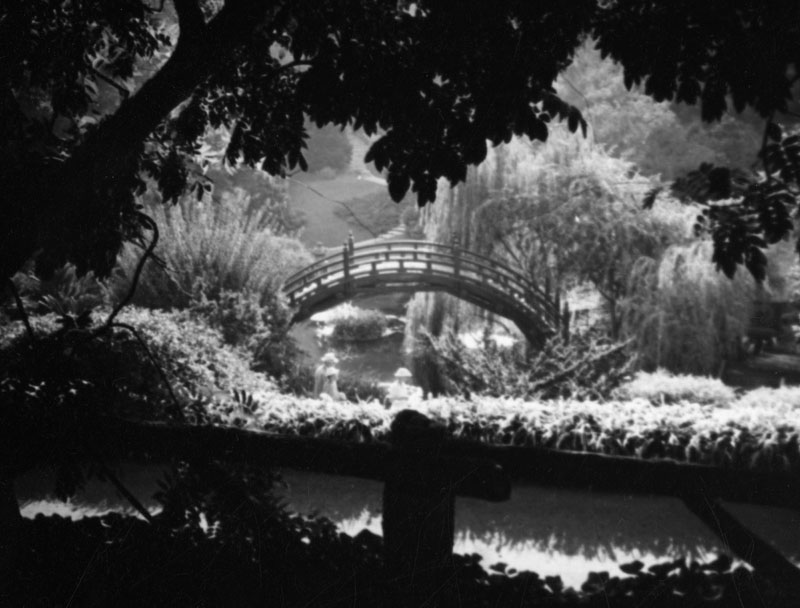 Japanese Garden at Huntington Botanical Gardens in San Marino (Photo taken by Herman Schultheis, ca. 1937)
The Bernheimer Estate, built overlooking the ocean in Pacific Palisades in the early 1920s, featured Japanese gardens with a pagoda housing the vast collection of Oriental art acquired by Adolph Bernheimer. The Bernheimer Gardens were a popular tourist attraction until 1941, when public opinion changed due to Pearl Harbor and World War II. The property suffered erosion and two major landslides and was vacated in the late 1940s; the structures were demolished in the 1950s.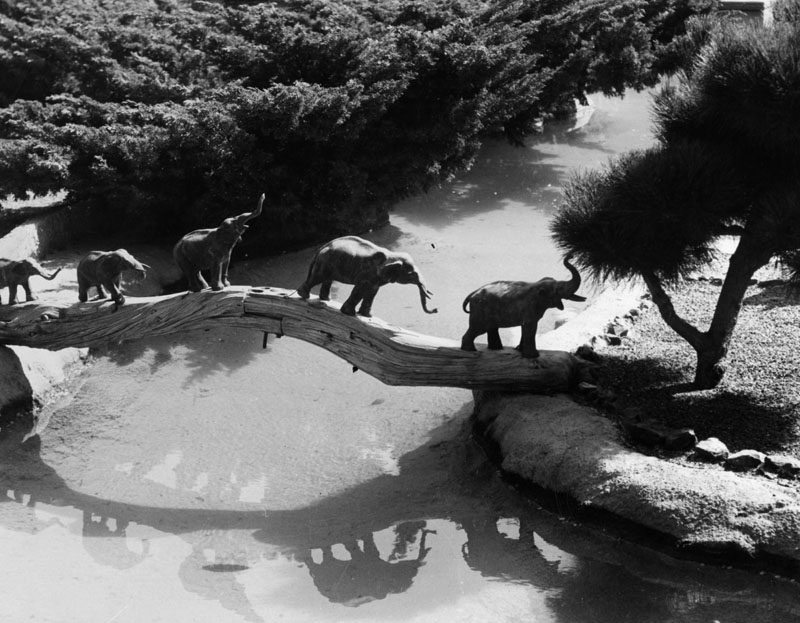 Bronze elephants stroll through the Bernheimer Japanese Gardens. (Security Pacific National Bank Collection, 1939)
Cactus Gardens
The weird and resilient beauty of the cactus is on display in the Desert Garden of The Huntington Botanical Gardens in San Marino, which showcases more than 2,000 species of desert plants in one of the largest cactus gardens in the world.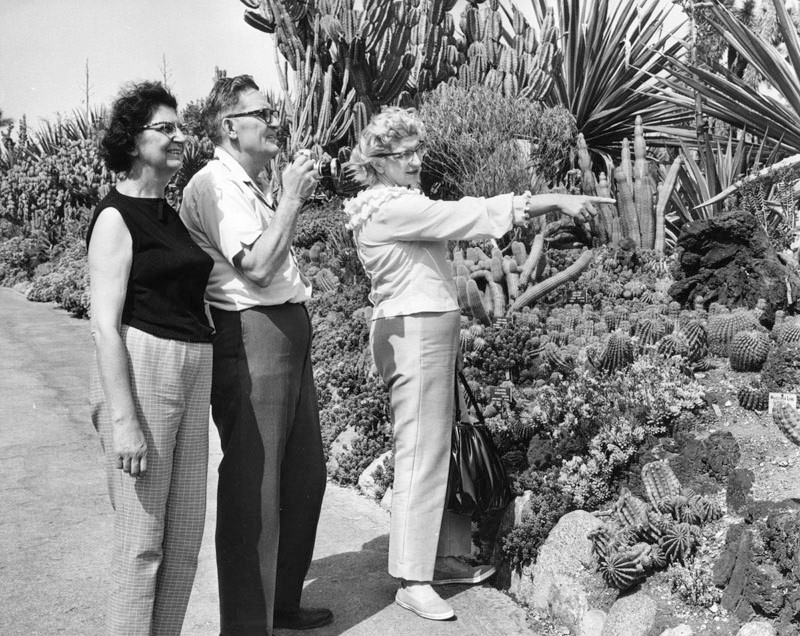 Visitors from Detroit admire the many varieties of cacti in the Desert Garden  at Huntington Botanical Gardens (Herald Examiner Collection, ca. 1965)
Will Keith Kellogg,(commonly known as W.K. Kellogg), the breakfast cereal magnate, bought acreage in Pomona, California, in 1925 on which he established an Arabian horse ranch. The land has passed through many owners (including the University of California system and the U.S. War Department) and is now the W.K. Kellogg Arabian Horse Center at California State Polytechnic University, Pomona. The grounds have changed over time, but a stroll down memory lane will show its beautiful gardens, including a huge cactus garden.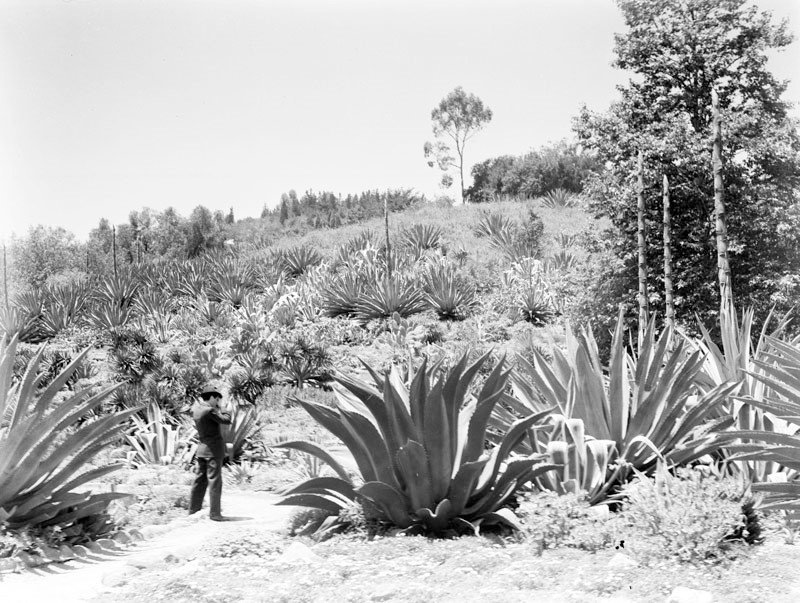 Cactus garden at Kellogg Arabian Horse Farm (WPA collection, ca. 1930)
The Kellogg estate gardens also featured a pond complete with water flowers and water fowl.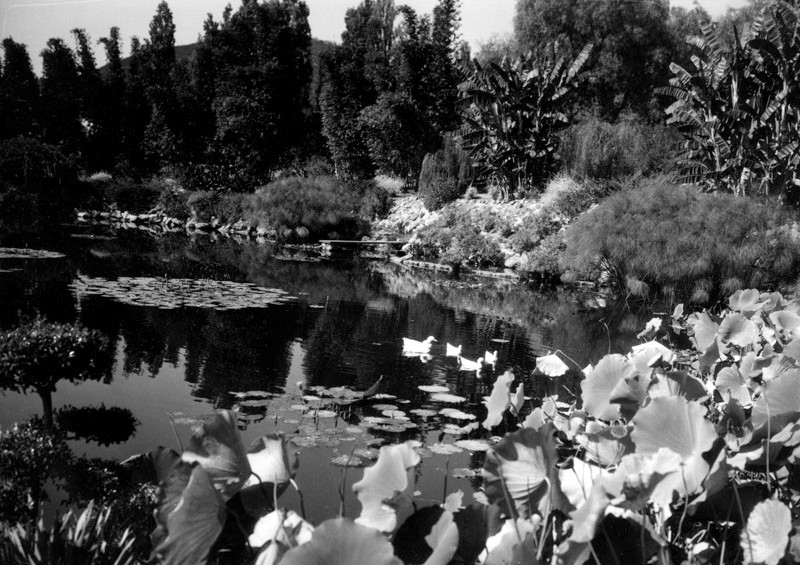 Garden and pond at Kellogg Arabian Horse Ranch in Pomona (Security Pacific National Bank Collection, date unknown)
Rose Gardens
If you are aching to smell the roses, Exposition Park Rose Garden (located just south of the campus of University of Southern California) is open to visitors from 9:00 a.m. to sunset. Unfortunately, you will have to wait for spring as the Rose Garden is closed from January 1st through March 15th every year for maintenance (time to prune the roses!)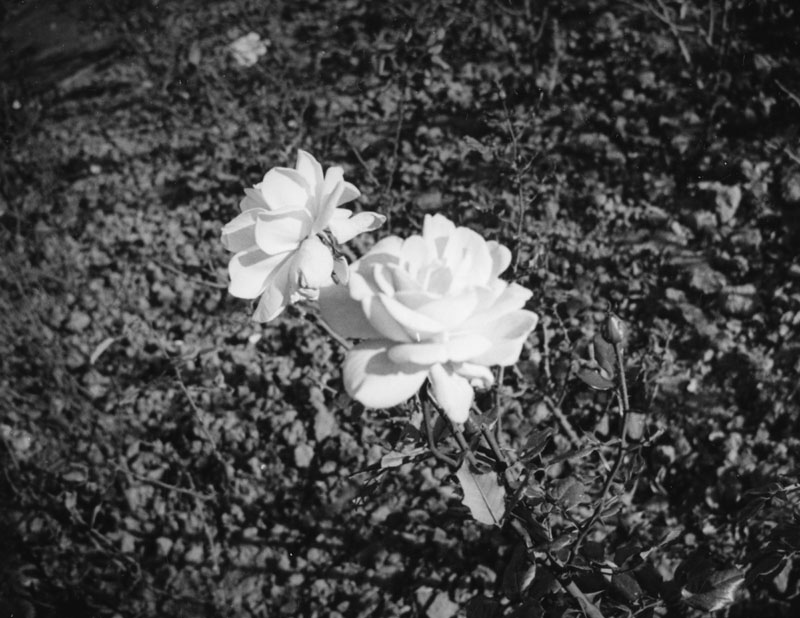 Roses in Exposition Park in Los Angeles (Herman J. Schultheis Collection, ca. 1937)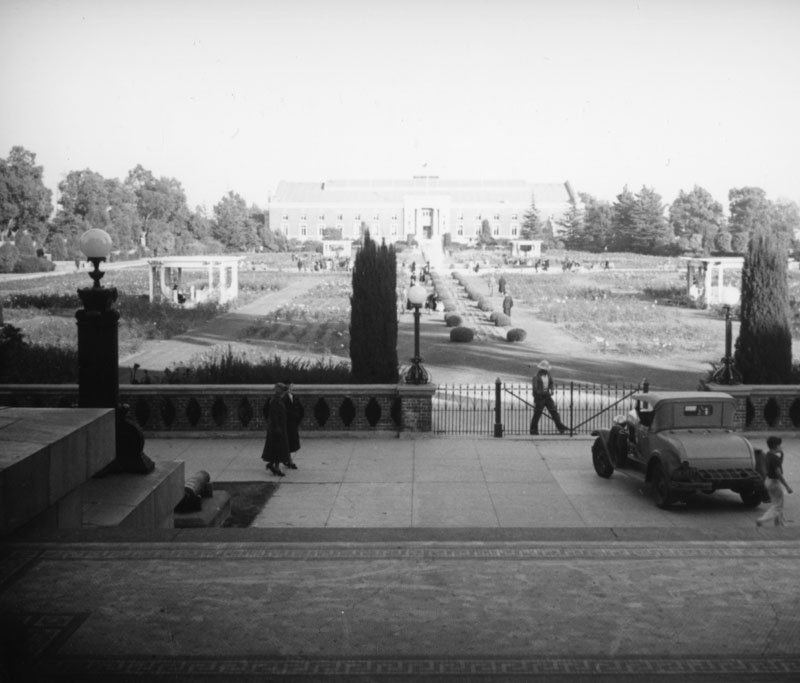 Rose Garden as seen from the steps of the Museum of History, Science and Art in Exposition Park (Herman J. Schultheis Collection, ca. 1937)
French-born artist Paul de Longpre?, who painted flowers and floral scenes in watercolor, came to Hollywood in 1899 and had a home built on three acres close to what is now the intersection of Cahuenga Avenue and Hollywood Boulevard. (A nearby street, De Longpre Avenue, was named after him.) He maintained a garden on this property that at one time boasted 4,000 roses. The residence, which included art galleries in addition to gardens, became a popular destination for tourists and local visitors before being demolished in 1927.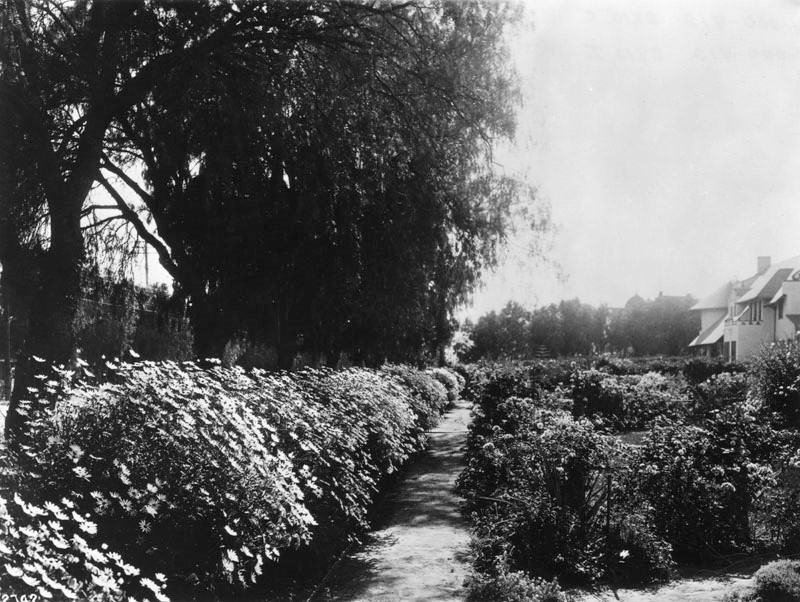 Rose Garden at estate of artist Paul de Longpre (Security Pacific National Bank Collection, date unknown)