The temperature in Los Angeles was just above freezing on the morning of Thursday, February 2, 1922. Henry Peavey was glad to get to his workplace – a stylish bungalow in the affluent Westlake district – as it would surely be warm inside. What's more, he genuinely enjoyed his job as cook and valet for silent film director William Desmond Taylor. Mr. Taylor was very good to him, both as an employer and as a fellow man. Peavey unlocked the front door and stepped inside, ready to draw a morning bath and cook breakfast for Taylor. He ultimately did neither, as he found the director lying on his back in the living room, a pool of blood on the floor. The quiet of the morning was shattered by Peavey's screams as he ran into the courtyard.
Thus began the saga of the murder of William Desmond Taylor – a crime unsolved to this day. Viewing images from the photo collection of the Los Angeles Public Library, we can learn not only of the crime and the crime scene but also of the era – a time (in spite of prohibition) of cocktails, cocaine, illicit affairs, scandals, public outrage, and powerful studios that orchestrated events (and people's lives) the same way they made movies.
William Desmond Taylor began life as William Cunningham Deanne-Tanner on April 26, 1872, in Carlow, Ireland. After an argument with his father (who frowned upon his son's interest in the theater), he was sent at 18 years of age to become a gentleman farmer in Kansas. After a year and a half, young Tanner moved to New York City, where he met Ethel May Hamilton, a stage actress. They married in 1901 and became part of New York society. In 1908, he disappeared with neither a word nor a warning, leaving behind Ethel May and a young daughter. His wife, unable to locate her errant husband, obtained a divorce in 1912.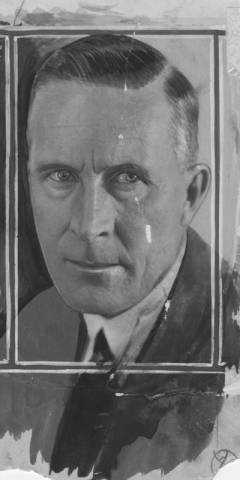 Portrait of William Desmond Taylor, Herald Examiner Collection, photo undated.
Taylor's ex-wife, Ethel May Hamilton, reported that Taylor worked as an antiques dealer in her father's establishment while she worked as a stage actress. Taylor was a wonderful husband and father but had bouts of amnesia during which he would wander off and forget where was his home. He wandered off in 1908 and never returned. Years later, Hamilton and her (and Taylor's) daughter, Ethel Daisy, were watching a film in which Taylor appeared onscreen. Pointing to the screen, Hamilton exclaimed, "That's your daddy!" While Taylor and his wife never reunited, they did meet in Los Angeles and remain friends with Taylor supporting and staying in contact with his daughter until his death.
Photograph of Ethel May Hamilton, the ex-wife of Deanne-Tanner (later to be known as Taylor).
Herald Examiner Collection, photo undated.
Photo of daughter Ethel Daisy Deanne-Tanner as a young woman.
Herald Examiner Collection, photo undated.
Around the same time his wife was divorcing him, Tanner (who by that time had changed his name to Taylor) arrived in San Francisco. He had purportedly spent the time since his departure from New York traveling and working at various jobs – gold prospector, builder, soldier, horse trainer – in locales ranging from the Pacific Northwest to Alaska. With financial help from friends, he moved to Los Angeles and started acting in film. With his equestrian expertise and good looks, he was in high demand and worked with the stars of the day, but his true desire was to direct. In 1914, he directed his first film, The Awakening. Taylor was to direct 50 more films before that cold morning he was found dead.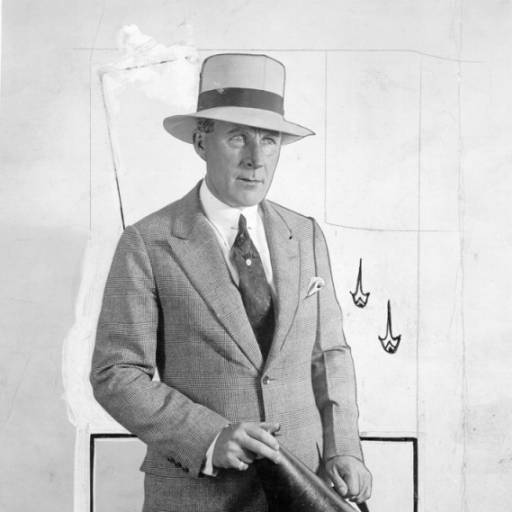 Taylor directing a film. Herald Examiner Collection, photo undated.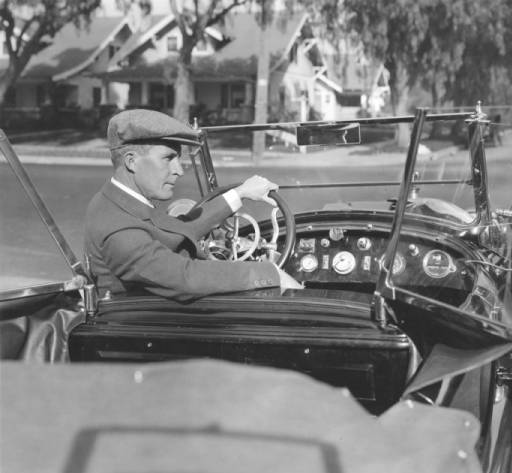 Taylor at the wheel of his automobile. Herald Examiner Collection, photo undated.
The Alvarado Court Apartments in which William Desmond Taylor resided were located on South Alvarado Street in the (then) swanky MacArthur Park neighborhood. The apartment complex contained eight two-unit bungalows situated in a U-shape around a central garden. (It was into this garden that Taylor's valet, Henry Peavey, ran screaming after he discovered Taylor's body.) Taylor lived in Apartment 404B on the east side of the complex. (The complex was razed in the 1950s.)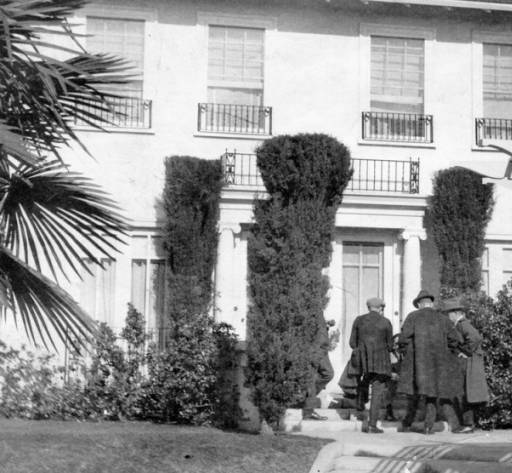 Photograph of bungalow home of William Desmond Taylor. Herald Examiner Collection, photo taken in 1937.
Peavey's screams awoke and attracted neighbors. Verne Dumas and Neil Harrington, who both worked at Cal-Mex Oil Company and lived in 408A, ran to see what was the matter, both of them still in their bathrobes. Emile Jesserun, the Jamaican-born designer and manager of the apartments, left his sick bed to go to Taylor's apartment. Douglas MacLean, an actor who had appeared in movies directed by Taylor, joined the crowd forming at the apartment, noting that he and his wife, Faith, had heard a loud noise (which they attributed to a car backfiring) the night before and, upon looking out the window, had seen a man exit Taylor's apartment, step back into it for a few minutes, then leave the premises. The man did not seem suspicious or strange, so the MacLeans returned to their card game.
One thing that all the men noticed was how tidy the body seemed. Except for blood beneath his head, Taylor looked as if he had willingly lain down, smoothed his clothes, and combed his hair. The position in which the body lay would be impossible for someone to achieve by simply falling down. Moreover, nothing in the premises seemed to have been disturbed. The back door was still locked, windows were closed and secured, Taylor's wallet contained money, his watch was still on his wrist, his gun and traveling bag were undisturbed.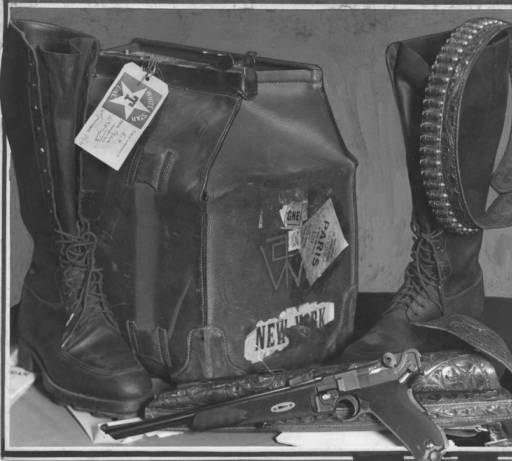 William Desmond Taylor's boots, gun, and traveling bag. Herald Examiner Collection, photo taken in 1922.
Another neighbor who awoke to Peavey's screams that cold February morning was Edna Purviance, a leading lady of Charlie Chaplin films living in 402A. When she learned of Taylor's death, she promptly made calls to Famous Players-Lasky (the studio for whom Taylor worked) as someone there would definitely want to know of Taylor's demise.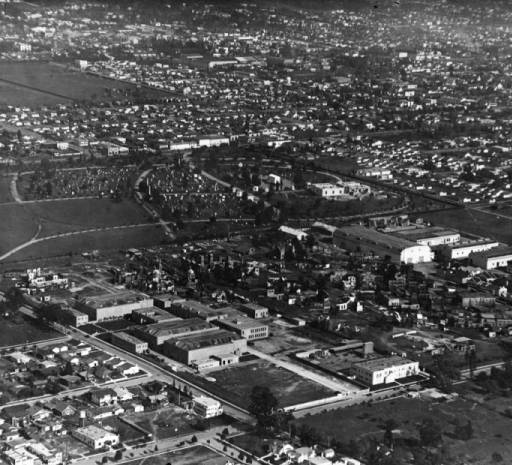 Film studios in Hollywood — Famous Players-Lasky is on the right of the photo.
Security Pacific National Bank Collection, photo taken in 1922.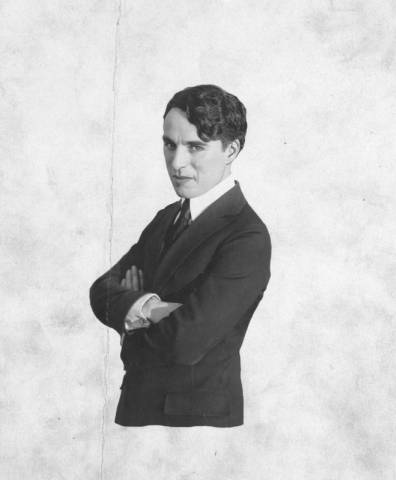 Charlie Chaplin cast Edna Purviance as his leading lady in over twenty films. He intended to
marry her but was forced to marry Mildred Harris when she became pregnant with his child.
Herald Examiner Collection, photo taken in 1932.
When he calmed down, Henry Peavey contacted Harry Fellows, Taylor's assistant director, who promptly called Charles Eyton, general manager of Famous Players-Lasky. Meanwhile, Taylor's landlord notified the LAPD, who promptly sent Detective Thompson Zeigler, a 30-year veteran, to Taylor's home. Upon his arrival, Zeigler called a doctor. The physician showed up, declared that Taylor had died from a stomach hemorrhage, and immediately left.
While the doctor was performing his quick examination, studio manager Eyton arrived at Taylor's bungalow and began to question others on the scene. As there was no evidence of a crime and Eyton represented Taylor's employer, Detective Zeigler saw no reason to object to any investigation on Eyton's part. While Eyton concurred with the doctor's diagnosis that Taylor had died of stomach ailments, MacLean began to question if the noise he and his wife had heard the previous night might not have been a car backfire but rather a gunshot. This made Eyton nervous. Regardless of the cause of death, Eyton wanted as little press as possible regarding Taylor's death. At the time, the film industry was being labeled a bad influence on the public at large. The rape/manslaughter trial of Fatty Arbuckle was casting a shadow on entertainers, studios were losing money due to dwindling movie audiences, and various factions were demanding censorship of the cinema. Eyton wanted to avoid any whiff of a scandal in the case of Taylor's death.
NOTE: The Fatty Arbuckle scandal began when Virginia Rappe died on Friday, September 9, 1921, four days after she claimed that Roscoe "Fatty" Arbuckle had raped her during a three-day Labor Day party held at the St. Francis Hotel in San Francisco. Her bladder had ruptured (causing her death) and this was supposedly due to Arbuckle's weight and the harshness of the assault on Rappe.
Arbuckle's rape/manslaughter case would be tried in court three times – the first two times resulting in a hung jury, the third time resulting in acquittal and a note from the jury stating "there was not the slightest proof adduced to connect him in any way with the commission of a crime".
After his arrest and during the trials, many theaters refused to show Arbuckle's films and most footage of him was destroyed. Despite the courts finding him innocent of all charges, Arbuckle's acting career was permanently ruined. (William Hays, Hollywood's chief cinema censor and the creator of the Hays Code, banned Arbuckle from appearing onscreen for several months after he had been found not guilty.) Arbuckle eventually worked as a director, using the name William Goodrich. He died in 1933 of a heart attack at age 46.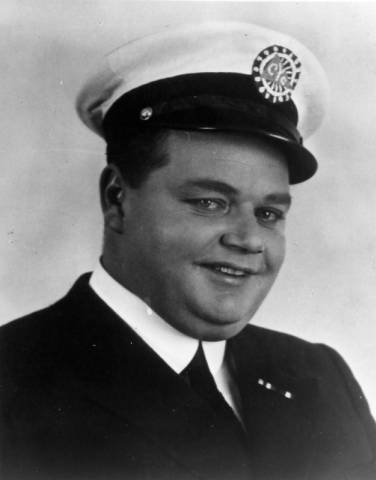 Roscoe "Fatty" Arbuckle as seen in the 1921 film "The Dollar-A-Year Man".
Herald Examiner Collection, photo undated. 

Virginia Rappe, the woman who accused Fatty Arbuckle of sexual assault.
Herald Examiner Collection, photo undated.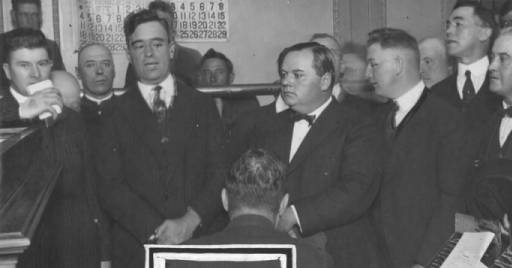 Roscoe "Fatty" Arbuckle confers with his legal team in a San Francisco courtroom.
The three court trials cost Arbuckle a total of over $10,000,000 in current day dollars and
resulted in his acquittal as well as the end of his career. Herald Examiner Collection, photo taken in 1921.
To avoid another scandal of such magnitude (and possible financial repercussions), Eyton ordered others present on the scene (Taylor's neighbors, many of whom were in the film industry and would obey Eyton's commands) to remove any evidence of impropriety — love letters, liquor, racy photos, lingerie — lest the press find it when they inevitably showed up.
Before any reporters showed up, the coroner arrived and turned over the body. A bullet hole showed that Taylor did not die of stomach ailments (as suggested by the mysterious doctor) but rather was murdered. The apartment was now a crime scene. Thanks to Eyton's quick actions, damaging (and possibly crucial) evidence had been removed. (Although Eyton did later turn over some of the removed materials to the police, there were things removed from Taylor's apartment that remained under wraps by the studio.) The police, nonetheless, began an investigation.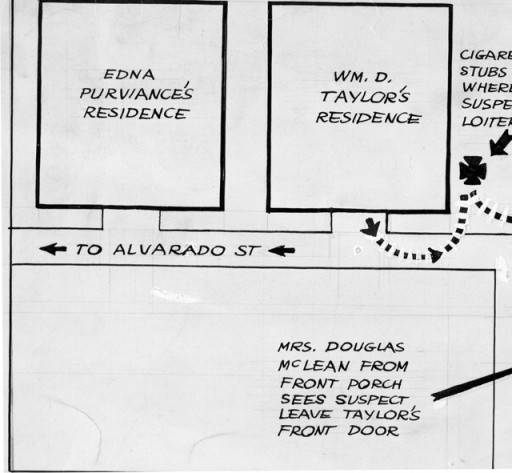 Diagram of crime scene showing the location of Taylor's apartment, his neighbors' apartments,
and the purported route taken by the assailant. Herald Examiner Collection, image created in 1922.
The last person (besides the killer) to see William Desmond Taylor was his good friend Mabel Normand. Known as the female Charlie Chaplain, Normand was the reigning queen of comedy in silent films. Moreover, she was one of the first women to be a screenwriter, director, and producer. At one point, she had her own movie studio and production company (set up for her by ex-lover Mack Sennett). She and Taylor had been friends for years, and it was Taylor who helped Normand overcome her cocaine addiction, going so far as to threaten the drug dealers who supplied Normand with the white powder. She had gone to see Taylor on the evening of February 1 after he contacted her to tell her he had two books to give her. (The books were a translation of Nietzsche and a romance novel by Ethel M. Dell). She gifted him a bag of peanuts. They had enjoyed cocktails (Prohibition be damned!) and discussed literature. She had left at a reasonable hour.
Police questioned Normand but never considered her a suspect (although Henry Peavey did). A frequent onscreen collaborator of Fatty Arbuckle, she had recently suffered scrutiny in the press, with journalists freely writing of her addiction and questioning her morality. Although cleared by police detectives, she was viewed with suspicion and her popularity on the silver screen waned. Two years after Taylor's death, Normand's chauffeur Joe Kelly (who was actually Horace Greer, a man who had possibly escaped from an Oakland jail) shot Normand's boyfriend (with Normand's gun). The press, populace, and studios turned against her, denigrating her reputation and removing her movies from theaters. She married actor Lew Cody in 1926, retired from acting in 1928, and died of tuberculosis in 1930. One of her last utterances was, "I do hate to go without knowing what happened to poor Billy Taylor."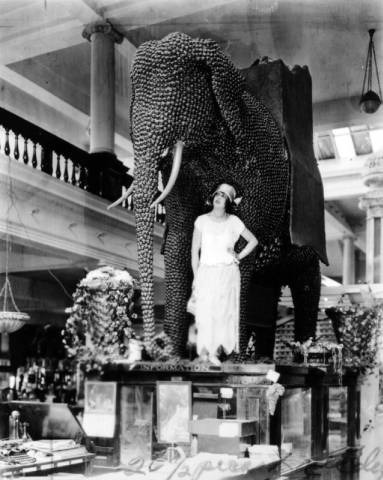 Mabel Normand, silent screen comedy queen and friend and confidante of William Desmond Taylor,
poses in front of the walnut elephant sent from Los Angeles to the Chicago's World Fair in 1893.
Security Pacific National Bank Collection, photo taken in 1925.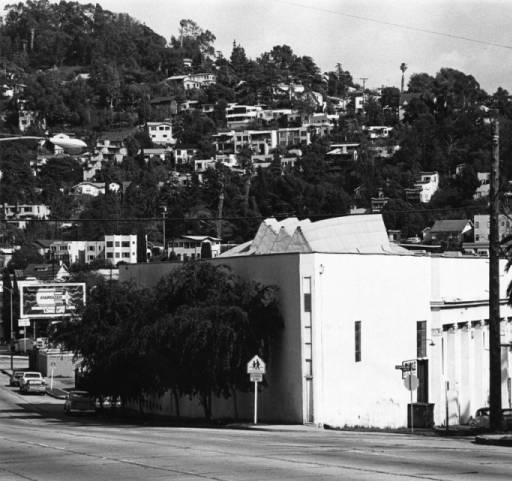 The Mabel Normand Feature Film Studio Company stood on these grounds (now 4319 Effie Street).
Normand directed the feature film Mickey in 1916 at this studio. (The film was released in 1918.)
Roy Hankey Collection (Los Angeles Photographers Collection), photo taken by Roy Hankey in 1980.
Mary Miles Minter (nee Juliet Reilly) was a child actress whom Taylor had directed in films including Anne of Green Gables, Nurse Marjorie, and Huckleberry Finn. Forced to work as an actress at an early age (Minter used the birth certificate of a dead cousin to appear older than she actually was and thus be allowed to work) and ruled over by a domineering stage mother (Charlotte Shelby), Minter fell in love with the attentive and gentlemanly Taylor after first working with him. It is disputed whether or not he returned the affections of Minter (who was 30 years his junior) or was simply looking out for his protégé, but love letters from Minter were found in Taylor's apartment, thus making her a suspect in his murder. The resulting scandal ended Minter's film career.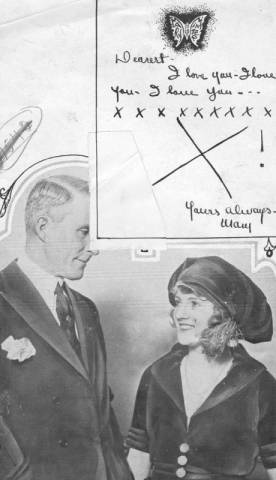 Police found love letters from Mary Miles Minter to Taylor (and a pink negligee supposedly belonging
to Minter) in Taylor's home after his murder. Herald Examiner Collection, photo taken in 1921.
Fifteen years after Taylor's murder, Mary Miles Minter was called before a grand jury to discuss her diaries. She stated that there was nothing in the diaries that would be of any value to anyone investigating the case. While she was never tried for Taylor's murder, the insinuations that she may have been involved (Charles Higham's book suggests that she was the killer) caused Famous Players-Lasky to decline to renew her contract. Minter attempted a career as a stage actress but eventually left show business behind.
A 35-year old Mary Miles Minter poses in her Beverly Hills home.
Herald Examiner Collection, photo dated May 6, 1937.
Mary Miles Minter's mother, Charlotte Shelby, was also a suspect in the William Desmond Taylor murder. A consummate stage mother, Shelby controlled every aspect of her daughter's life and was enraged when she discovered her daughter (who was also her prime source of income) had feelings for Taylor. (Whether or not Taylor returned her affections was apparently immaterial to her.) Shelby had once threatened to shoot Taylor if he did not leave her daughter alone and many felt that she had indeed gone through with her threat. (In A Cast of Killers, Sidney Kirkpatrick theorizes that Shelby was Taylor's killer and paid off attorneys and influential people to stay out of prison.)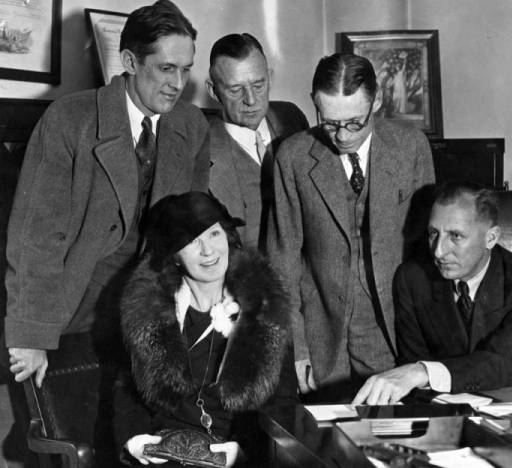 Charlotte Shelby is flanked by her attorneys during a court case (unrelated to the Taylor murder).
Herald Examiner Collection, photo dated January 2, 1933. 
Taylor's former valet, Edward F. Sands, had forged Taylor's signature on checks and had stolen money and valuables (including a car) from Taylor's home while the director was out of town on vacation in 1921. Investigators tracked Sands to a locale in Northern California but learned that he had quit his job and disappeared the day of Taylor's murder. Sands was never found.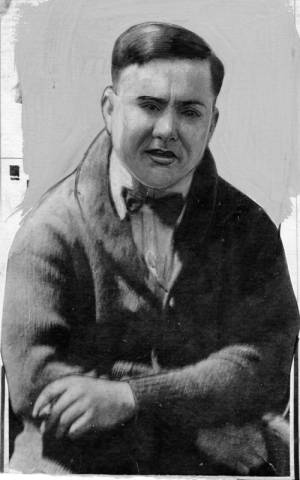 Edward Sands, former valet of William Desmond Taylor. Herald Examiner Collection, image undated.
In spite of thorough investigation, the police were unable to make any arrests in the Taylor murder case. While none of their leads proved successful and no suspects could be charged, there were confessions to the killing.
In 1930, Russo Rinaldo, a 41-year old accountant, confessed to killing William Desmond Taylor. He stated that he was a friend of a movie actress with whom Taylor had argued and that he had gone to Taylor's home to reprimand him for treating the actress so poorly. According to Rinaldo, Taylor drew a revolver, the two men scuffled, and the gun went off, killing Taylor in the process. Rinaldo's estranged wife, a music teacher in Glendale, California, was questioned and told police that her husband had suffered trauma as a soldier during WWI and only knew about the murder from what he had read in newspapers. Rinaldo was released from police custody shortly thereafter.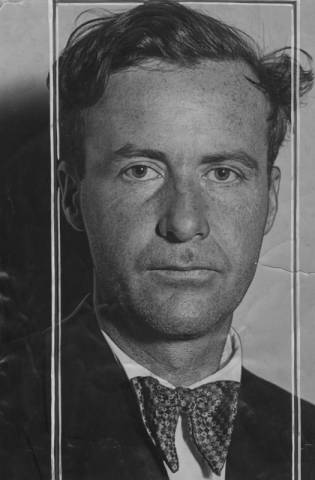 Russo Rinaldo, accountant who confessed to killing William Desmond Taylor.
Herald Examiner Collection, photo undated.
Harry Fields claimed to have been part of a plot to kill Taylor. Fields claimed he drove the vehicle which transported the assassins (two man and one woman) to the director's home. The killing was in retaliation to Taylor's interference with drug trafficking in Los Angeles. Fields was in a Detroit jail when he confessed; his ex-wife told authorities that he was an inveterate liar as well as an opium user.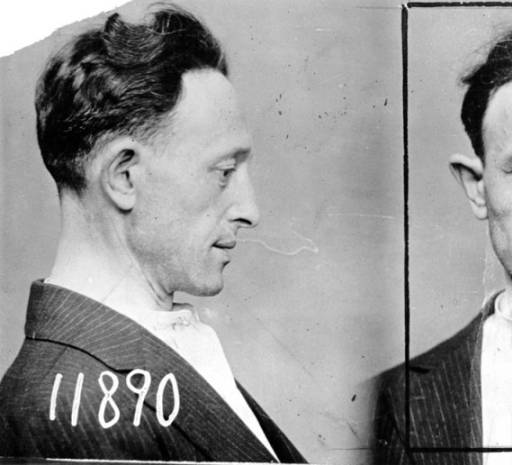 Harry S. Fields during his incarceration in the Wayne County Jail,
Herald Examiner Collection, photo taken in 1922.
J. G. Barrett was serving time in Folsom Prison when he confessed to murdering Taylor. He stated that he acted on behalf of another man. His story was discredited by a grand jury.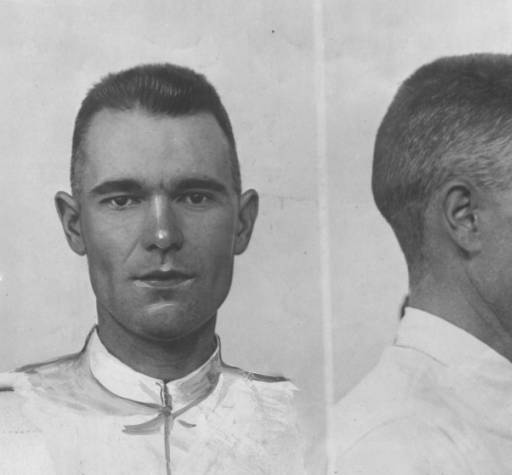 J. G. Barrett claimed to have murdered William Desmond Taylor at the request and
payment of another man. Herald Examiner Collection, photo taken in 1926.
William Desmond Taylor's funeral was held on February 7, 1922, at St. Paul's Pro-Cathedral, after which he was interred in a mausoleum at Hollywood Forever Cemetery. Despite a number of suspects, various leads, innumerable tips, and a rash of confessions, the identity of the murderer of William Desmond Taylor remains unknown.