Many people know photographer Ansel Adams for his majestic landscape photos of the American West – moonlit mountains in Yosemite, aspens in New Mexico, cacti in California. Yet few know that Adams did extensive commercial photography, doing photo shoots for magazines, fruit distributors, women's colleges, and the phone company. When Fortune, a business magazine, approached Adams in 1939, they wanted him to capture the burgeoning aviation industry in Southern California on film, photographing workers, their workplaces, their homes, and other habitats. These images would accompany the article titled City of Angels which would run in the March 1941 issue of the magazine.
Adams shot 217 photographs in 1940 for the assignment, some taken on factory grounds, others taken while he roamed throughout greater Los Angeles seeking the environs of the average employee. When the shoot was finished, he judged most of the photos to be of subpar quality. (He blamed bad weather.) Only a few photographs were published in the magazine. The entire Fortune photo collection was shoved in a desk drawer in the Adams home where they languished for over 20 years.
In the early 1960s, Adams offered to donate most of the Fortune collection to the Los Angeles Public Library, stating that the photos were probably worth about $100 in total. The Library gladly accepted the 135 contact prints and 217 negatives, appraising them at $150 for tax purposes, and added them to their photo collection.
There is a beauty in the rhythm of everyday life that we often don't notice. Even ordinary moments hold a bit of magic, which is evident in photos of aviation workers on the job, at home, and at play as well as the images of ordinary Los Angeles. Ansel Adams may have been disappointed with this photo shoot and his output, but the images capture a pivotal moment in L.A. history. The economy was growing, the aviation industry was booming, and the sky was indeed the limit.
NOTE: All photographs in this blog post are from the Ansel Adams Fortune Magazine Collection and were photographed by Ansel Adams in 1940.
---
Lockheed Aircraft, established in 1926, had its facilities on a parcel of land in Burbank surrounded by orange groves and lush farmland. Douglas Aircraft Company was founded in 1921 in Santa Monica, close to the beach. Both companies manufactured commercial and military planes. With the United States' entry into World War II, aviation production increased dramatically, and people came from all parts of the country to help build the planes used during wartime. Adams' photos were taken before this surge in production, but it is evident that the aviation industry and related businesses were building up commerce and communities.
Employees of Lockheed Aircraft – some in suits, others in shirt sleeves – are seen outside of the plant in Burbank. The manufacturing output of the plant was relatively modest in its early years, but increased dramatically after the bombing of Pearl Harbor.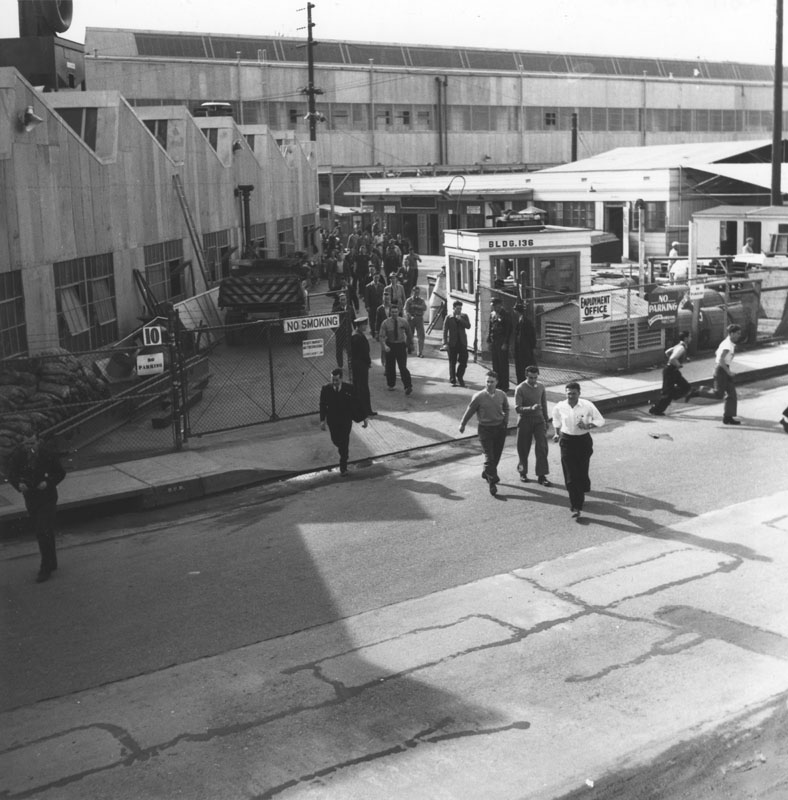 Hard work called for a good lunch, as witnessed by this photo of Lockheed workers enjoying lunch outdoors – chatting, smoking, relaxing, and eating food brought from home or bought at one of the food trucks serving the factory grounds.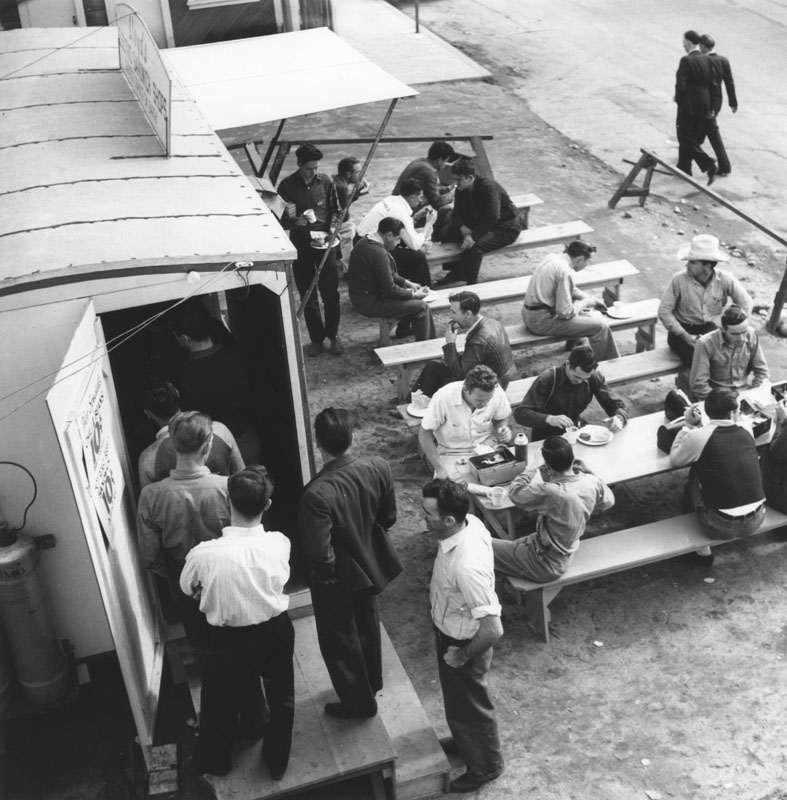 Douglas Aircraft employees in Santa Monica headed to local eateries to grab some lunch. The crowds were so thick that police were required to keep order.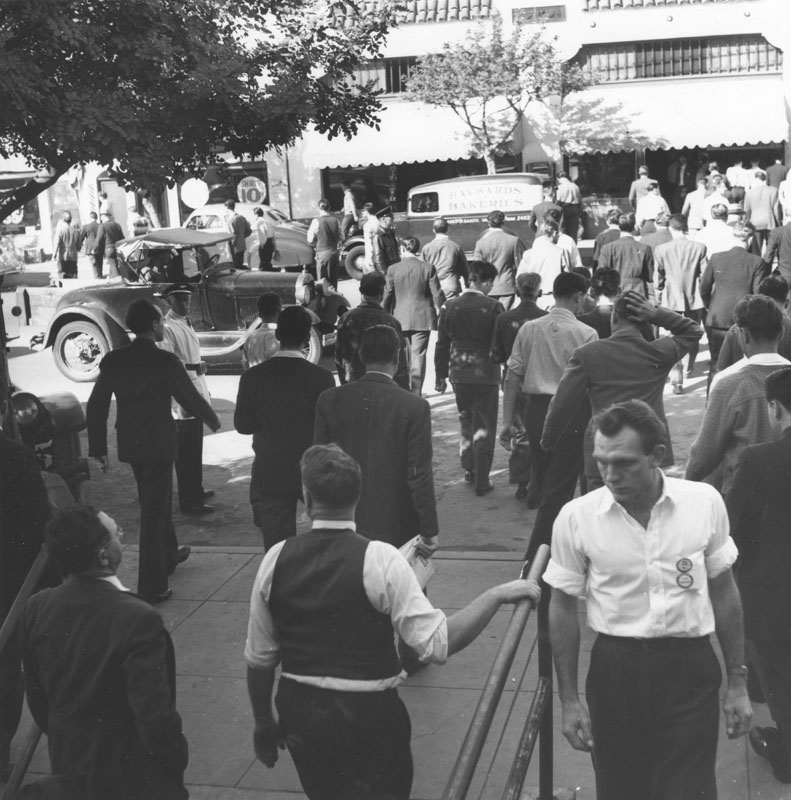 Some Douglas Aircraft employees cooled off and added a bit of sweetness to their day with a visit to the Good Humor man.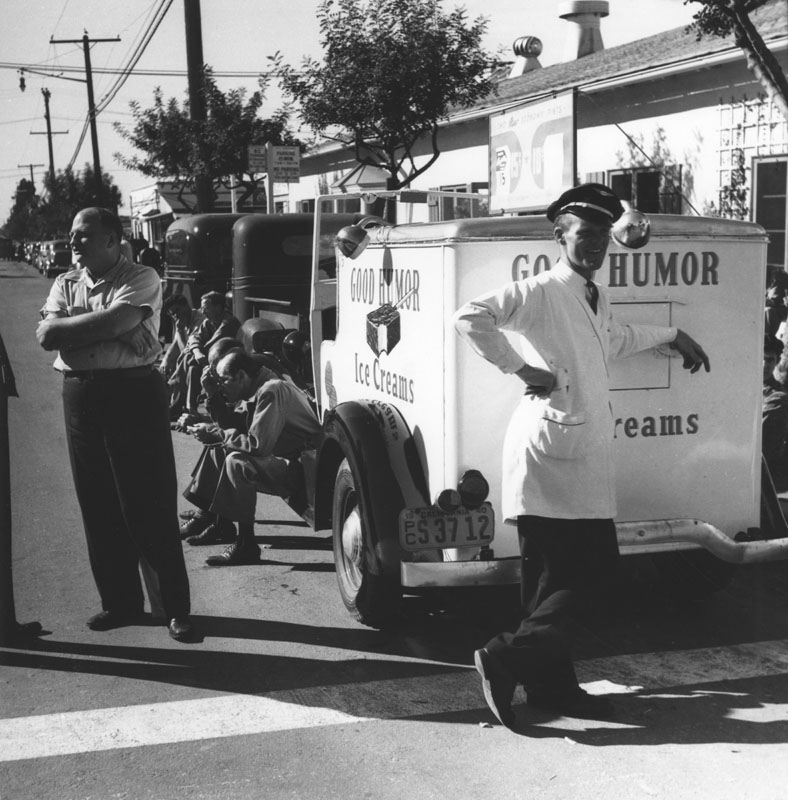 A good day's work (and a decent paycheck) called for a good meal. A popular restaurant at the time was the Brown Derby, which had four locations: Beverly Hills, Los Feliz, Hollywood, and Wilshire Boulevard (just across from the Ambassador Hotel). The Wilshire Brown Derby, pictured here, was the only one of the four restaurants that actually resembled a bowler derby hat. Offering good food and superb service, the Brown Derby attracted those diners seeking American cuisine in an upscale yet inviting environment.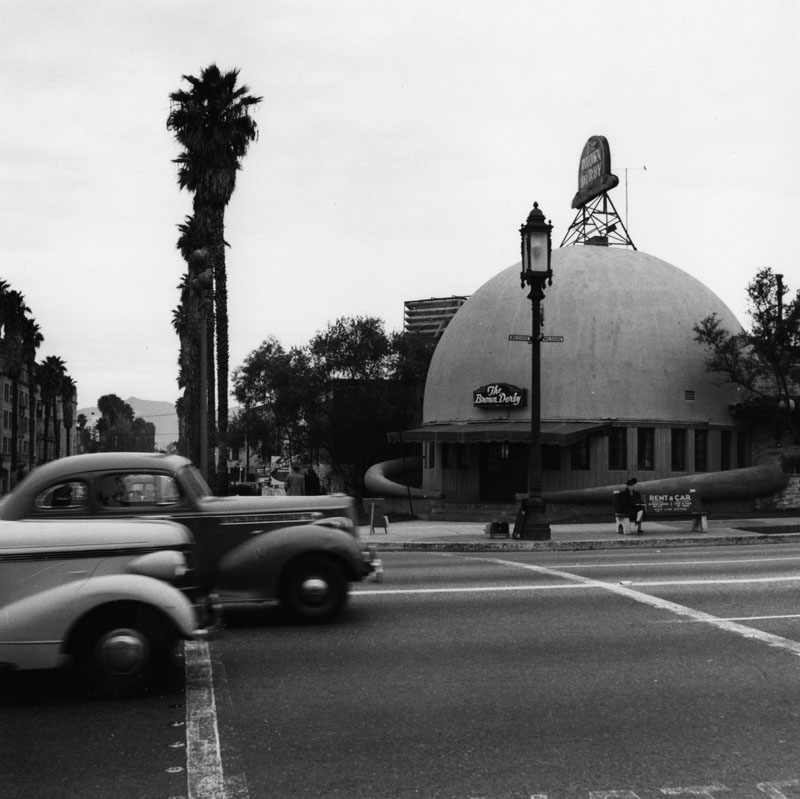 Pat Murphy's Chicken House advertises its claim to fame – the finest chicken dinner in the world – plus other dishes and their prices. (Diners had a choice as to the size of their chicken dinner.) Homes can be seen in the background, as well as an oil derrick. As the derrick belongs to the Beverly Oil Co., it is probable that the restaurant would be in what is today known as the Fairfax District.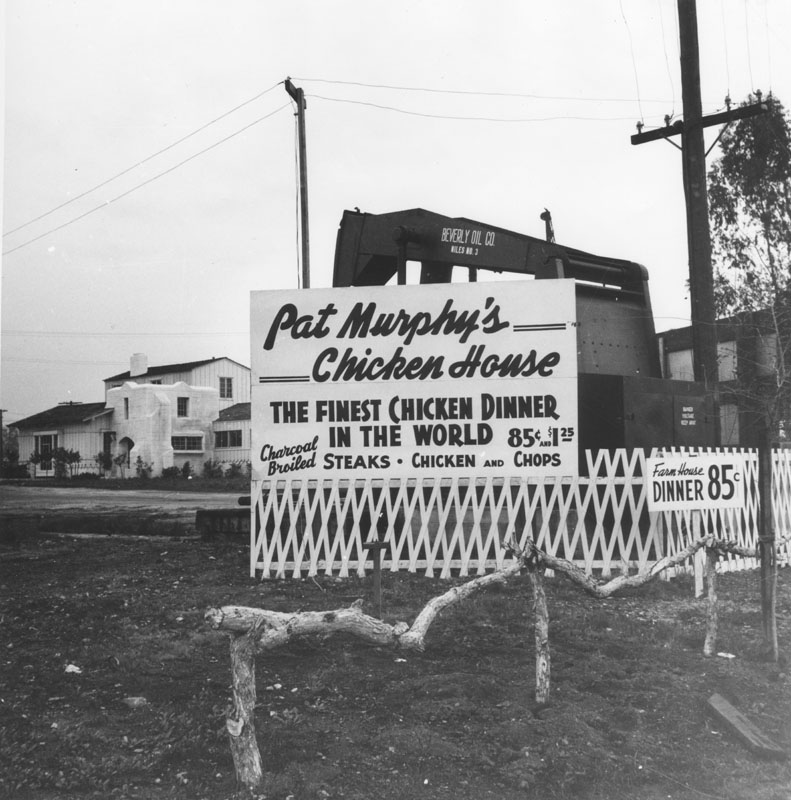 Should a person want a quick snack or a meal to go, The Pup Café offered up fast food and curb service. As this snack shop was located in Venice, it no doubt served many Douglas Aircraft employees on their way to or from work.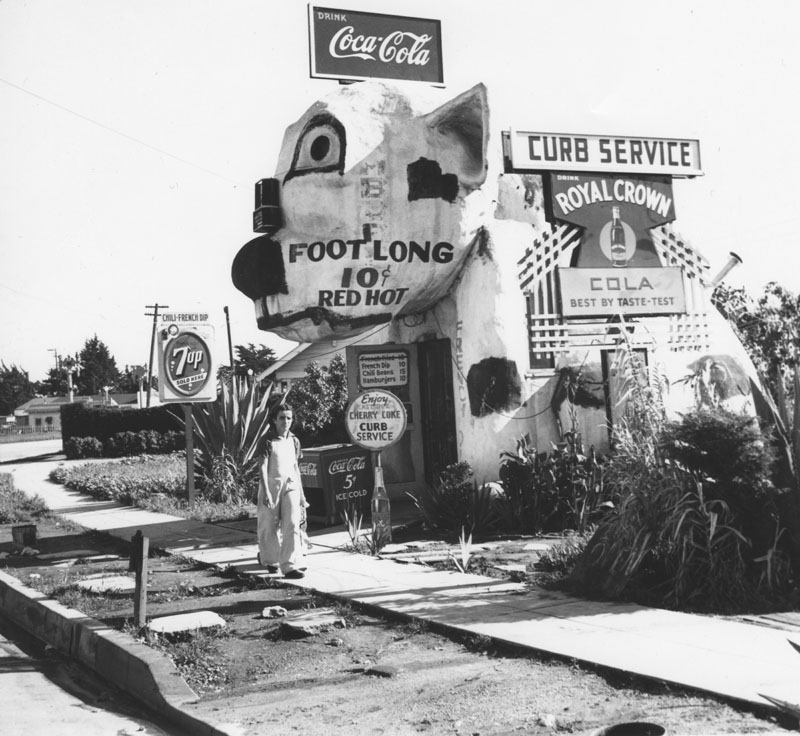 An attendant at the Mobil gas station near the Lockheed Air Terminal in Burbank chats with a customer. (Note the puzzling oddities in the background. Is that a man sitting on the roof of the building in back? Is the sign behind him [just under the sign that ends with "SHOP"] for a Shell filling station – or somewhere more sinister?)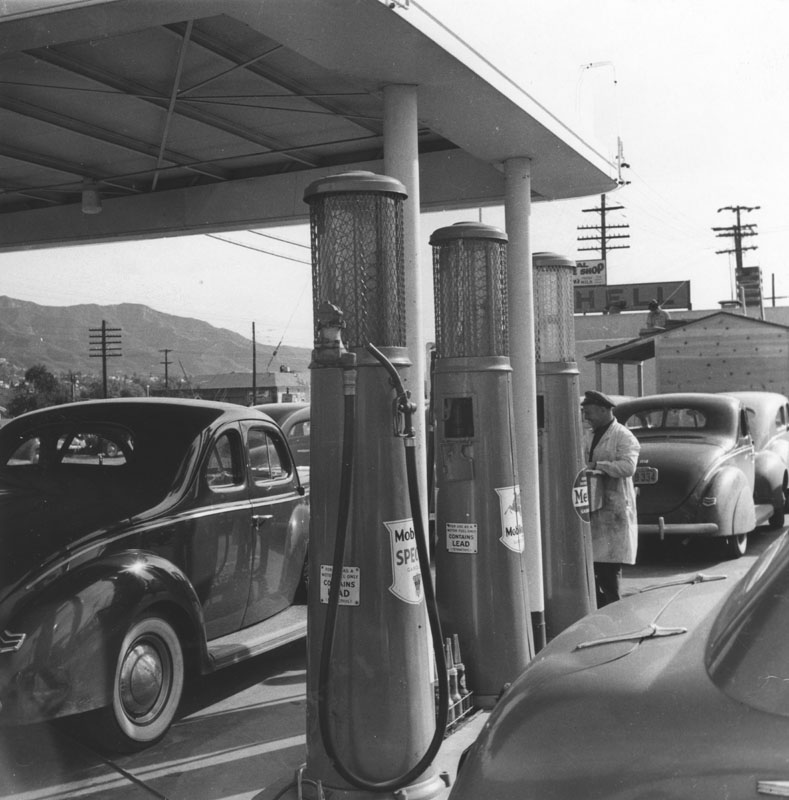 A newsstand in the parking lot of the Lockheed Air Terminal offered customers a variety of reading material plus goods from razor blades to raincoats to remedies for balding. It also provided a place to chat about the weather, the latest game, and current events in general.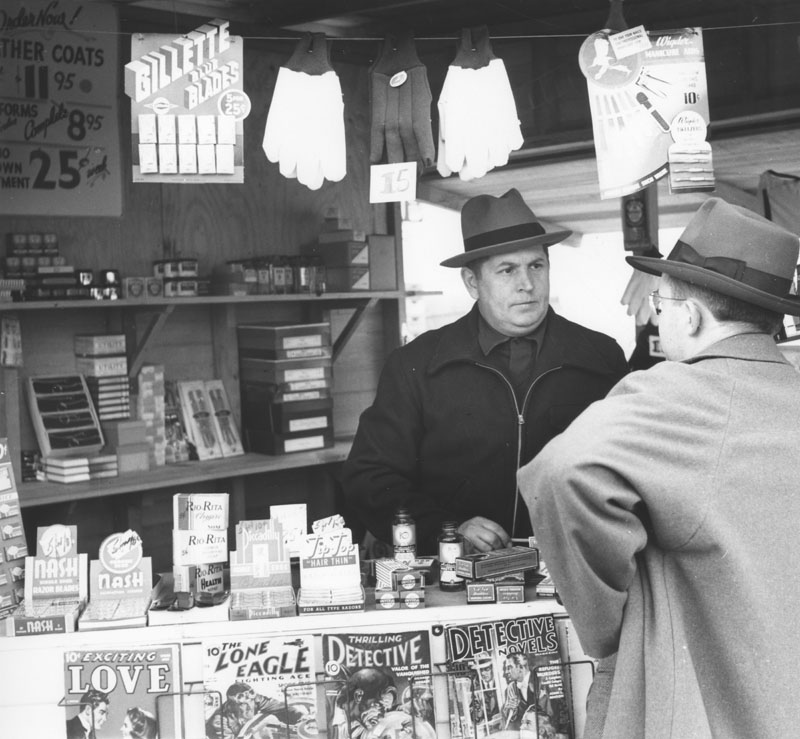 A drugstore in Burbank advertises one of the top remedies of the day: Alka-Seltzer. The sign indicating that Lockheed Aircraft is located down the street shows the importance of the plant to the area. Such a sign would guide those going to the plant without their need to stop for directions. It also connotes that many people would indeed be looking to go to Lockheed.
The Olympic Trailer Court in Santa Monica was home to many employees of Douglas Aircraft. (Note: By 1941, California had the second highest number of trailer parks in the country, surpassed only by Florida.) A mobile home was comfortable, customizable, and affordable, allowing working people a chance to own property in a beautiful area. The section of land where Olympic Trailer Court was located (2121 Bundy Drive in Santa Monica) is now prime real estate (commercial and residential) with homes that sell for $1 million and up.
A couple and their dog enjoy the shade of their patio in Space 23 at the Olympic Trailer Court in Santa Monica.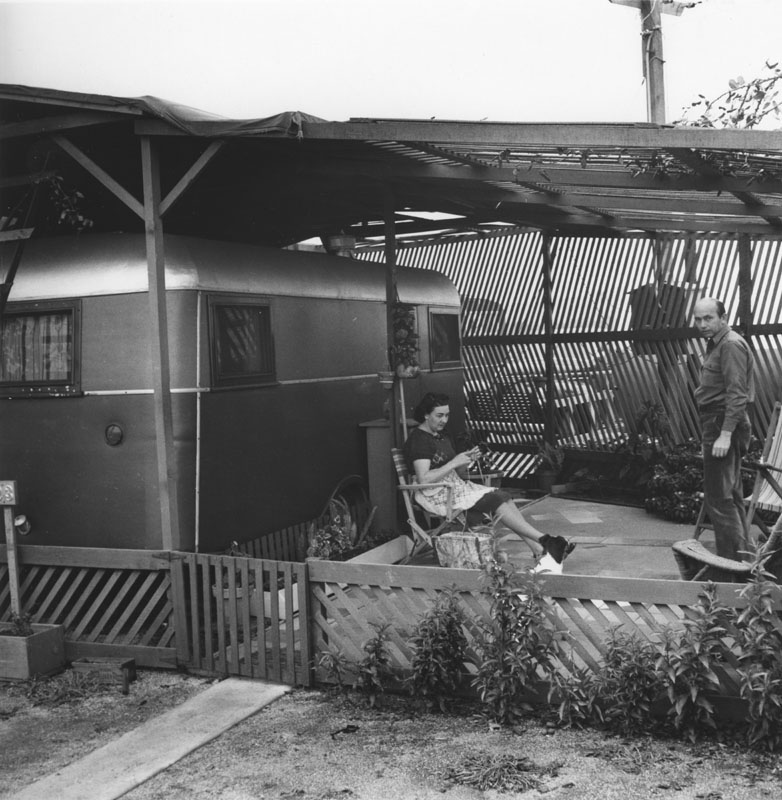 The Olympic Trailer Court housed individuals, couples, and families. In this photo, a young girl (accompanied by her doll) stands by Olympic Grocery, the local market for the trailer court.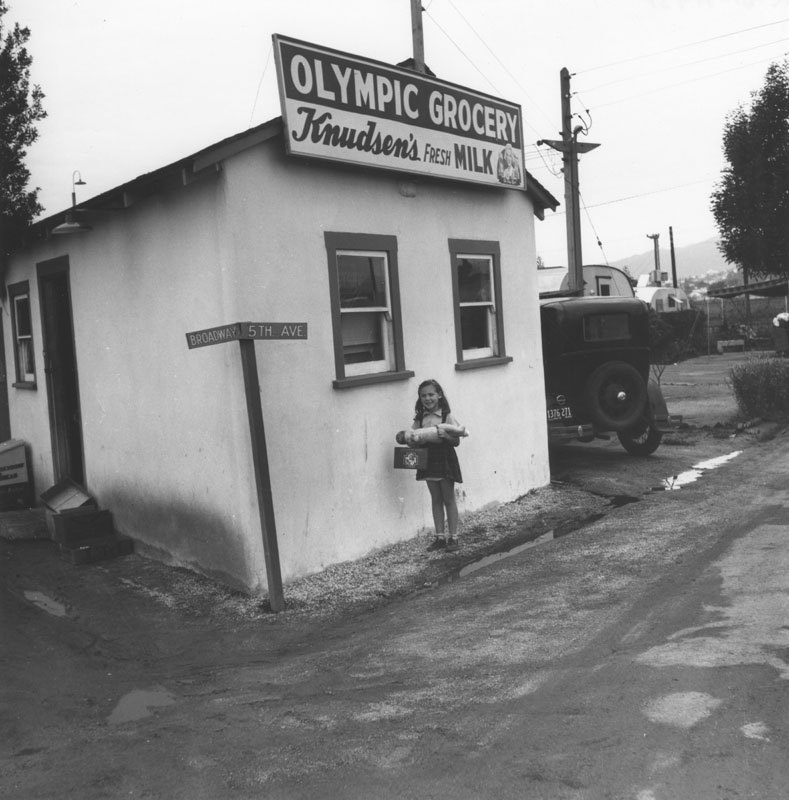 Two Douglas Aircraft employees who reside at Olympic Trailer Court enjoy a good laugh.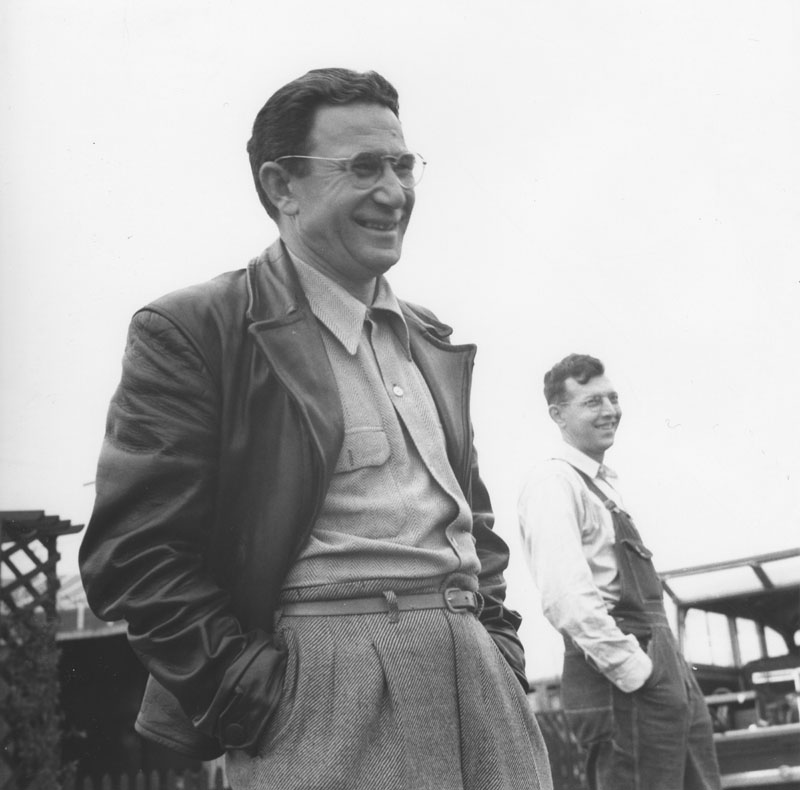 Cole Weston, a metalsmith at Lockheed Aircraft Company, pauses outside his house to kiss his wife Dorothy before heading off to work. Cole was the son of photographer Edward Weston, a friend and huge inspiration to Ansel Adams. (Cole would eventually follow in his father's footsteps and become a photographer.)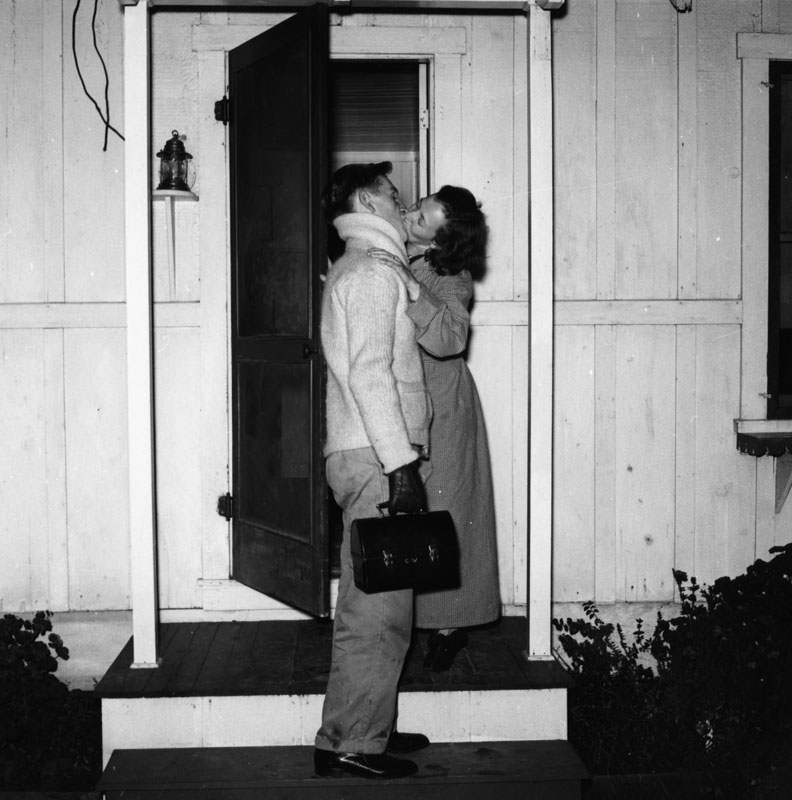 Many Lockheed executives and engineers settled in homes in Beverly Hills, Bel Air, Brentwood, and other surrounding neighborhoods. (Frank Lloyd Wright designed the only Usonian-style home in Southern California for Lockheed engineer George D. Sturges; it was built in Brentwood Heights.) The Van de Kamp's Bakery in Beverly Hills, located at the intersection of Wilshire Boulevard and Crescent Heights, provided many Lockheed employees with fresh-baked bread, pies, cookies, and donuts plus baked beans, egg noodles, and oversized potato chips.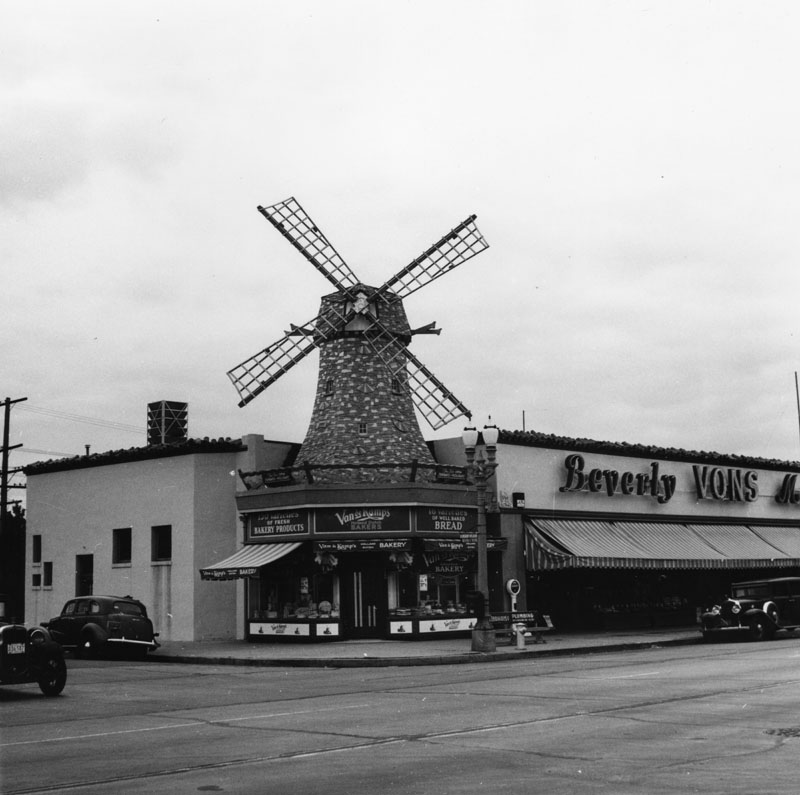 The aviation industry brought a new level of financial stability to the Los Angeles area which in turn created new communities. A sign advertises new homes being built in what appears to be the Burbank or Glendale area – a prime spot for Lockheed employees to buy a home.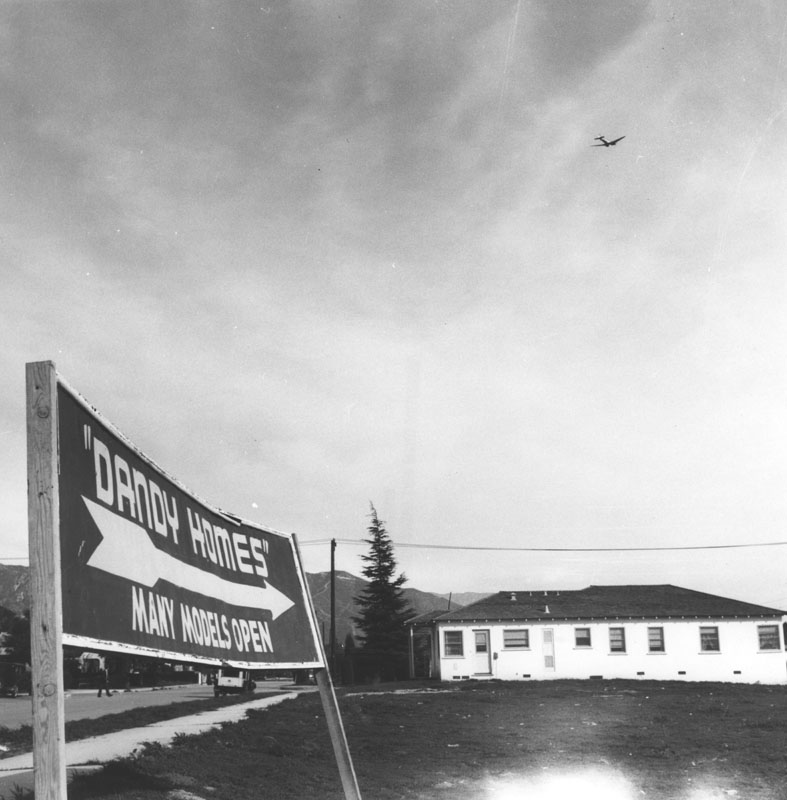 Oil wells were a prominent feature of the industrial landscape of Los Angeles. As oil was used in the manufacture, testing, and use of airplanes, the oil industry was a partner in the aviation industry. Here we see several large oil derricks standing guard over Sunnyside Cemetery in Long Beach and an Italian-style mansion in an unknown section of town. In spite of being industrial tools, the derricks display a sense of strength and style with an intricate elegance.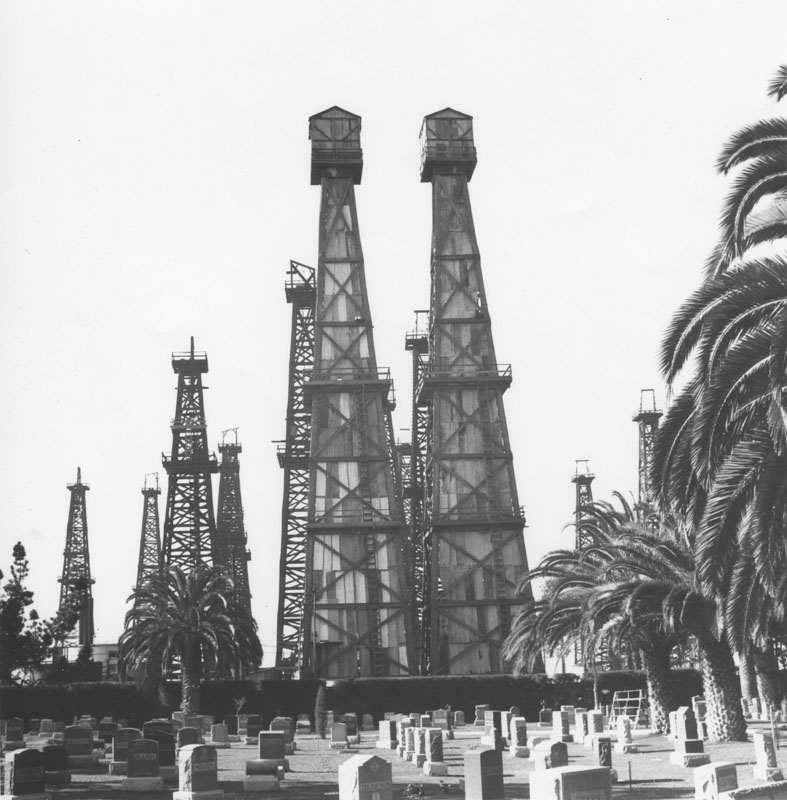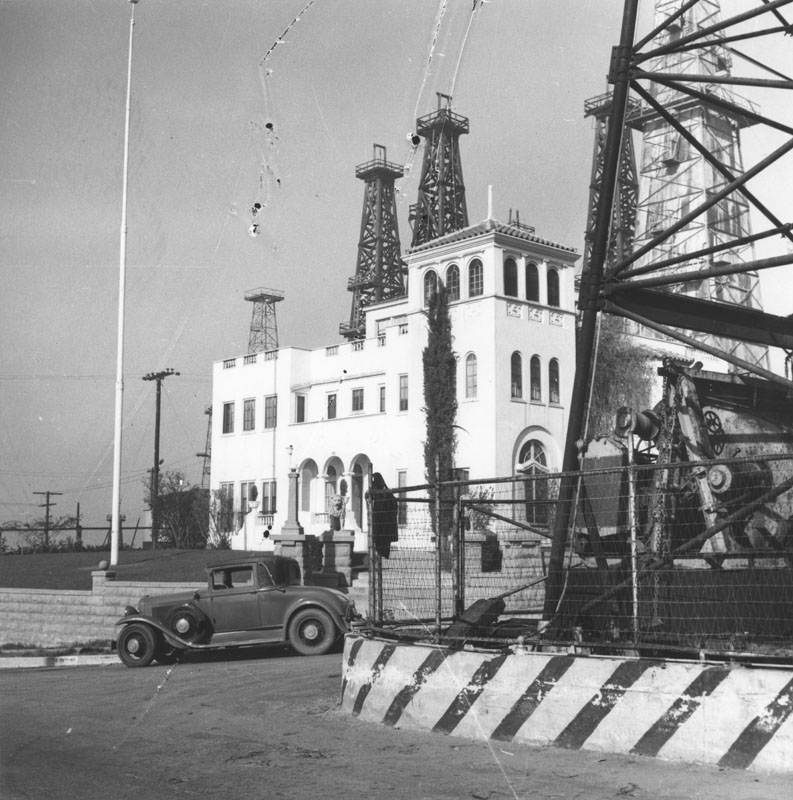 With steady work and stable income, aviation workers were able to focus on self-improvement as well as entertainment.
The Collier School of Mind Science, run by the Reverend Hugh Christopher, practitioner and teacher of Mental Science, was located on Sunset Boulevard in Hollywood. Mental Scientists stressed self-improvement in order to awaken one's latent abilities. They utilized yoga, meditation and positive visualization but did not focus on any form of God or a divine being. (Many of the newer Mental Scientists were atheist or agnostic.)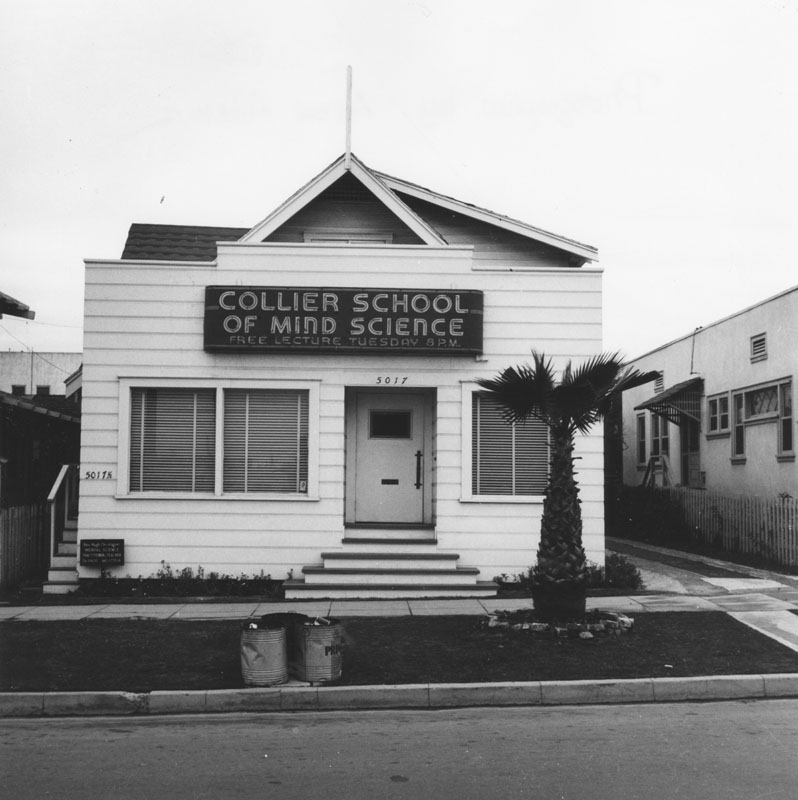 Adams snapped this shot of San Vincente Boulevard in which the streetlights and castle-like structure project a fairy tale like appearance. While signs advertise the many filling stations ready to service drivers, another sign offers a chance to enjoy an older form of transportation.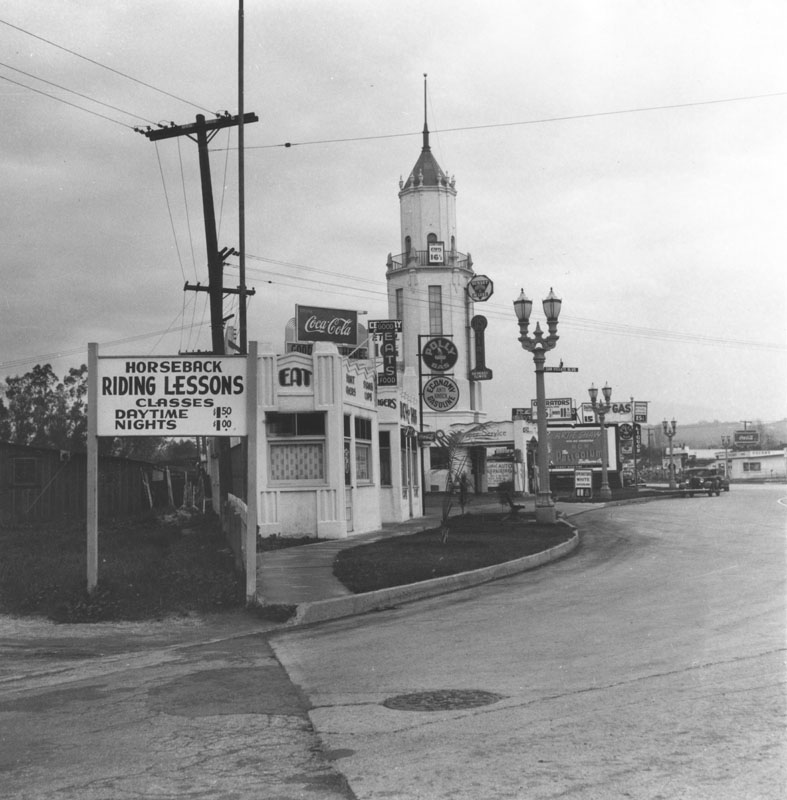 Westjoy Dance Studios, consisting of Westjoy Dance Studio and Nancy White Studio, offered dance lessons to the average citizen who wanted to waltz at weddings or perhaps learn basic ballet steps.
Ocean Front Promenade, near the Santa Monica pier, no doubt attracted many employees of nearby Douglas Aircraft who brought their friends and families for an afternoon or evening of fun.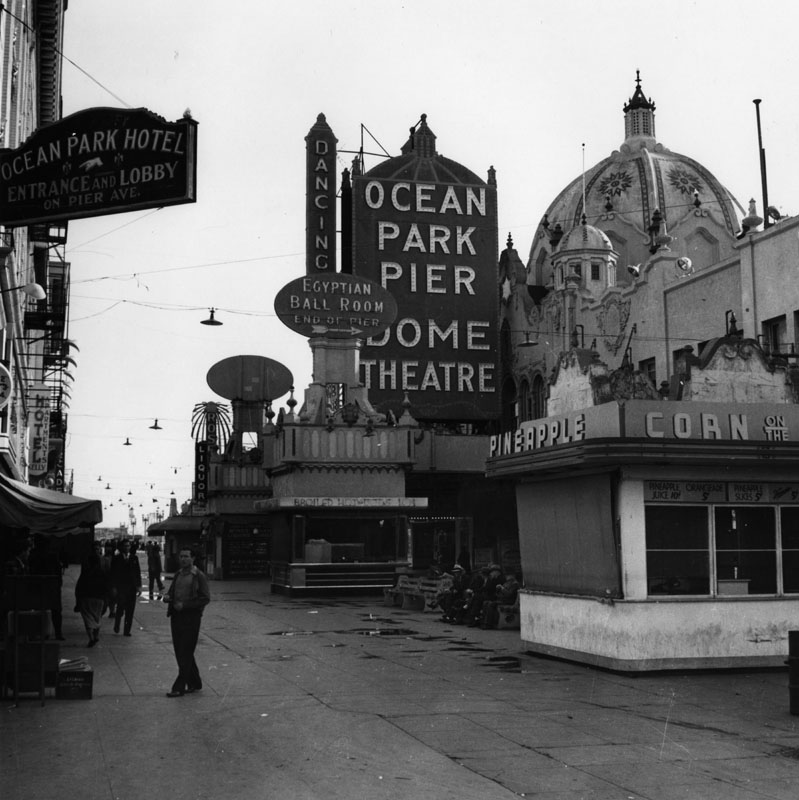 An employee of Lockheed shows superior bowling technique during a tournament at Burbank Bowl.
With work done for the day, a man and a woman enjoy a couple of beers in a bar in Los Angeles.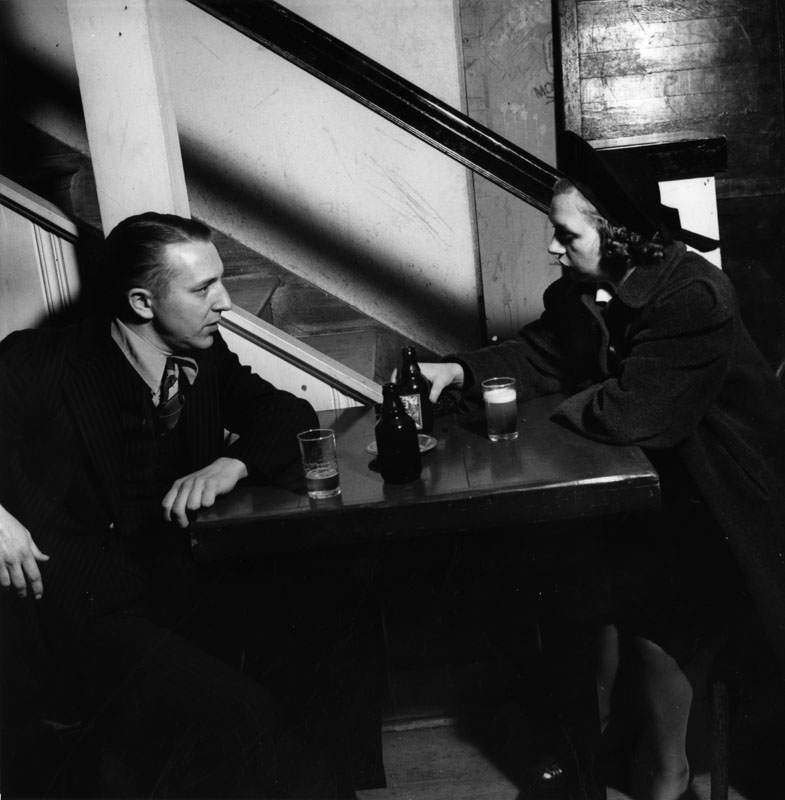 A drummer plays jazz at an unidentified club in Los Angeles, no doubt entertaining many folks who have spent the previous day or night working at a store, school, office, eatery, or factory (perhaps Lockheed or Douglas) and now want to unwind with some good friends, fine music, and magnificent dreams.