There are many ways to "do lunch" in L.A., from a power lunch with your agent to a quick bite from a cart while you run errands. Peruse the photo collection of the Los Angeles Public Library and you'll get an idea of where folks in Los Angeles – from traffic cops to studio executives – enjoy their midday meal (sometimes in the middle of the night).
Philippe's, established in 1908 by Philippe Mathieu, created its signature sandwich – the French Dip –by accident in 1918. A police officer came to the eatery for lunch and ordered a roast beef sandwich. Mathieu – rushing to get the sandwich made quickly as the officer was in a hurry – accidentally dropped the French roll (used for all sandwiches in his restaurant) into a roasting pan filled with hot juice. The policeman said he would take the sandwich anyway. He returned the next day with fellow officers who wanted to try this new sandwich which was dipped in juice. The sandwich became known as the French Dip – perhaps because Mathieu was French, perhaps because the officer's surname was French, or perhaps because of the French roll. No one is certain of the origin of the name, but 100 years later, Philippe's still serves up French dips (beef, pork, lamb, turkey, or ham) to city workers, shoppers, stars, students, senators, and those wanting a good lunch with a cheap cup of coffee.
Herald Examiner Collection, photo taken by Michael Haering on November 18, 1986.
Nick's Café was opened in 1948 by Nick, a Navy vet, who served breakfast from early morning until early afternoon (when the café closed). Nick offered bone-in ham sliced to order (earning the restaurant the nickname "the Ham House") in his eatery across from the River Station freight yards. Business was brisk. After a bit, Nick sold the restaurant to two LAPD homicide detectives and the diner became a regular for cops and DWP workers. Today Nick's Café still serves up breakfast all day to its eclectic crowd. The menu has some new items, but the day for Nick's Café still ends at 3:00 p.m.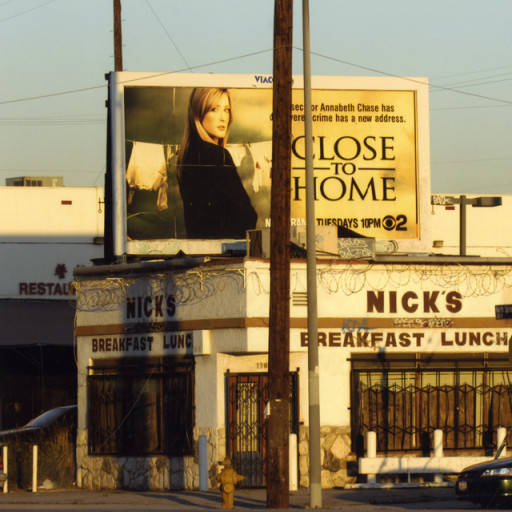 Gary Leonard Collection (Los Angeles Photographers Collection), photo taken
by Gary Leonard on October 21. 2005.
Of course, Los Angeles has people – cops, film crews, hospital workers, firefighters – working all hours of the day and night, so lunch might be at 3:00 a.m. or 6:00 p.m. or midnight. Snap's Coffee Shop was open 24/7 to serve hungry customers classic diner fare – fried chicken, meat loaf, grilled cheese sandwiches, French fries, and pie and coffee.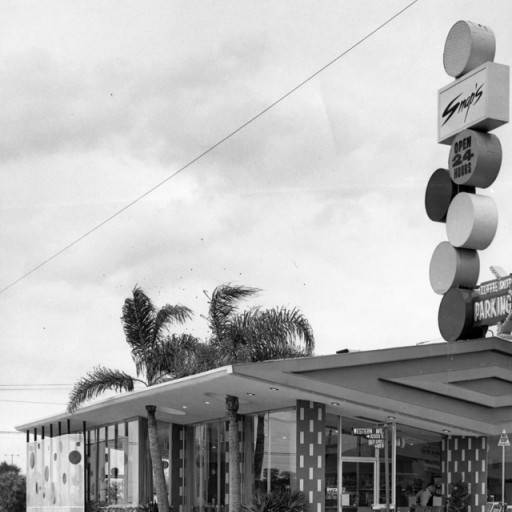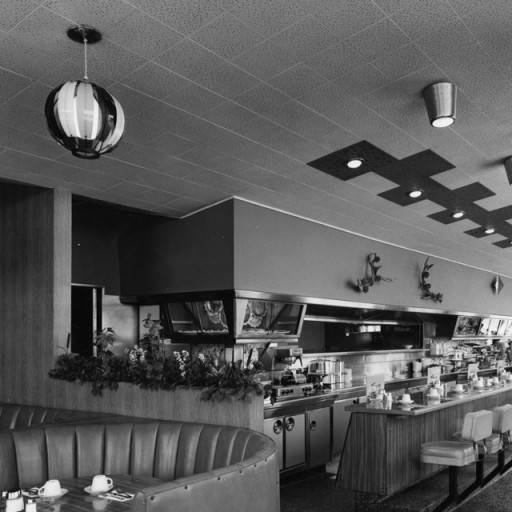 Security Pacific National Bank Collection, both photos undated.
Want to take a trip but cannot get away? Lunch inside the Zep Diner in South Los Angeles could help you feel as if you're traveling high above the clouds (and your worries).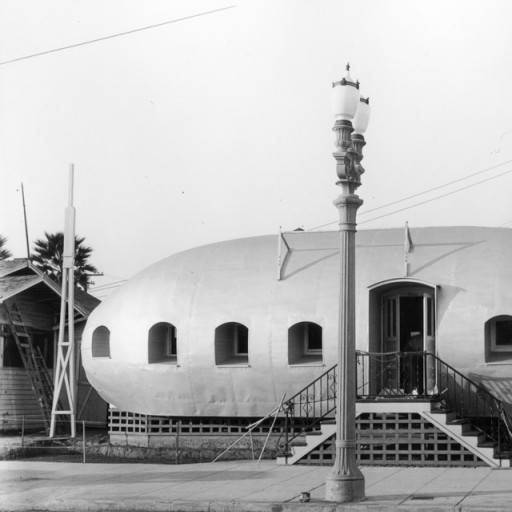 Security Pacific National Bank Collection, photo dated March 21, 1931.
If you wanted a bit of fun with your lunch, the Merry Go Round Café was the place for you. Sit at the counter and watch as various meals slowly slide past you. Grab the one you want. Gustav and Gertrude Kramm had the idea of a cafe that served home-cooked food presented on a rotating conveyor belt and accessible by lifting a glass door and selecting the item. Items on the merry go round included salads, sandwiches, desserts, and relishes. Hot food was delivered by servers and fresh coffee was available every ten minutes. Lunch was 35¢; a full dinner (including two salads, a dessert, and all the rolls you wanted) was 50¢.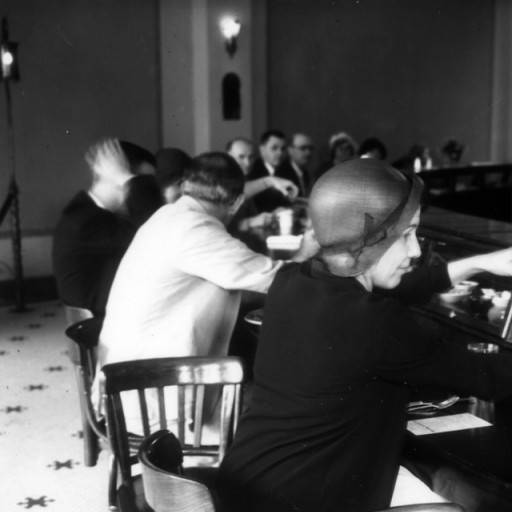 Security Pacific National Bank Collection, photo taken in 1932.
Southern Californians have always been on the move and their lunch counters are no exception! Here we see a lunch wagon parked by the parking lot of a local employer (believed to be a local aviation manufacturer). During lunch hour, an employee could grab a cold drink, a hot sandwich, and a pack of smokes all in one visit to this lunchmobile.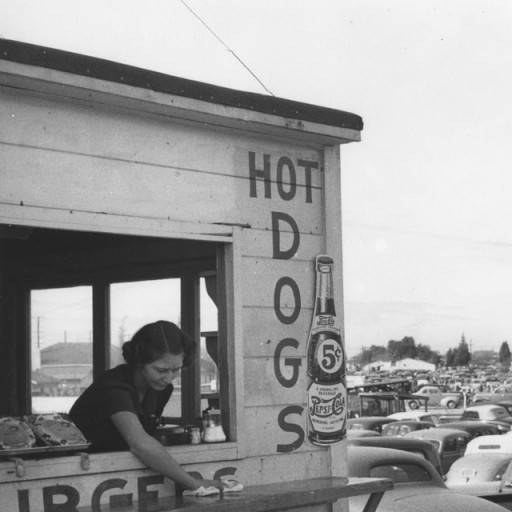 Ansel Adams Fortune Magazine Collection ( Los Angeles Photographers Collection),
photo taken by Ansel Adams in 1940.
Shoppers, workers, and beach goers in Venice could enjoy delicious seafood tacos and burritos from Tania's Catering truck, seen here parked on Lincoln Boulevard.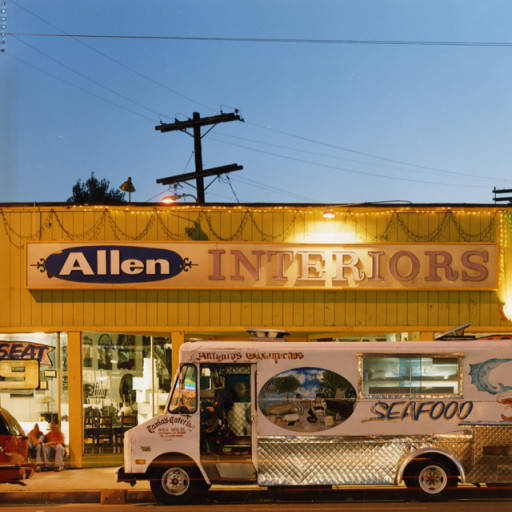 Los Angeles Neighborhoods Collection, photo taken by Cheryl Himmelstein in October, 2002.
The L.A. Mission has been serving meals to homeless individuals since 1936. In this photo we see a typical lunch crowd (approximately 250 people) on a typical day.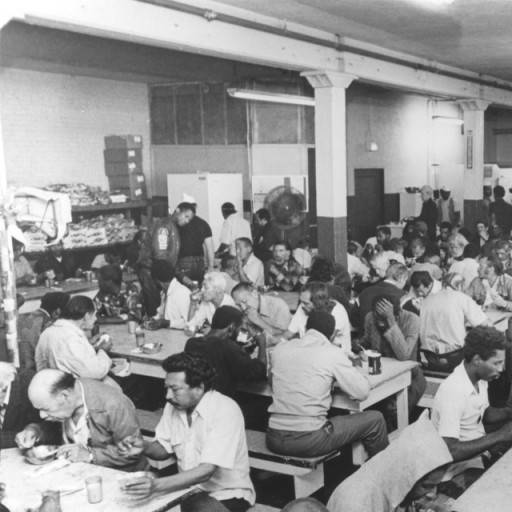 Herald-Examiner Collection, photo taken in October of 1986.
If you were in Hollywood and got hungry, you could not go wrong with the lunch counter at Schwab's Pharmacy (generally called Schwab's Drug Store). Located near the corner of two boulevards (Sunset and Crescent Heights) for fifty years, Schwab's was frequented by celebrities, screenwriters, set designers, directors, locals, and tourists who stopped in for ice cream, coffee, sandwiches, and light meals. Syndicated columnist Sidney Skolsky used the drug store as his office; his column for Photoplay magazine was titled From a Stool at Schwab's. (Marilyn Monroe would leave messages bearing the signature "Miss Caswell" for Skolsky at Schwab's.) Angela Lansbury stopped in to enjoy ice cream sodas, James Dean had prescriptions filled there, and F. Scott Fitzgerald stopped at Schwab's to buy cigarettes and had a heart attack. Contrary to popular legend, Lana Turner was not discovered at Schwab's (but at another eatery on Sunset Boulevard), but she did stop there to pick up her favorite lipstick. Chances are good that she also enjoyed a malted or cup of coffee while she was there.
Roy Hankey Collection (Los Angeles Photographers Collection), photo taken by Roy Hankey in 1980.
The El Rey Café at 417 E. 6th Street in downtown Los Angeles was ready for the lunch crowd with silverware settings on the counter, hot coffee perking in the kitchen, and a selection of cigars at the cash register – everything needed to serve and satisfy the hungry crowd. As the Pacific Mutual Life Building was a couple blocks away (just behind Pershing Square) and the street was lined with clothing shops, loan offices, and hotels, the café would do a brisk business serving clerks, bankers, insurance salesmen, executives, secretaries, and sightseers.
Security Pacific National Bank Collection, photo undated.
Busy? Cranky? Don't want to get out of the car for lunch? No problem. Tiny Naylor's Drive In served delicious food – sandwiches, malts, patty melts – and you never needed to leave your car. With the original drive-in located at the corner of Sunset Boulevard and La Brea Avenue, this eatery (one of the original Googie-style restaurants) was a favorite of film stars who wanted to grab a bite to eat without being noticed. (A chain of Tiny Naylor's restaurants dotted greater Los Angeles at one time, with one attached to a car wash in Studio City where many a celebrity had their vehicle washed.) Tiny Naylor (who was 6 foot 4 and weighed 320 pounds) realized that folks got hungry at all hours, so this drive-in was open 24/7.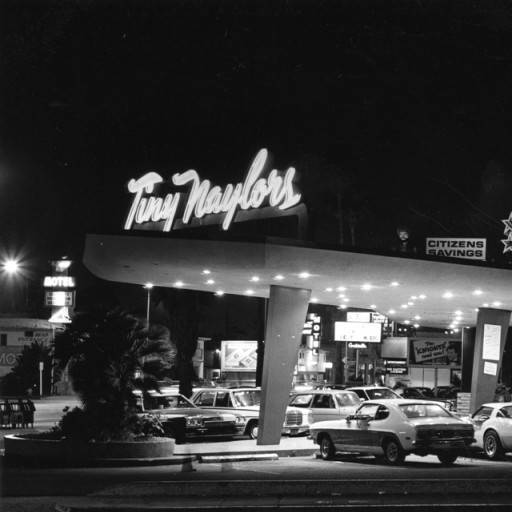 Roy Hankey Collection (Los Angeles Photographers Collection), photo taken by Roy Hankey in 1980.
For an elegant lunch surrounded by tranquility and beauty, you might choose to dine at the Huntington Gardens. Here we see a couple enjoying lunchtime tea brought by a kimono-clad server. While there are no longer carts offering tea in the garden, you may still enjoy lunch at Huntington Gardens, inside or outside, by yourself, with friends, or with a party.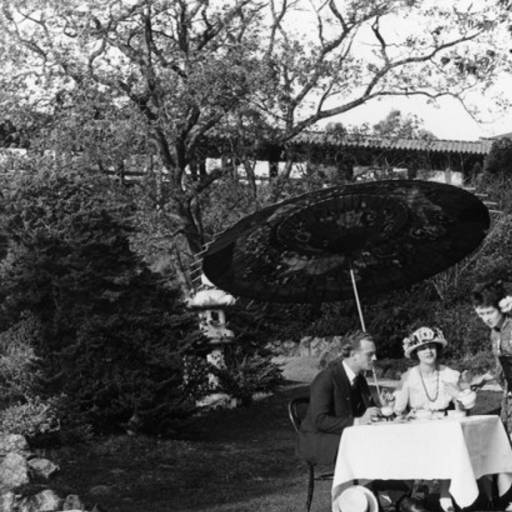 Security Pacific National Bank Collection, photo undated.
Grab some lunch and then grocery shop for meat, fish, fresh produce, spices, handmade tamales, and baked goods at downtown L.A.'s Grand Central Market. Housed in the Homer Laughlin Building (which once held offices for architect Frank Lloyd Wright), Grand Central Market still provides hungry visitors with victuals ranging from ice cream to egg rolls to oysters, chile rellenos to fried chicken to sticky rice.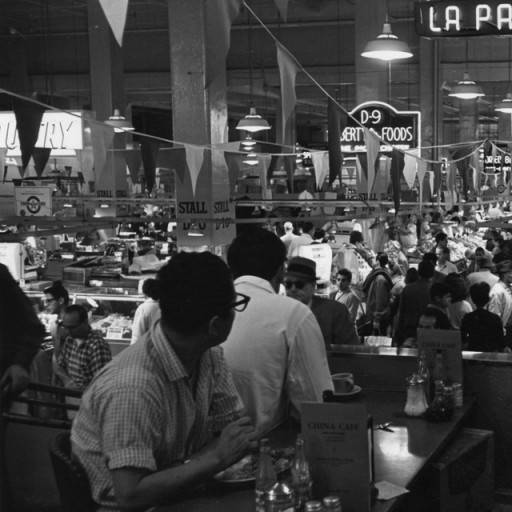 William Reagh Collection (Los Angeles Photographers Collection), photo taken by William Reagh in 1966. 
Lunch goers in Los Angeles have the luxury of enjoying authentic Mexican cuisine. Lalo's Birrieria y Taqueria on Main Street serves up birria and other Mexican dishes with homemade tortillas. (Birria is a spicy stew traditionally made with goat meat but which may also be made with beef or pork.)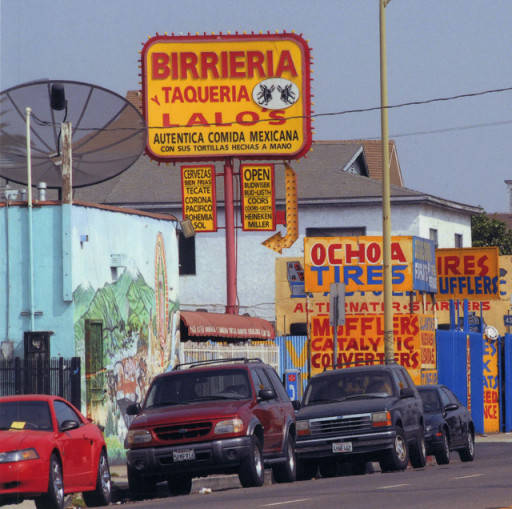 Stone Ishimaru Collection (Los Angeles Photographers Collection), photo taken by Stone Ishimaru in 2007.
Frank Toulet opened Frank's Francois Café on Hollywood Boulevard in 1919. Four years later, restauranteur Joseph Musso became Toulet's partner. The two entrepreneurs hired French chef Jean Rue to create a menu and cook for their fine establishment. The restaurant was christened Musso & Frank Grill (often referred to as Musso & Frank's by locals). Three years later, Toulet and Musso sold the restaurant to two Italian immigrants, Joseph Carissimi and John Mosso, who retained the name but moved the eatery from 6669 Hollywood Boulevard to 6667 Hollywood Boulevard where it still stands. Musso & Frank's would become an integral part of Hollywood's entertainment industry, serving lunch to movie stars, studio execs, screenwriters and writers of all types (including F. Scott Fitzgerald, John Steinbeck, Raymond Chandler, and William Faulkner, who used to go behind the bar to mix his own mint juleps). From humble beginnings sprang a historic venue that is still open today.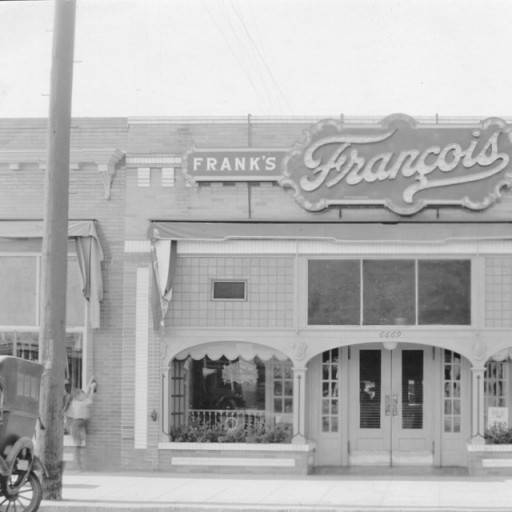 Security Pacific National Bank Collection, photo undated.
William Reagh Collection (Los Angeles Photographers Collection), photo taken by William Reagh in 1991.
What better way to advertise your lunch offerings than to do so with your eatery's architecture? The Tamale was a lunchroom in East Los Angeles that featured tamales, chili, hot dogs, malts, and other fare in a uniquely shaped building. It was just the right place for a quick lunch in a place you would not soon forget.
Security Pacific National Bank Collection,  photo undated.
And you also would not forget Tail O' The Pup in West Hollywood!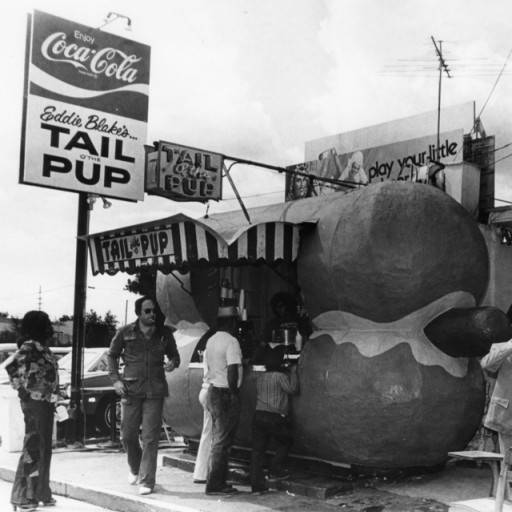 Gary Leonard Collection, (Los Angeles Photographers Collection), photo taken by Gary Leonard, photo undated.
Of course, location and menu are only part of a great lunch. The right dining companion can make the most mundane meal magnificent. Angie the dog and Casey the duck – the best of friends – meet in a parking lot in Studio City for a fine lunch of watermelon. (No reservations needed.)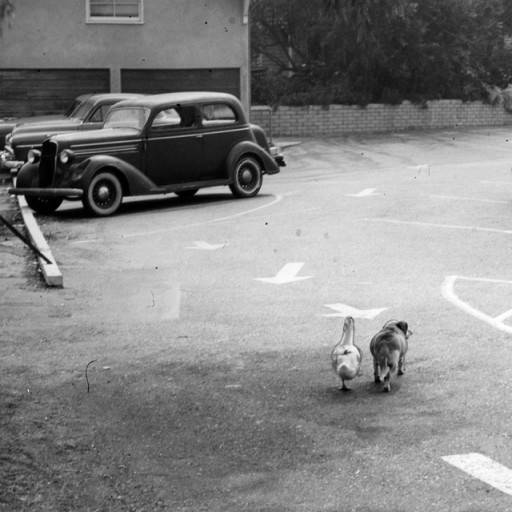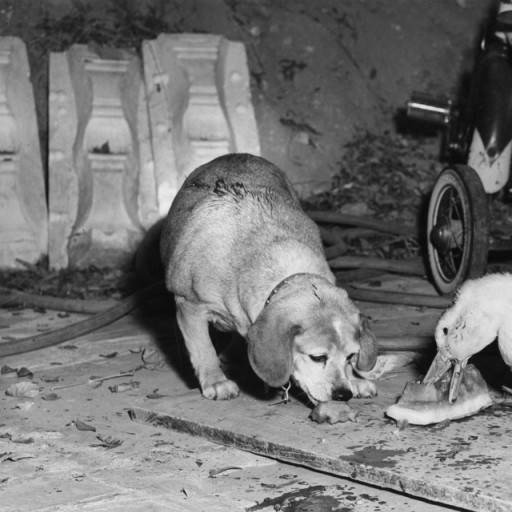 Valley Times Collection, undated photograph taken by Dave Siddon.