On Sunday, August 5, 1962, at 4:25 a.m., an ambulance was called to a private home in Brentwood, California. The current owner of the house had been found unconscious in a bedroom. Jack Clemmons, an officer with the Los Angeles Police Department, arrived at the home at 4:45 a.m. The owner of the home was dead, lying face down on a bed with empty pill bottles scattered nearby, a possible suicide. The decedent's name was Marilyn Monroe.
Born Norma Jean Mortenson on June 1, 1926, Marilyn Monroe (a name she started using in 1946 and changed to legally on February 23, 1956) started modeling in her teens, segued into acting, and became the most photographed women in her time. While her star image and persona were well known, she herself was an enigma, confounding friends and critics alike. She showed up late (or not at all) for film shoots and could not remember lines, yet she became a bona fide movie star and started her own production company. She had screen presence and drawing power, yet was poorly paid for her efforts, getting less than half the salary of her costars in Gentlemen Prefer Blondes and being underpaid in other films. Her mother was institutionalized for mental illness and Marilyn lived in eleven different foster homes and also at the Los Angeles Orphans Home (she married her neighbor, James Dougherty, at 16 to avoid returning to the Home), yet she loved children and dreamed of being a mother.
She often played a shallow and silly blonde but was actually well read, owning a personal library of over 400 books including the works of James Joyce, Walt Whitman, Saul Bellow, John Milton, and Carl Sandburg. She was friends with authors Truman Capote and Isak Dinesen. When she met Soviet Premier Nikita Khrushchev during his 1959 American tour, they discussed the novel The Brothers Karamazov. (Marilyn dreamed of playing the part of Grushenka in a film version of the book.) She was reading To Kill A Mockingbird at the time of her death.
Even in death, she starts arguments. Rumors and conspiracy theories abound as to the true nature of Marilyn Monroe's death, with many people believing it was murder. The list of murder suspects includes a psychiatrist, a mobster, a senator, a U.S. president, the FBI, and the CIA.
The photo collection of the Los Angeles Public Library contains publicity shots, caught-in-the-act images, and other photos that document Monroe's life. In honor of the fifty-fifth anniversary of her death, let us take a look at Marilyn: the onscreen sex symbol and the next-door neighbor, the woman we saw all the time but never really knew.
---
Marilyn was born a blonde but her hair darkened to a light brown as she grew up. As an adult, she tried nine different shades of blond hair before deciding to become a platinum blonde. While her hair (and the rest of her) turned men's heads, these young ladies wish to remind audiences that brunettes and redheads have a lot to offer also. Marilyn, who once said, "We are all of us stars, and we deserve to twinkle," would most likely have supported them. (The first time Marilyn appeared onscreen as a platinum blonde was in her 1952 film Monkey Business with Cary Grant.)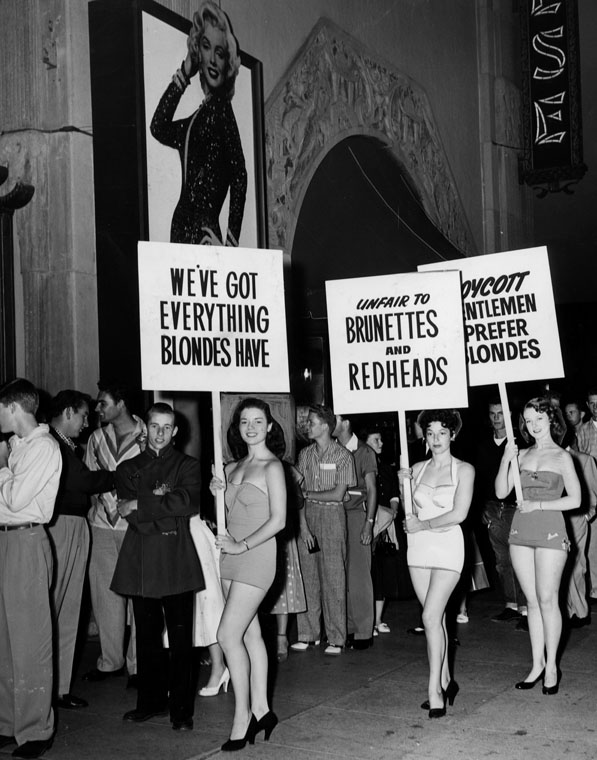 Herald-Examiner Collection, photo dated August 6, 1953.
Marilyn's fans treated her as if she were a friend or family member. When she had her appendix removed on April 28, 1952, fans sent flowers, magazines, cards, candy, and good wishes for her speedy recuperation. This is a publicity photo taken at Cedars Sinai of Lebanon Hospital in Los Angeles. (Note: When her surgeon, Dr. Marcus Rabwin, pulled back her hospital gown to begin the appendectomy, he found a note taped to her stomach asking him to do whatever he could to prevent a scar.)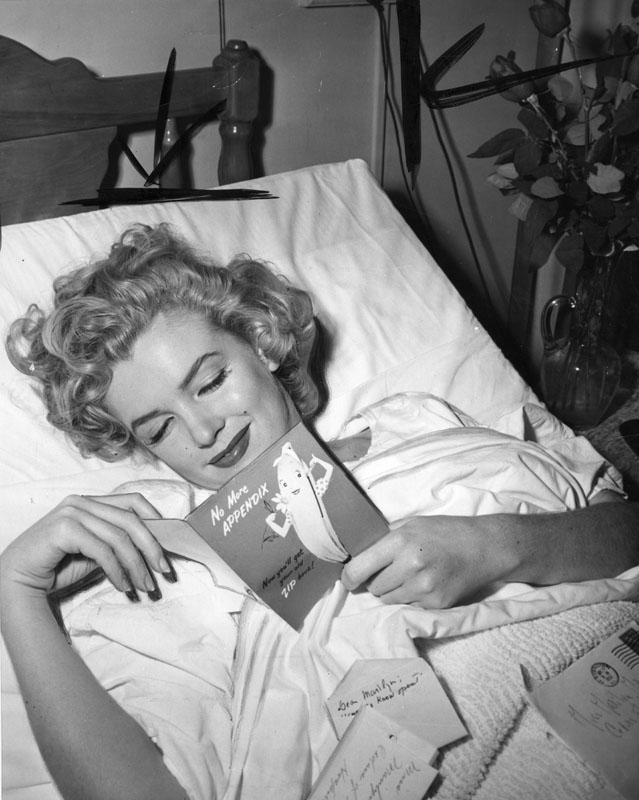 Herald-Examiner Collection, photo dated Wednesday, May 7, 1952.
Marilyn loved children and would always help a child in need. In this photo, she attends a special premiere of the movie Journey to the Center of the Earth to raise money to benefit a clinic serving brain-damaged children.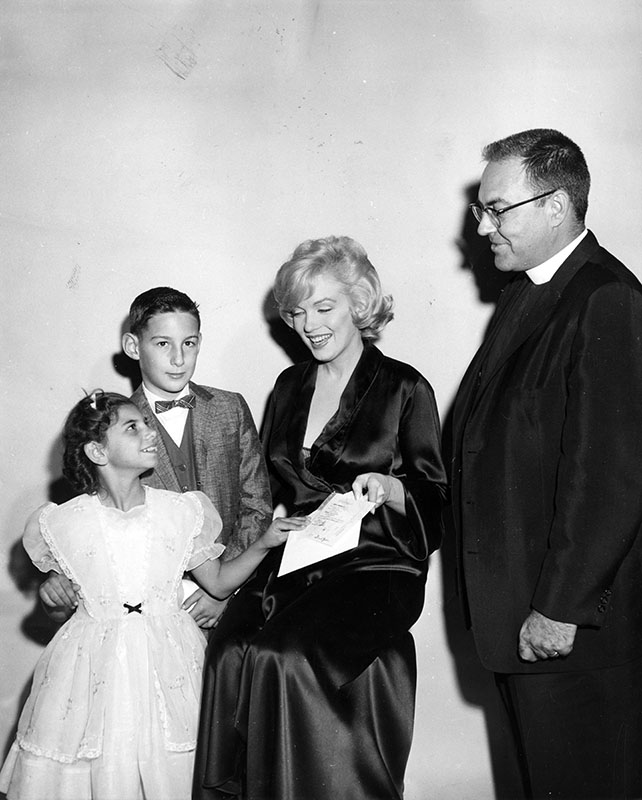 Valley Times Collection, photograph dated December 5, 1959.
Marilyn Monroe was an excellent cook and loved to cook for guests, often creating elaborate and complex recipes. Marilyn contributed her spaghetti sauce recipe to Celebrities' and Citizens' Cookbook, a cookbook sponsored and sold by the Women's Division of the Sherman Oaks Chamber of Commerce. In this photo, Barbara Eden (the genie in the television show I Dream of Jeannie) tastes Monroe's spaghetti sauce. (Incidentally, the cookbook is a reference book available for perusal at the Science and Tech Department of LAPL's Central Library in downtown Los Angeles.)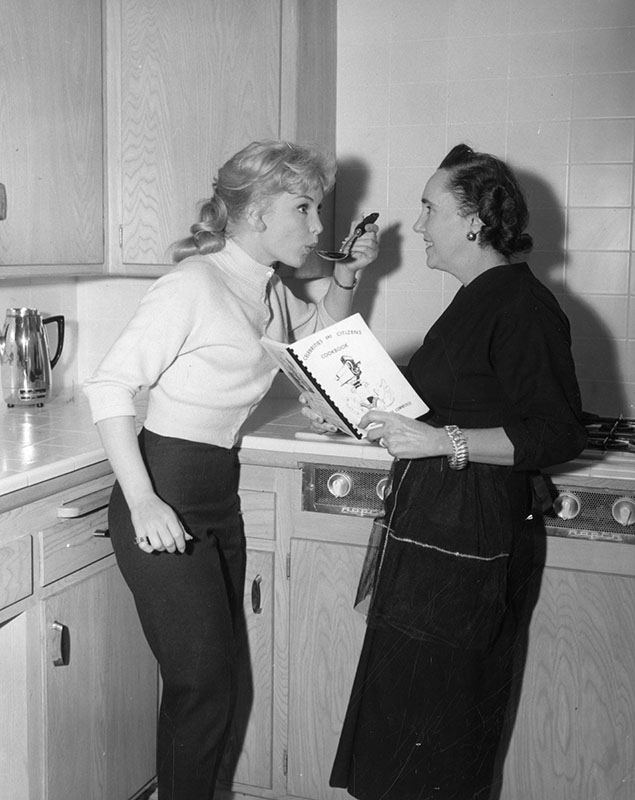 Valley Times Collection, March 23, 1960.
While it is reported that, off the set and around the house, Marilyn preferred to go in the nude, she wore some stunning outfits onscreen. In this photo, Maurice Chevalier stops by to say hello to Marilyn on the set of Some Like It Hot and Marilyn is wearing a dress designed by Orry-Kelly (nee Orry George Kelly), the Australian-born costume designer who won three Academy Awards for Best Costume Design, one award being for the costumes in Some Like It Hot. (Marilyn herself never won any Oscars, but was crowned Castroville's first Artichoke Queen in 1948.)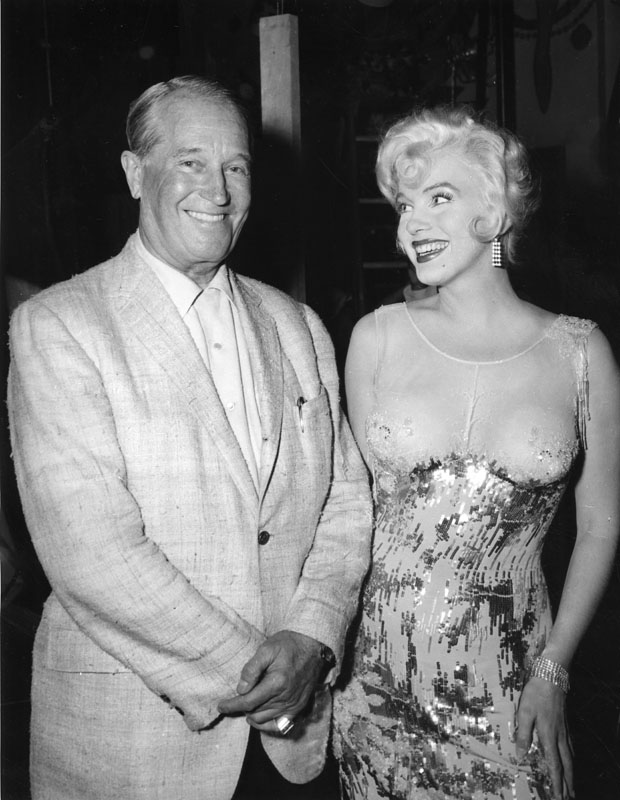 Herald-Examiner Collection, photograph dated November 20, 1958.
Marilyn took golf lessons at one time and was thus qualified to act as official scorekeeper at a golf tournament. In this photo (taken at the California Country Club in Whittier, California), she poses with Layne "Shotgun" Britton, a Texan who came to Hollywood and had a lengthy career as a makeup artist, prepping stars such as Marilyn, Jane Russell, Frank Sinatra, Dan Aykroyd, and John Belushi for the screen. He also had a short career as an actor. (He is the old man in the film The Blues Brothers who asks for his Cheez Whiz.)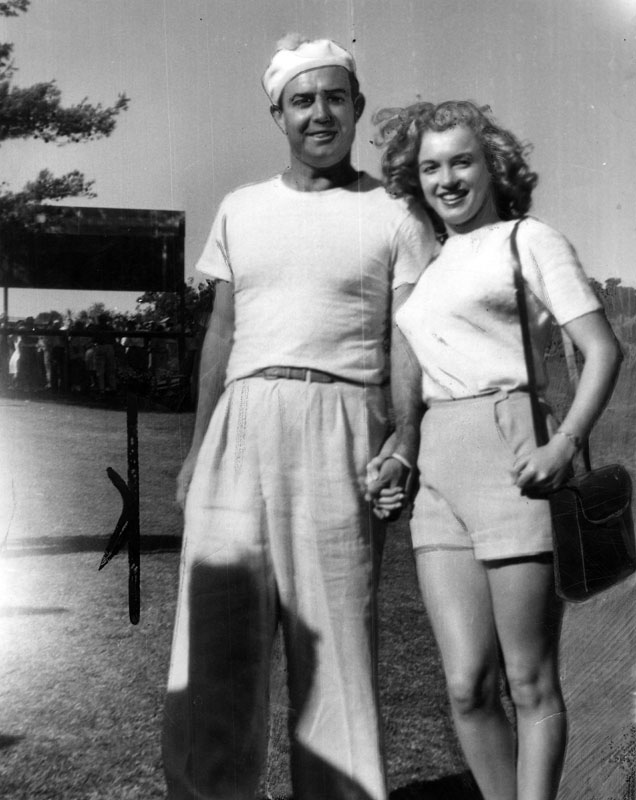 Herald-Examiner Collection, photo dated October 5, 1954.
Marilyn professed not to care for outdoor sports (and she definitely did not want to get a tan!), yet was the top player on the softball team at the orphanage in Hollywood where she stayed as a young girl. Here we see Marilyn accompanying Chicago White Sox third baseman Hank Majeski to the field during spring training on Catalina Island. (Majeski was traded from the Philadelphia Athletics to the Chicago White Sox before the 1950 season and would return to the Athletics in June of 1951.)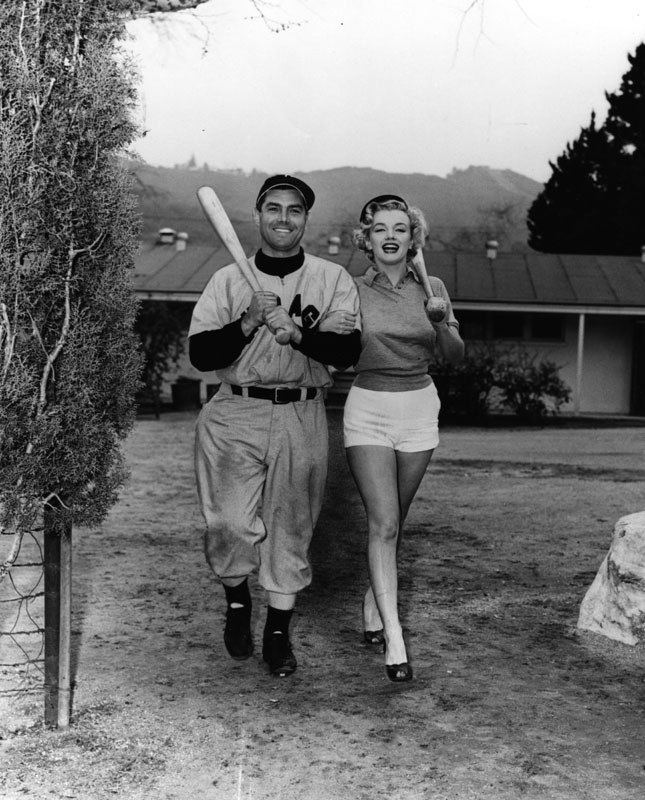 Herald-Examiner Collection, photo dated March 8, 1950.
Of course, Marilyn's connection to baseball is forever tied to her connection to "Joltin' Joe" DiMaggio, the Major League Baseball center field for the New York Yankees. Marilyn Monroe and Joe DiMaggio met in 1952 when DiMaggio was introduced to Marilyn through a friend. Marilyn originally did not want to meet DiMaggio as she felt he would be arrogant and spoiled. (DiMaggio had just ended his legendary career as a New York Yankee.) Instead, she found him to be quiet and attentive. They dated and then eloped in San Francisco on January 14, 1954. This photo, published the day after their elopement but taken at an earlier date, shows the two of them as a happy, smiling couple.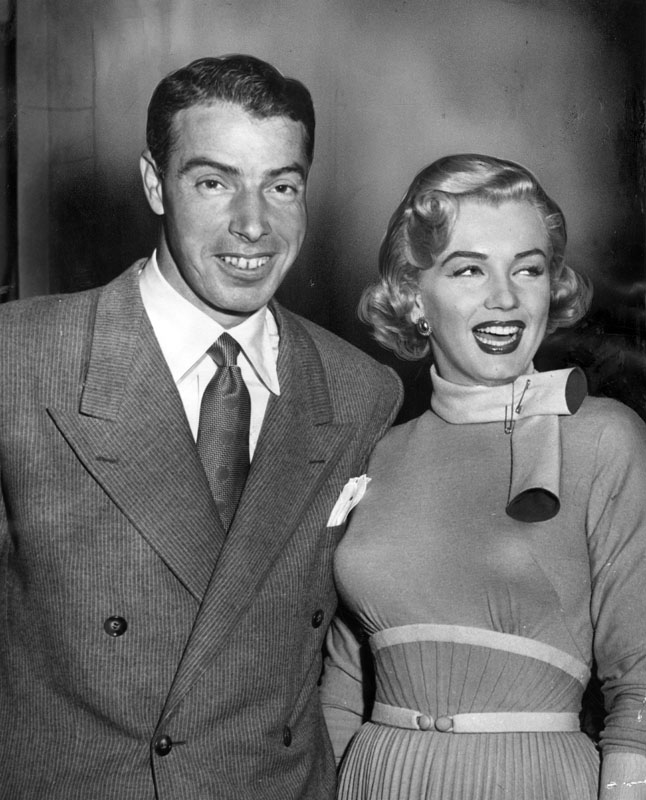 Herald-Examiner Collection, dated January 15, 1954.
While the marriage of Joe DiMaggio and Marilyn Monroe did not last long (less than a year), their love endured. Several sources hinted that Marilyn was considering remarrying the Yankee Clipper (as DiMaggio had been known) at the time of her death. DiMaggio (on the left in this photo) was devastated by her death. According to Morris Engelberg, DiMaggio's attorney and friend who was at the Yankee outfielder's bedside when he died, DiMaggio's last words were, "I'll finally get to see Marilyn."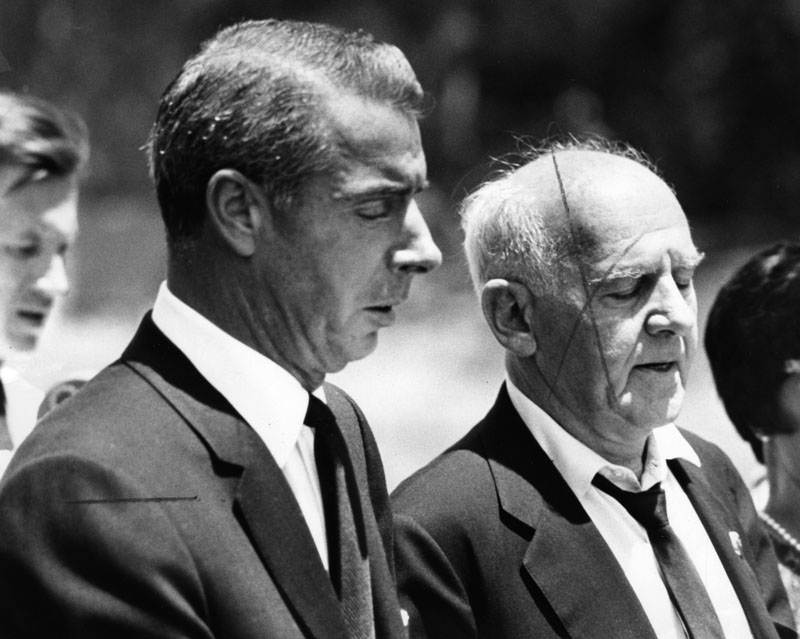 Valley Times Collection, photograph taken on August 9, 1962, by George Brich.
Marilyn discusses baseball with Herald-Examiner sports writer Bud Furillo on June 1, 1962, her 36th (and last) birthday.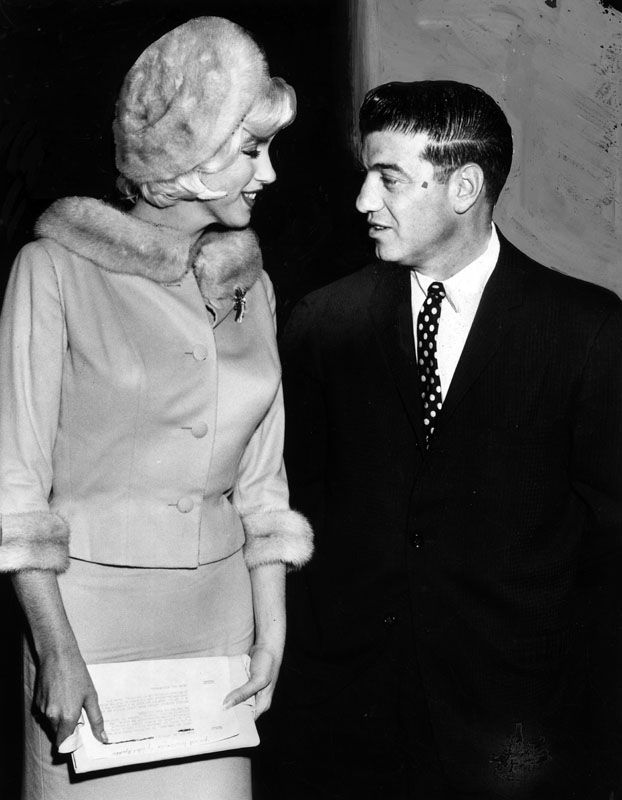 Herald-Examiner Collection, photograph taken June 2, 1962.
In early 1951, Marilyn began work on the film As Young As You Feel. It was during the filming of this movie that she met Arthur Miller, the playwright who would become her third husband. In this photo, Marilyn enjoys a glass of champagne after hearing some good news regarding legal issues faced by Miller. (Miller was investigated by the House Committee on Un-American Activities for pro-Communist sentiments. He refused to discuss the political leanings of anyone other than himself, a refusal which led to him being found guilty of contempt of Congress, denied a passport, and sentenced to a $500 fine or 30 days in jail. The U.S. Circuit Court of Appeals, however, overturned his conviction.)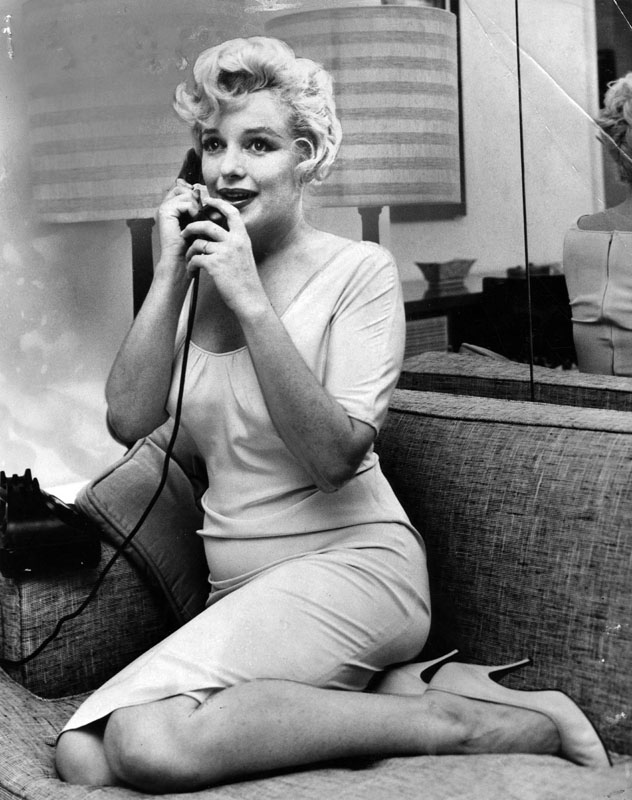 Herald-Examiner Collection, photograph taken in 1958.
Marilyn bought her home in Brentwood in February of 1962, just six months before her death. It was the only home that she ever owned. Theories abounded that the house was wiretapped in order to get incriminating evidence on U.S. President John F. Kennedy and his brother, Robert Kennedy, both of whom Marilyn supposedly romanced.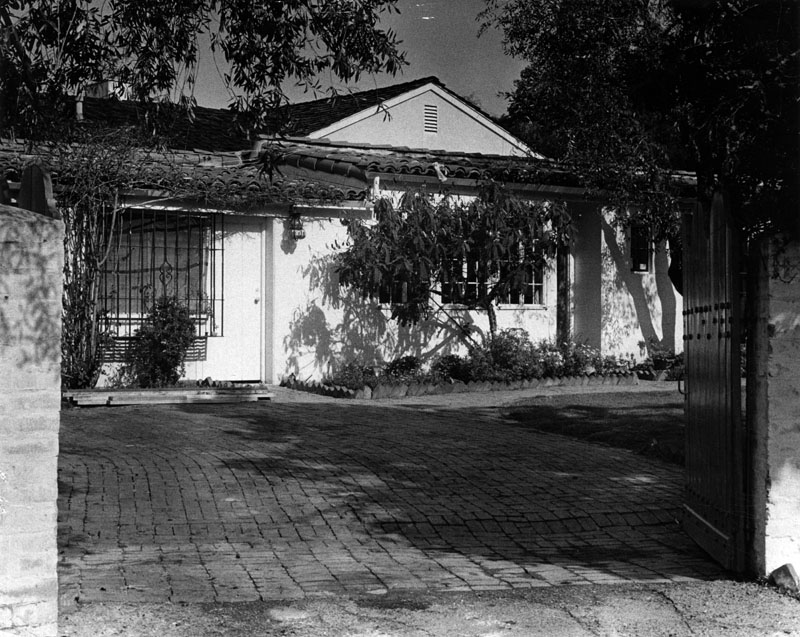 Herald-Examiner Collection, photograph dated August 7, 1983.
Another actress, Veronica Hamel (who portrayed attorney Joyce Davenport on the television series Hills Street Blues), bought the house in 1972 and she and her husband proceeded to renovate it. While doing so, they discovered an extensive system of wiretaps. According to a retired Justice Department official with whom they consulted, such equipment would have been unavailable for public purchase in 1962 but would have been standard issue for FBI surveillance. Davenport is seen here; she is the female protestor on the left holding the sign.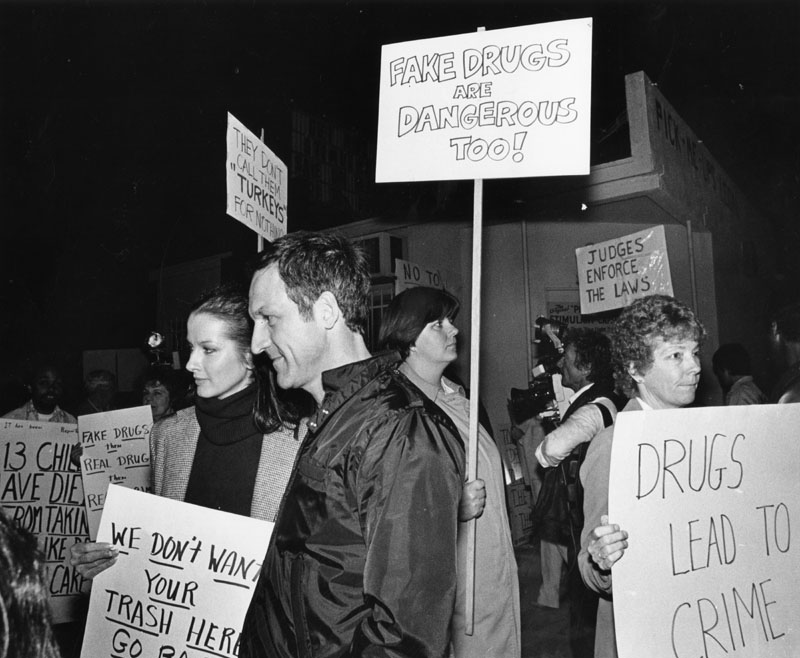 Herald-Examiner collection, photo dated October 15, 1981.
Various accounts describe Marilyn Monroe as being a prisoner in her home during the last few days of her life, unable to leave the house because of anxiety, depression, and an altered state due to barbiturate use. Her career was tanking (she'd just been fired from her latest film, Something's Got To Give) and she was suffering from chronic depression (having spent time in a padded cell at Payne Whitney Psychiatric Clinic a year earlier). It was entirely believable that she was suicidal. Other accounts refute this notion of Marilyn at the end. She was starting over, happily decorating her home, and was planning to set up an independent film company with Marlon Brando. She had been rehired for Something's Got To Give and was considering remarrying Joe DiMaggio. She stayed at home on her last day as she was busy renovating her new house.
Here we see her bedroom as it appeared on the day after her death.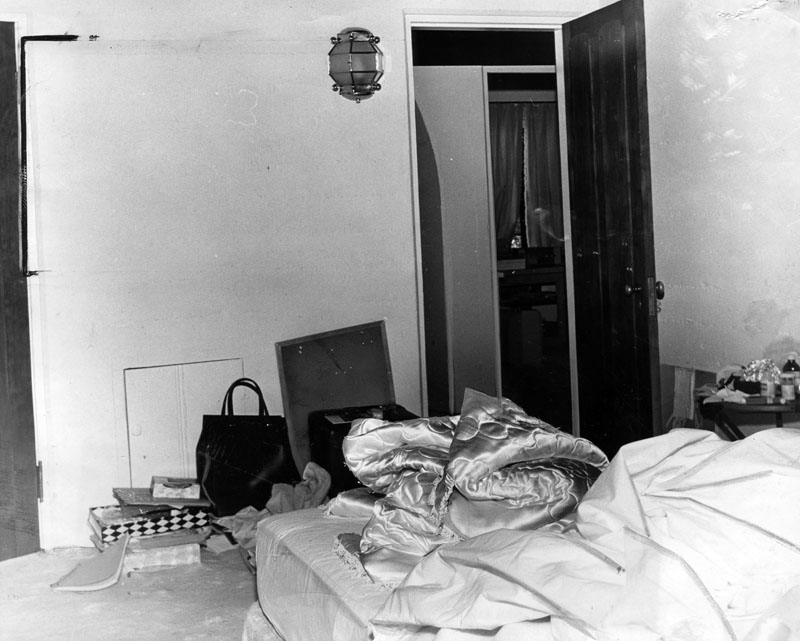 Herald-Examiner Collection, photograph taken August 6, 1962.
Due to the unknown cause of her death, Marilyn's body was taken to the Los Angeles County Medical Examiner to be autopsied. The Chief Medical Examiner, Dr. Theodore Curphey, did not examine Marilyn's body but instead assigned junior medical examiner, Dr. Thomas Noguchi, to conduct the autopsy. (Noguchi later became the Chief Medical Examiner for Los Angeles, a position he held for fifteen years. He was the known as the "Coroner to the Stars" and was the inspiration for the coroner-themed television show "Quincy" which starred Jack Klugman.)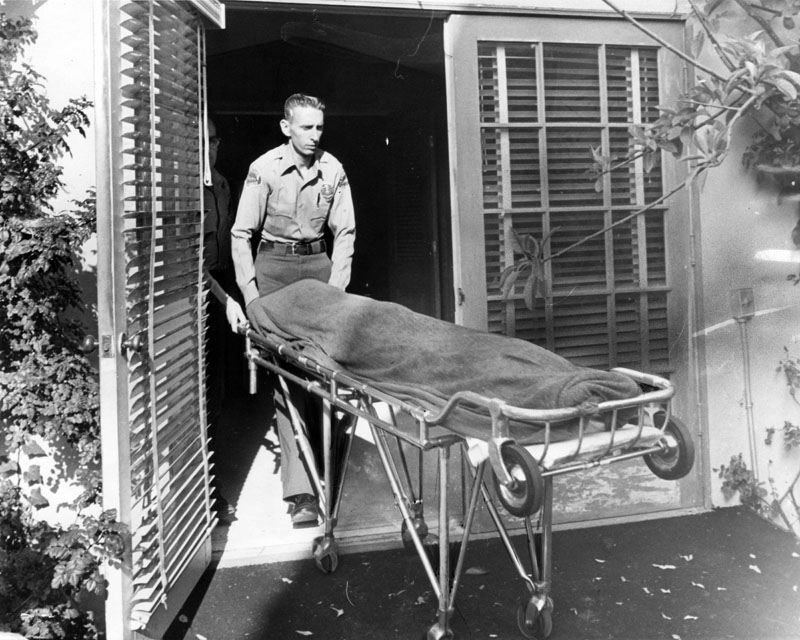 Herald-Examiner Collection, dated August 6, 1962.
Marilyn's funeral was held on August 9, 1962, at Westwood Memorial Park in Los Angeles. The service was arranged by Joe DiMaggio and attended by 31 people, none of whom were movie stars.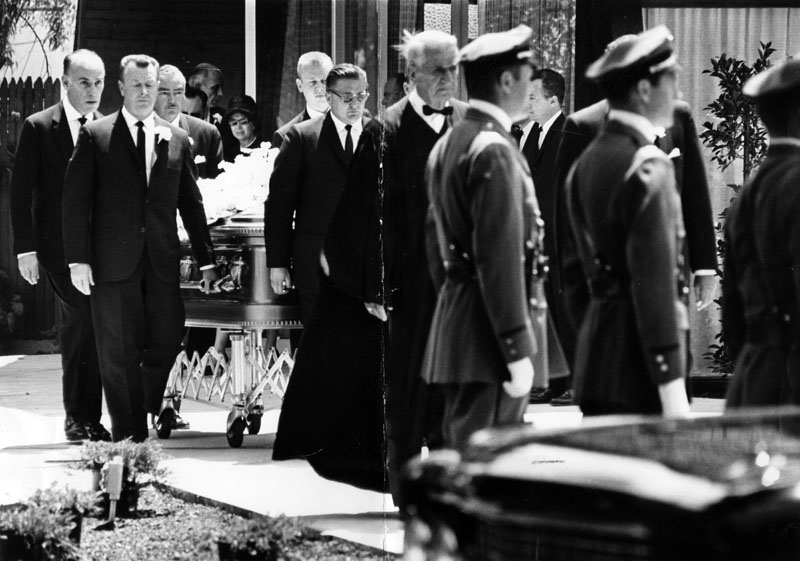 Valley Times Collection, photographed on August 9, 1962, by George Brich.
For twenty years after her death, Joe DiMaggio arranged to have roses sent to Marilyn's crypt in the Westwood Memorial Park three times a week. He stopped sending flowers because anonymous admirers were stealing the bouquets.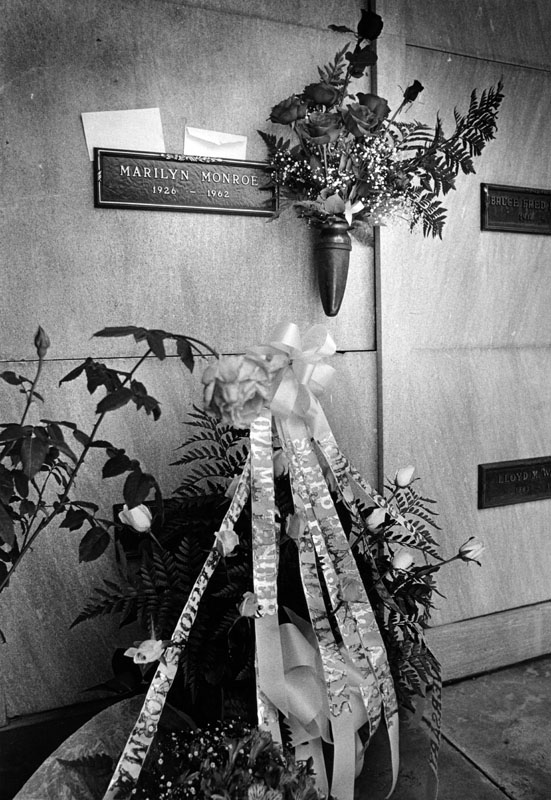 Herald-Examiner Collection, photographed August 5, 1982, by Mike Mullen.
Nonetheless, fans still decorate Marilyn's crypt with flowers to the present day. The lady is long gone, but her legend survives.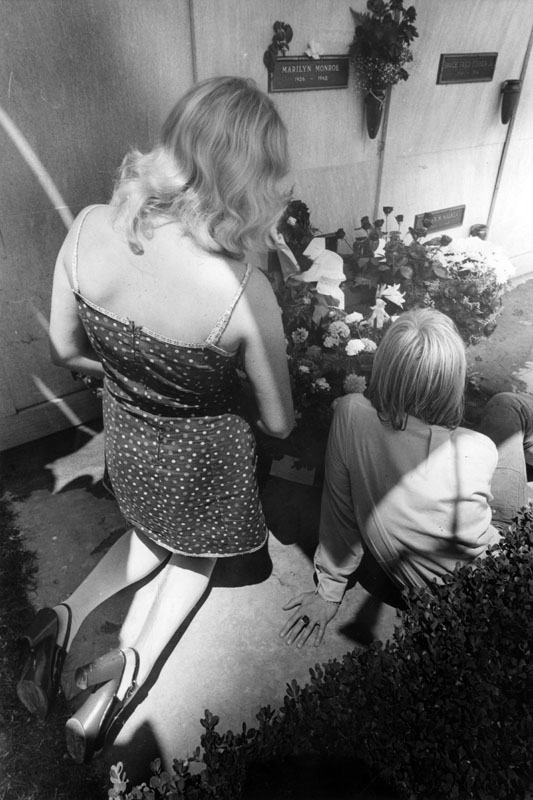 Herald-Examiner Collection, photo taken sometime in the 1970s.