In 1919, the Eighteenth Amendment to the United States Constitution was ratified. One year later, prohibition began. The production, importation, and transportation of alcoholic beverages was now illegal. America went dry – or so it was thought.
Supporters of prohibition believed that getting rid of booze would get rid of America's social ills – alcoholism, public intoxication, petty crime, poverty, mental illness, venereal disease. Prohibition would also reduce taxes as there would be less need for courts, jails, hospitals, asylums, and other institutions supported by tax dollars. The country would be richer and safer if it were sober.
Unfortunately, as journalist H. L. Mencken noted in 1925:
"Five years of Prohibition have had, at least, this one benign effect: they have completely disposed of all the favorite arguments of the Prohibitionists. … Not only are crime, poverty and disease undiminished, but drunkenness itself, if the police statistics are to be believed, has greatly increased. The land rocks with the scandal. Prohibition has made the use of alcohol devilish and even fashionable, and so vastly augmented the number of users."
On December 5, 1933, prohibition was repealed, with President Franklin D. Roosevelt declaring, "What America needs now is a drink!" People across the U.S. celebrated and Los Angeles, never a city to miss a party, joined in. The online photo archives of the Los Angeles Public Library show that while certain public officials in L.A. took prohibition very seriously, most of the public took its repeal even more seriously.
Members of the Coast Guard unload 1,200 cases of illegal whiskey found on a fishing boat in San Pedro.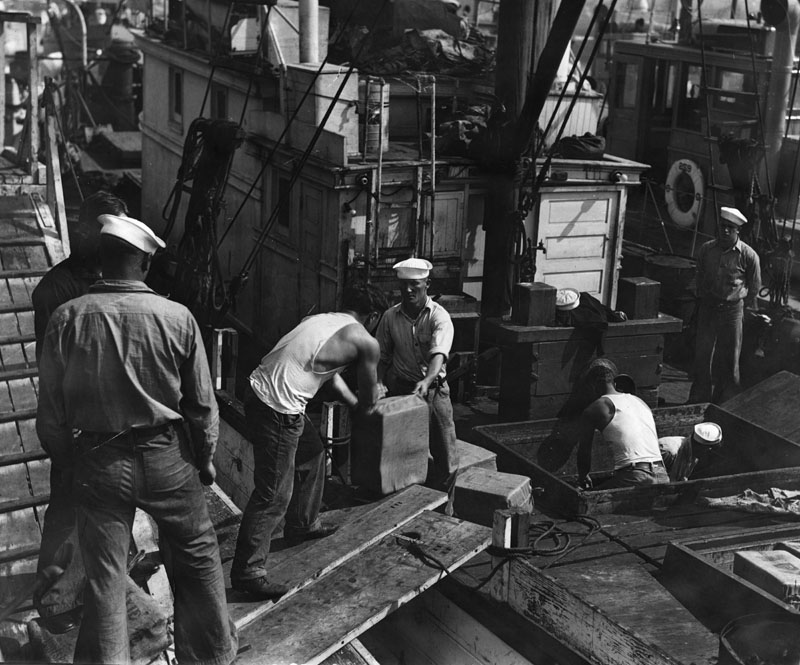 Herald-Examiner Collection, photo dated March 25, 1932.
An officer takes inventory of liquor that was seized in a raid on a warehouse in Long Beach, California. Police believed the warehouse was being used as a distribution center by bootlegger Tony Carnero (a/k/a The Admiral and Tony the Hat). The liquor was valued at $62,000 — $910,781 in today's currency.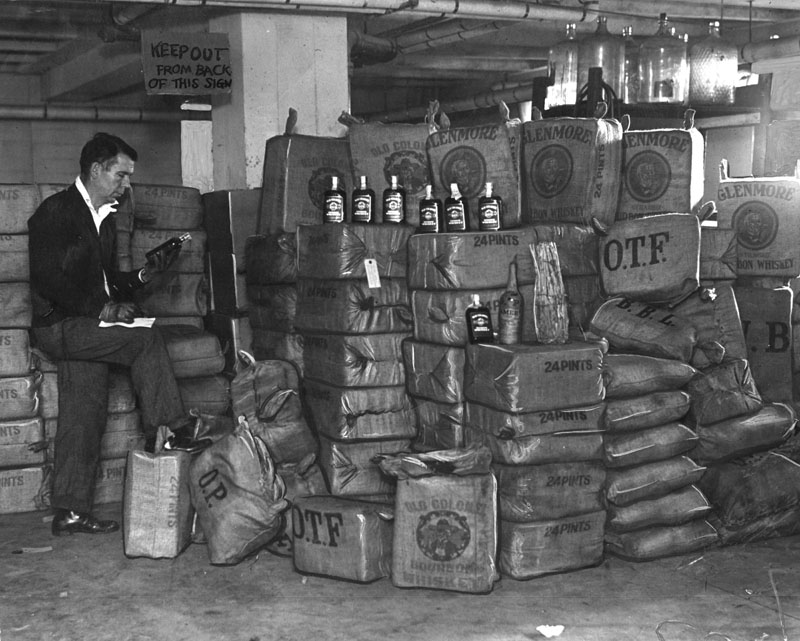 Herald-Examiner Collection, photo taken in 1931.
John L. McDonnell of the District Attorney's enforcement squad and Pearl Stephenson, secretary to Chief Investigator Lucien Wheeler, dump $45,000 worth of bootleg liquor used as evidence in liquor arrest cases. (Incidentally, that would be the equivalent of $635,000 worth of booze today.)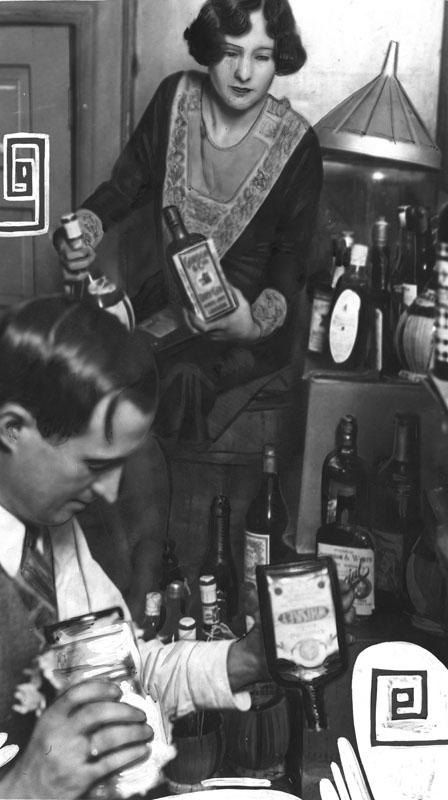 Herald-Examiner Collection, photo dated February 16, 1929.
Members of the Sheriff's office dump wine, whiskey, imported champagne, and various liquors they had confiscated. The alcohol – most of it high-end and meant for Christmas, New Year's, and other holiday parties – was valued at $150,000 at the time. Today, this contraband booze would be worth roughly $2,004,500.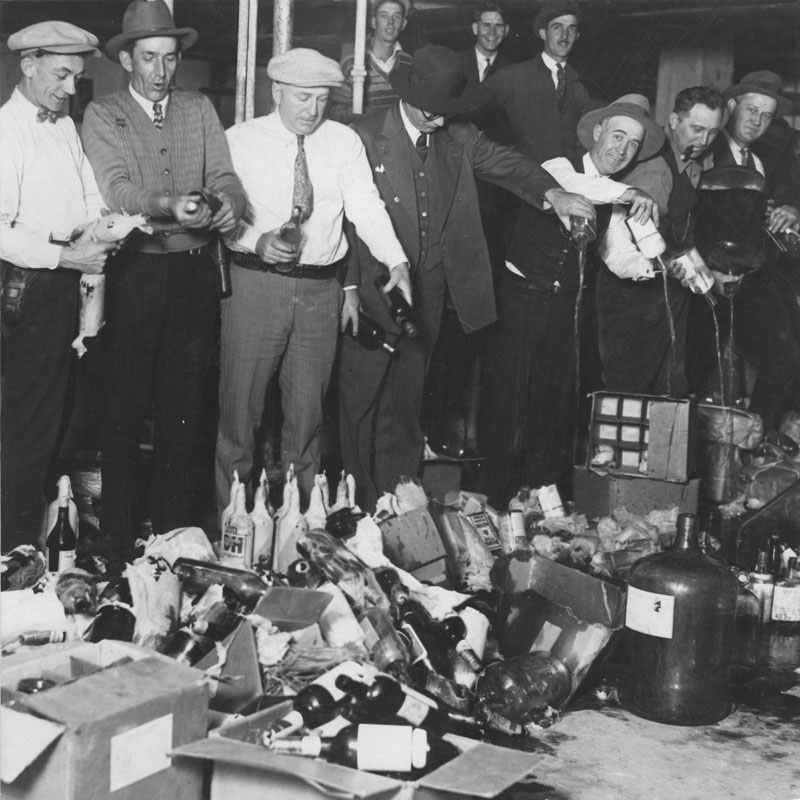 Herald-Examiner Collection, photo dated January 17, 1927.
Unable to buy a drink legally, many people resorted to partaking of Jamaica Ginger – also known as Jake – in place of a cocktail. Sold as a medicine, this concoction included an additive that affected the nerve cells that control movement, leading to paralysis for some unlucky imbibers. The Herald-Examiner alerted Southern Californians as to the dangers of drinking Jake.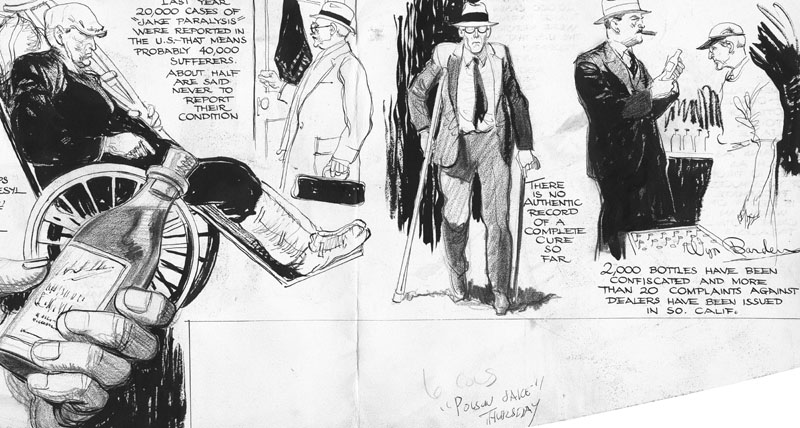 Herald-Examiner Collection, drawings photographed in 1931.
As grapes were no longer becoming wine (with the exception of a select crop used for sacramental wine), the California Vinyardists' Association created National Grape Week in an effort to dispose of a bumper crop of grapes during Prohibition.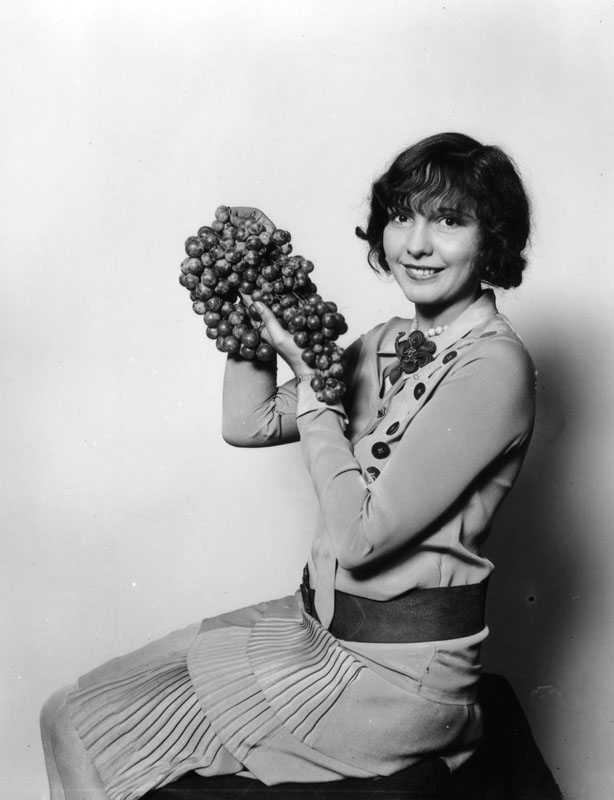 Security Pacific National Bank Collection, photo dated September 14, 1928.
In spite of the law, Los Angelenos (like folks everywhere) still liked to discuss business, meet friends, and relax over drinks. This elegant home at 4412 Wilshire Boulevard served as a speakeasy during Prohibition.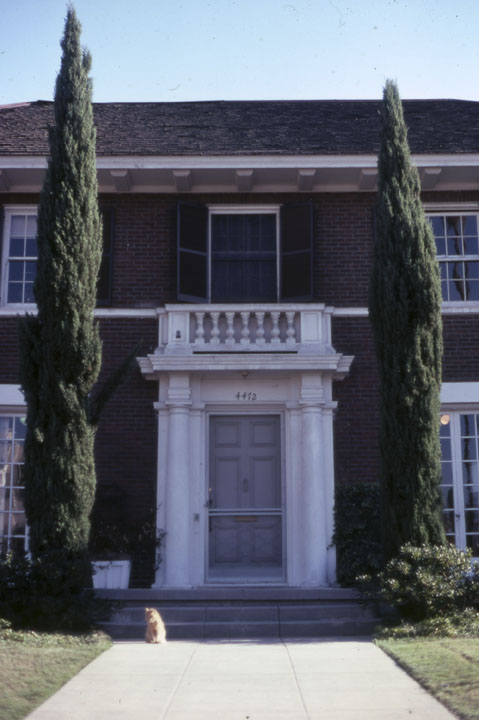 Los Angeles Photographers Collection, Marlene Laskey/Wilshire Boulevard Collection,
photographed by Annie Laskey in 1978.
While the complete repeal of Prohibition occurred on December 5, 1933, the Beer and Wine Revenue Act (commonly referred to as the Beer Bill) was put into effect on April 7, 1933. It gave states the right to sell beer and wine. In this photo, crowds wait to enjoy a beer at the Belmont Grill in downtown Los Angeles.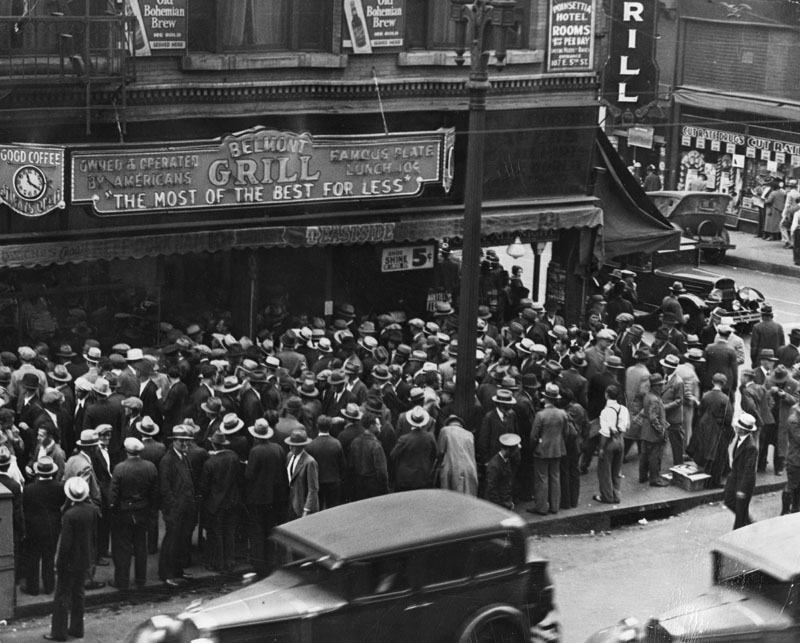 Herald-Examiner Collection, photo dated April 7, 1933.
Here is the scene inside the Belmont Grill that same day.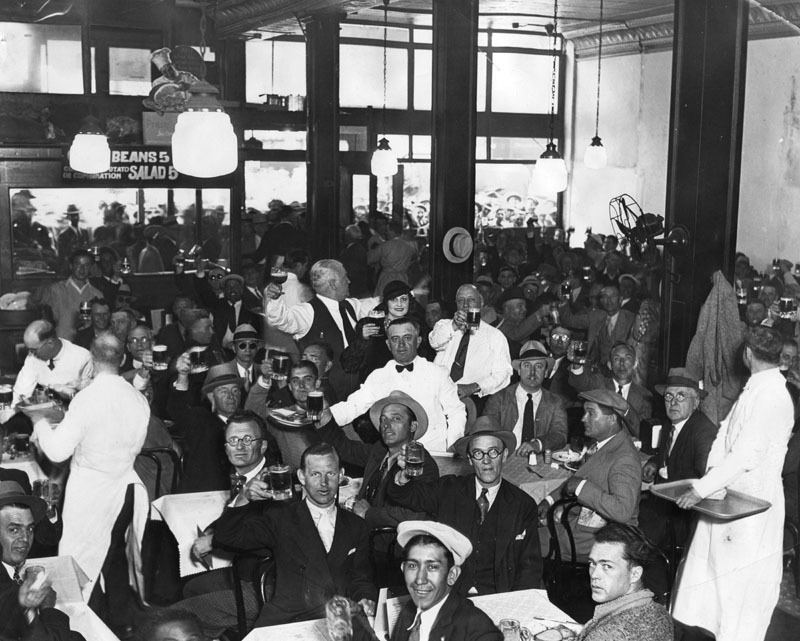 Herald-Examiner Collection, photo dated April 7, 1933.
When the Beer Bill came into effect, Eastside Brewery in Lincoln Heights wasted no time getting back into business. The first truckload of beer rolled away as movie star Jean Harlow christened it with a bottle of (what else?) beer.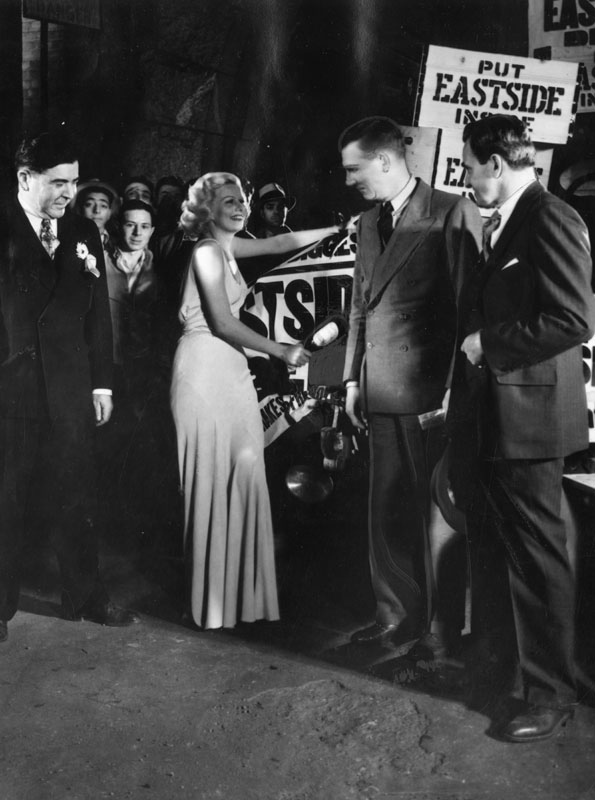 Herald-Examiner Collection, photo dated April 7, 1933.
People couldn't wait until prohibition was repealed to celebrate its repeal! Here, revelers at Club Airport Gardens celebrate the repeal of prohibition on November 8, 1933, with a skeleton of the 18th amendment.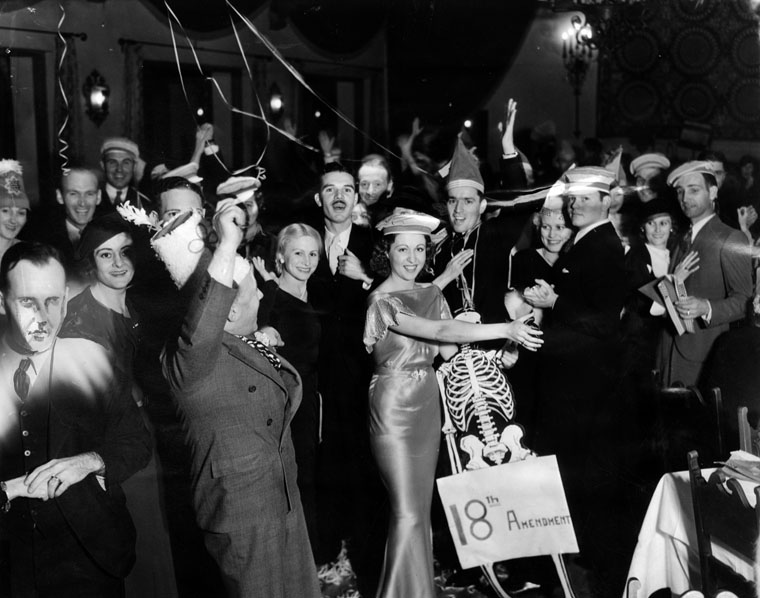 Herald-Examiner Collection, photo dated November 8, 1933.
With prohibition repealed, the quaint Malamute Saloon, designed to resemble a cozy log cabin, reopened after 13 years. Los Angeles residents and visitors could imbibe while enjoying a somewhat rustic experiment.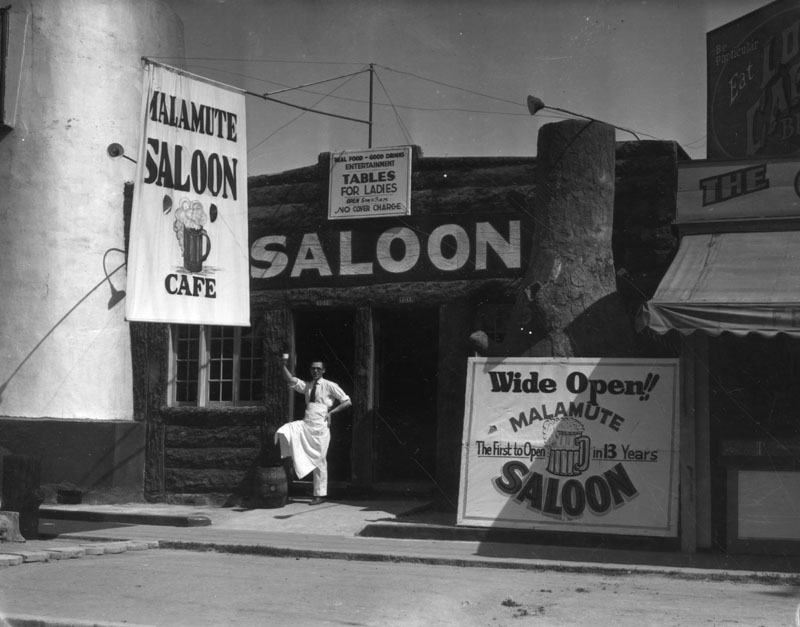 Security Pacific National Bank Collection, photo dated 1933.
A group of Mexican-Americans celebrates the end of Prohibition and the freedom to enjoy a drink with family and friends.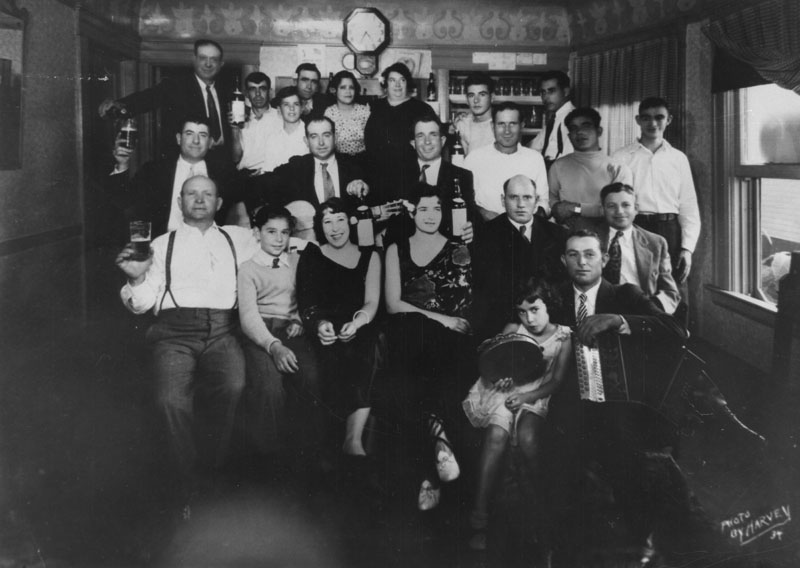 Shades of L.A.: Mexican-American Community, photo taken by Harvey
(see lower right corner) in 1934.