Over 9,000 years ago, members of the Gabrielino/Tongva tribe built settlements on a rocky island located 25 miles off the coast of what is today Southern California. They referred to their homeland as Pimu or Pimugna and themselves as Pimungans. In the 1500s, Spanish explorer Juan Rodriguez Cabrillo landed on the island and claimed it for Spain, naming it San Salvador (after his ship). In the early 1600s, another Spanish explorer, Sebastian Vizcaino, renamed the island Santa Catalina Island (in honor of St. Catherine). That name stuck.
Although the island fell under Spanish rule, American and Russian hunters set up camps on the island to hunt for seals and sea lions. Missionaries visited the island to teach the gospel. Miners searched for gold and precious minerals. Pirates of all nationalities used the islands to conduct smuggling activities. In 1846, mere days before the United States invaded Mexico, the Governor of Mexico granted ownership of Santa Catalina Island to Thomas Robbins, a naturalized citizen of Mexico. A few years later, Santa Catalina Island became part of the United States. Robbins sold the land in 1850 to Jose Maria Covarrubias. The island changed hands a number of times during the next several years with James Lick (at one point the richest man in California) purchasing the entire island in 1864.
Real estate developer George Shatto bought the island from the Lick family (James Lick had died) in 1887 with the idea of turning it into a resort. He defaulted on the loan and the property returned to Lick's estate. Brothers Joseph and Hancock Banning (sons of Phineas Banning, "father of the Port of Los Angeles") bought the island and did develop resort facilities, only to have them destroyed in a fire that eventually bankrupted them. In 1919, chewing gum magnate William Wrigley bought the island. He made many infrastructure improvements, built attractions (including the Catalina Casino), and made the island a destination for tourists and fun seekers. When William Wrigley died, the oversight of the island passed to his son, Phillip, who, in 1975, deeded 90% of the island to the newly formed Catalina Island Conservancy (which Phillip had created).
Today, Santa Catalina Island – generally referred to as Catalina Island or simply Catalina – is visited by over a million tourists per year. A perusal of the Los Angeles Public Library's photo collection (TESSA) shows Catalina Island to be an archeological treasure trove, a seaside resort, a fisherman's paradise, and a Southern California version of home on the range where the buffalo do indeed roam.
The Pimugnans mined the island's vast reserves of soapstone, often traveling to the coastland (to what is today San Pedro) to sell this commodity. They had villages all over the island. In this photo, an anthropologist is seen with human remains he has unearthed from a Native American grave on Santa Catalina Island.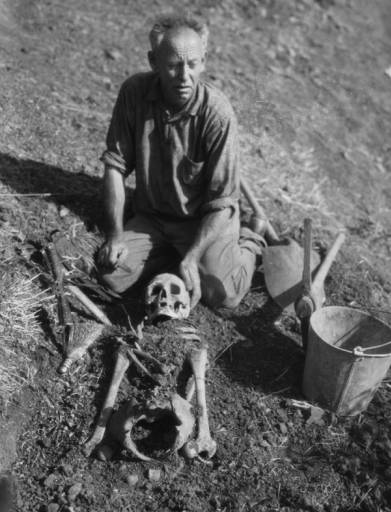 Security Pacific National Bank Collection, photo taken in 1920.
The anthropologist (name unknown) displays a fire-making tool used by Native Americans who inhabited Catalina Island.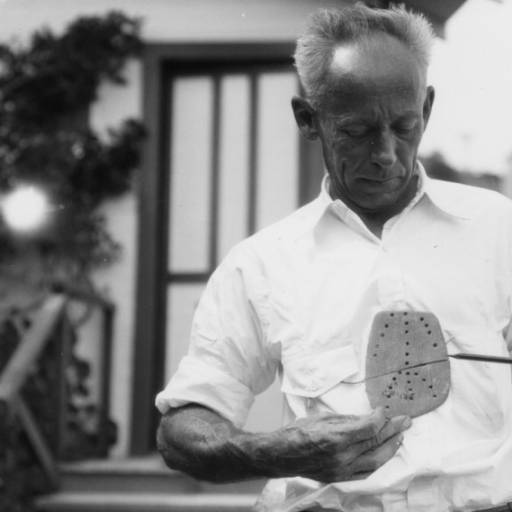 Security Pacific National Bank Collection, photo taken in 1920.
Pictured here is a panoramic view of Avalon Bay. The large ship in the harbor is the S.S. Catalina, also known as the Great White Steamer, which ferried passengers between Los Angeles and Avalon Harbor for over fifty years. If you click on the photo, you will be able to see a large circular building on the far right. This is the Catalina Casino, which houses a theater and ballroom (but no gambling facilities).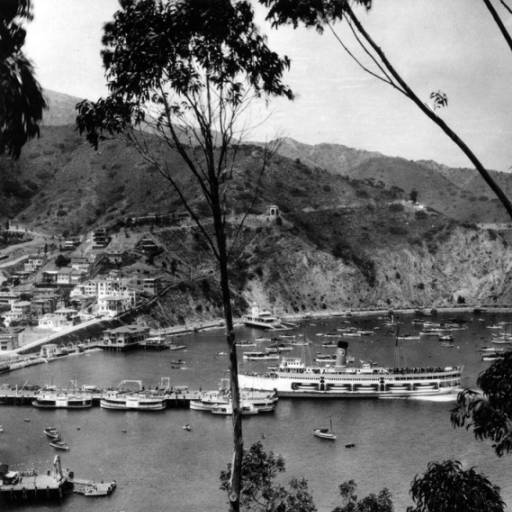 Security Pacific National Bank Collection, photo taken by Dick Whittington, date unknown.
The Catalina Casino (also known as the Avalon Casino Ballroom) was built in the Moorish Alhambra style and adorned with Art Deco fixtures. The Casino's ballroom, as seen here, is the largest circular ballroom in the world and has a row of permanent seats surrounding it.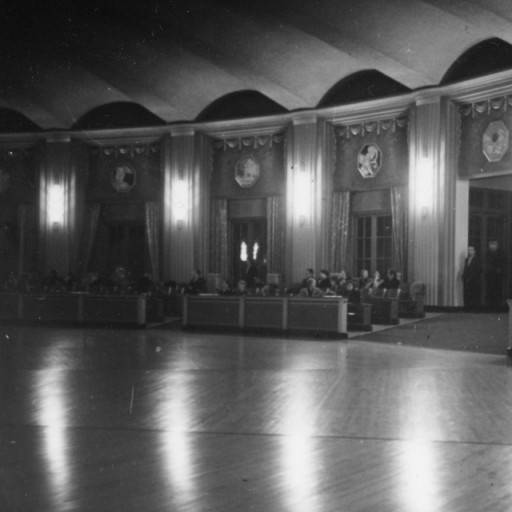 Herman Schultheis Collection, photo taken by Herman Schultheis in 1938.
The interior of the Catalina Casino features Art Deco styling. The building itself is surrounded by the sea on three sides. Here we see the Casino's lobby and box office. (The Casino does not have any gambling facilities but does show movies and hold special events.)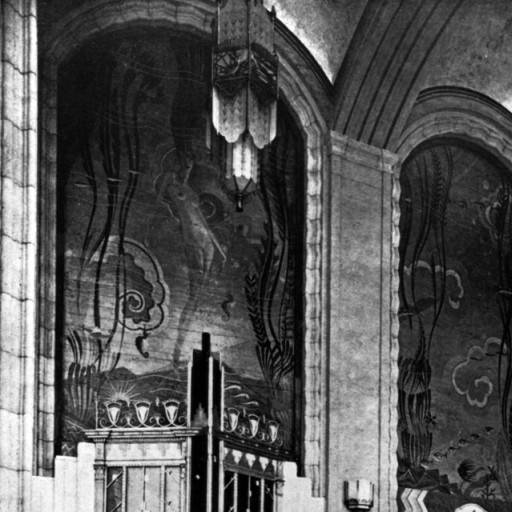 Security Pacific National Bank Collection, photo taken in 1929.
With its temperate weather, Catalina Island is a great spot for outdoor events. Here we see an open-air theater on a hillside on the island. The theater was apparently used for concerts, as a sign on the theater shell stated: "Do not talk while band is playing."
Security Pacific National Bank Collection, photo undated.
Folks are also able to enjoy dining al fresco pretty much all year round on Catalina Island. Here we see tables set up outside the Paseo El Encanto, a market in Avalon that featured Spanish Colonial Revival architecture.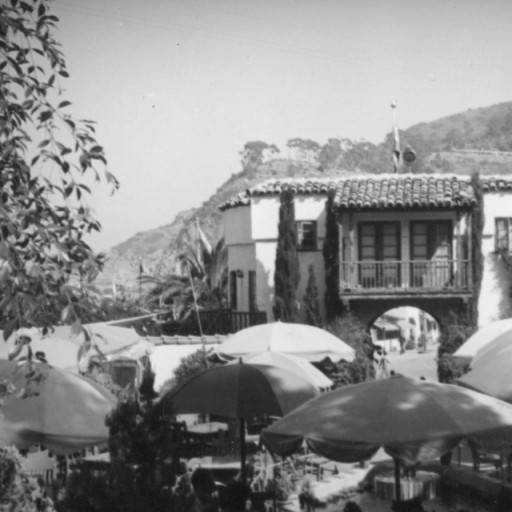 Herman Schultheis Collection, photo taken by Herman Schultheis in 1938.
Catalina Island is known for its great fishing spots. The crew of the fishing boat Diamond Jim chose the west end of the island to cast their nets and got an unexpected catch – a 4,200 pound great white shark!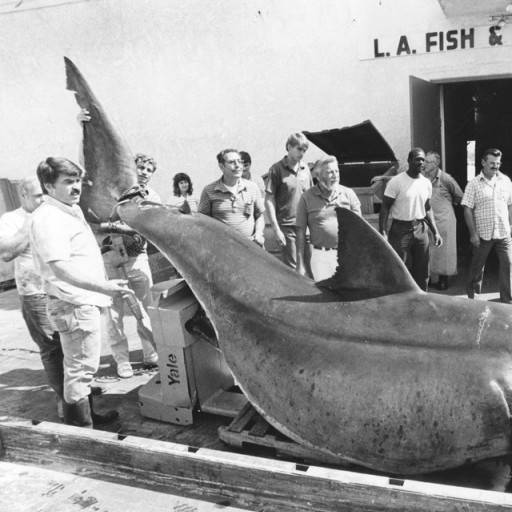 Herald Examiner Collection, photo taken by Michael Haering on September 20, 1985.
Zane Grey, author of many popular western adventure novels (the most famous being Riders of the Purple Sage), built a home on Catalina Island (which later became the Zane Grey Pueblo Hotel) to use as a place to get away, write, and fish. (His primary California residence was in Altadena.)  Grey served as president of Catalina's exclusive fishing club, the Tuna Club of Avalon. Here he poses with a swordfish he caught off the shores of Catalina Island.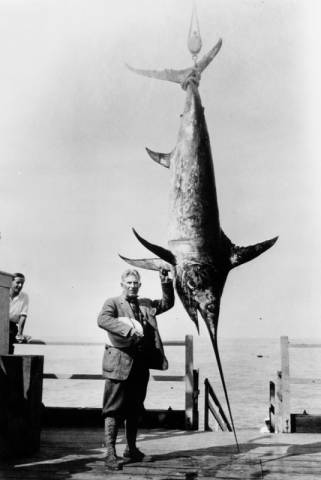 Security Pacific National Bank Collection, photo undated.
Of course, with all the fish available off the shores of Santa Catalina Island (tuna, mackerel, sardines), fishing was not only a recreational endeavor but also a commercial enterprise.  Pictured here are employees of Coast Fishing Tuna Cannery in Avalon.
Shades of L.A. Collection, photo taken in 1945.
Taxidermy of large fish was also popular. In this photo, a woman prepares a fish for mounting at a taxidermist shop in Avalon.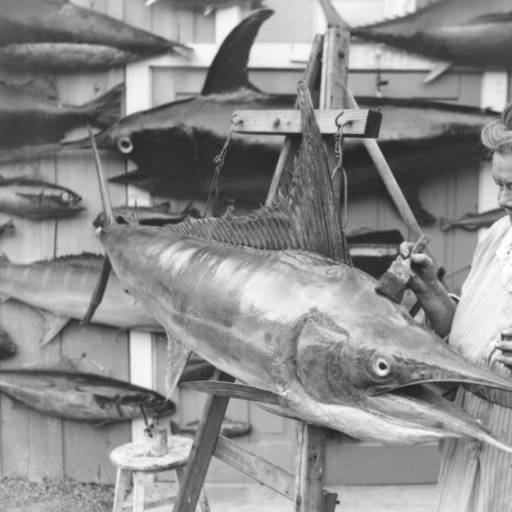 Security Pacific National Bank Collection, photo taken in 1933.
Many residents built beautiful homes on the island.  The Banning brothers, who had ownership of Santa Catalina Island for over 25 years, sought to make Avalon (the only incorporated city on the island) a world-class resort. They built the Hotel St. Catherine and added attractions that included an incline railway, an amphitheater, and an aquarium. A huge fire swept through the city in 1915 and destroyed most of their property. This photo is of Descanso, the Catalina Island home of Hancock Banning.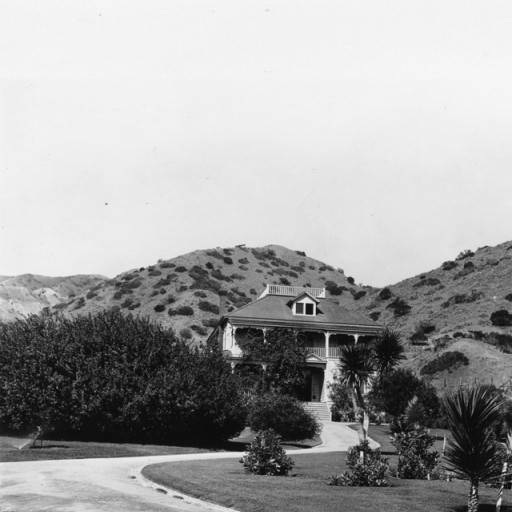 Security Pacific National Bank Collection, photo taken by Park & Co. Photo Studio, date unknown.
William Wrigley, Jr. (of Wrigley chewing gum fame) bought Catalina Island from the Banning brothers in 1919. He upgraded the island by installing utilities, building roads, planting trees and other flora, and building the Catalina Casino. He also oversaw the construction of his own personal residence which sat on a hill overlooking Avalon.
Security Pacific National Bank Collection, photo undated.
The stately Victorian home known as the Lefmann Residence had a castle-like presence in the midst of tropical landscaping.
Security Pacific National Bank Collection, photo undated.
While Avalon is the most populous city on Catalina Island, the town of Two Harbors — located at the Isthmus of Santa Catalina (18 miles from Avalon) and built between two harbors (Banning Harbor and Catalina Harbor) — offers beautiful views and a great place to unwind, as seen in this photo.
Security Pacific National Bank Collection, photo undated.
Of course, not all residents of Catalina Island are human. Buffalo were brought over to the island for the filming of a movie and remained on the island after the film shoot ended. (Note: Popular consensus is that the film which introduced buffalo to the island was the 1925 silent film The Vanishing American. That film, however, has no bison in it. Some theorized that the film The Covered Wagon brought the creatures to Catalina, yet that movie (which does feature buffalo) was not filmed on the island. Another film, The Thundering Herd (released in 1925) may have brought buffalo to Catalina Island, as the Catalina Islander (the island's newspaper) mentioned in its October 6th, 1938, edition that the herd had been brought over by the filmmakers who then gifted the herd to the island.)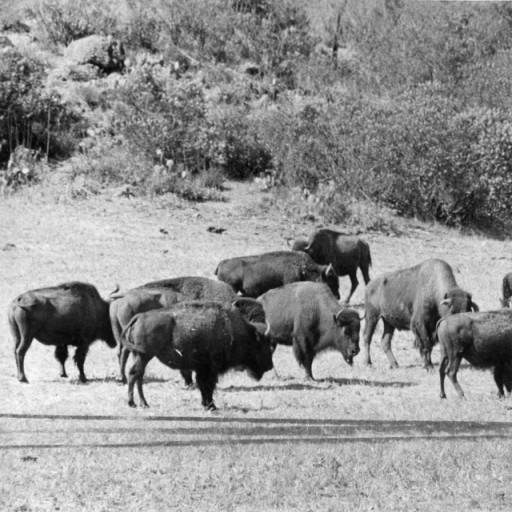 Valley Times Collection, photo dated July 22, 1962.
Spanish missionaries brought a few goats to Catalina Island in 1827, ostensibly as food for natives living on the island. The missionaries and the natives eventually all left the island, but the goats stayed and multiplied. (The goat population on Catalina Island in the 1950s was approximately 25,000.) The goats lived on the rugged terrain at the west end of the island, surviving on any and all vegetation — grass, cacti, flowers, tree leaves and bark. In the early 1990s, efforts were made to eliminate the goat population as they were decimating the top soil and negatively affecting Catalina's ecosystem. Today, there are no goats (other than a few pets) on the island.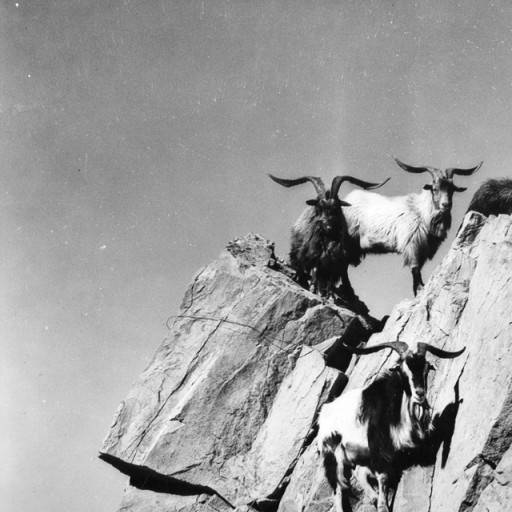 Security Pacific National Bank Collection, photo undated.
Not all the goats on Catalina were wild. Some were downright friendly and loved company — particularly if said company brought them something to eat. And since goats eat just about anything, it is not hard to find a snack to entice them!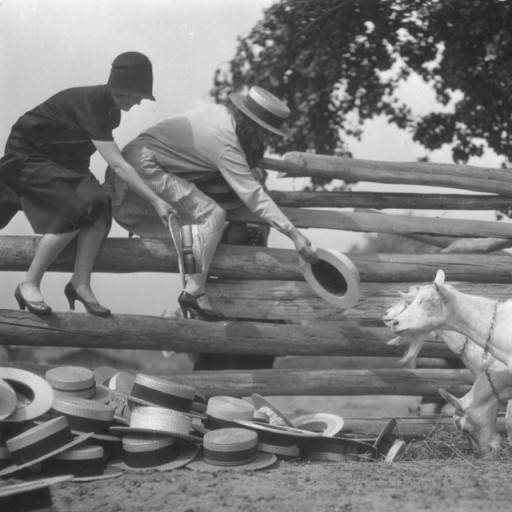 Security Pacific National Bank Collection, photo taken in 1928.
The Santa Catalina Bird Park covered eight acres, housed over 8,000 different species of birds, and was Catalina's biggest attraction for over 35 years. Known as the world's largest birdcage, it was constructed from remnants of the Sugarloaf Dance Pavilion which had been demolished to create space for the Catalina Casino. The bird park closed in 1966 and all birds were transferred to the Los Angeles Zoo.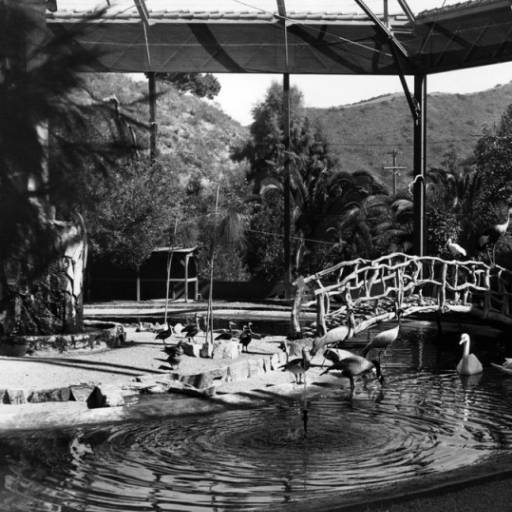 Works Progress Administration Collection, photo taken by Alma Overholt on March 18, 1940.
For the Chicago Cubs, beautiful Catalina Island was not a vacation destination but rather a place of grueling exercise and intense work. William Wrigley owned the baseball team and had them come to the island for their Spring training.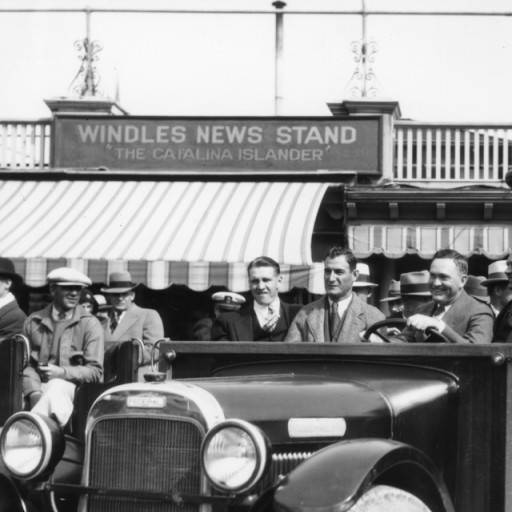 Security Pacific National Bank Collection, photo taken in 1930.
Abelardo Luis Rodriguez (man on the right), son of General Rodriguez (former President of Mexico), chose Catalina Island as a place to marry and have a honeymoon. After arriving at Catalina Island's airport with his wedding party, he and his companions were taken to Toyon Bay where he and his fiancée, actress Lucille Bremer (female in middle of photo), were married by a Justice of the Peace. Toyon Bay is two and a half miles northwest of Avalon and was once the site of a boy's boarding school. During World War II, the school site was used to house the Office of Strategic Services (which would later become the Central Intelligence Agency) where soldiers were trained in guerrilla warfare. The site is now occupied by Catalina Island Marine Institute which offers educational programs and summer camps for children.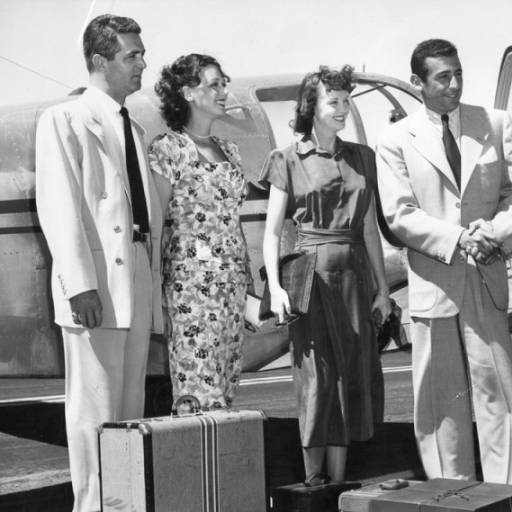 Valley Times Collection, photo dated August 6, 1948.
As the number of vehicles allowed on the island is restricted (and obtaining a permit to import a car or truck can take more than ten years), most people – particularly those staying in Avalon – walk, bike, or use golf carts to get around. Natural beauty and no traffic — now that is paradise!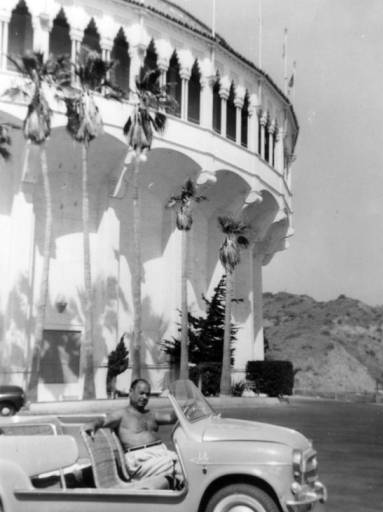 Shades of L.A. Collection, Shades of L.A.: Mexican American Community, photo taken in 1962.