No history of the City of Angels would be complete without a mention of Aimee Semple McPherson, a woman who came to Los Angeles with a mission and a message and achieved world-wide fame for both saintliness and scandal. Perusing the photo archives of the Los Angeles Public Library, you will learn of the prominent place McPherson holds in the annals of L.A.
Aimee Semple McPherson was an evangelist and philanthropist who first came to Los Angeles in 1918 at the bequest of Pentecostal minister William J. Seymour to participate in a series of revivals. At this point, Aimee had been traveling around and outside the U.S. to preach the word of the Lord for most of a decade. (In 1914, she ceased preaching to concentrate on married life and motherhood. She fell ill, became delirious, and, according to her recollection, heard voices telling her she had to preach or die.) She relocated permanently to L.A. in 1923, founded the International Church of the Foursquare Gospel, and built Angeles Temple directly across from Echo Park in Los Angeles. The Temple was McPherson's base and is still the headquarters for the International Church of the Foursquare Gospel. It was added to the National Register of Historic Places in 1992.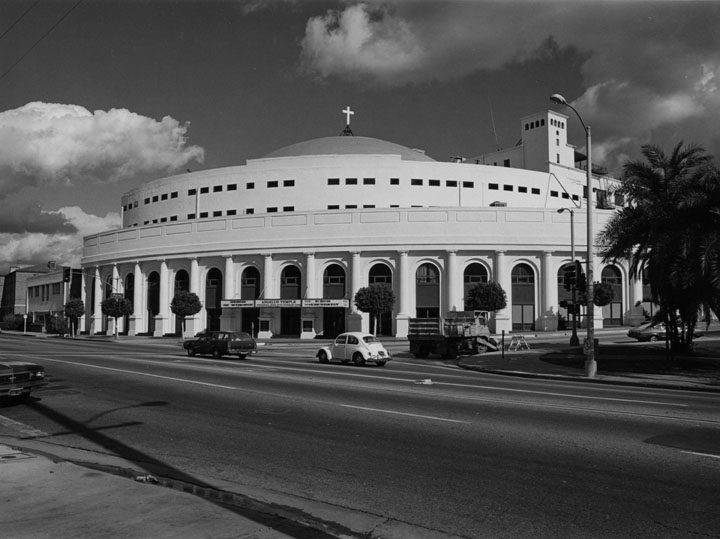 Angeles Temple (William Reagh Collection, 1982).
McPherson's sermons were well reviewed and well attended and often featured faith healing. Known as an electrifying speaker, she also had a theatrical bent, once giving a sermon on a motorcycle. A savvy businesswoman, she knew how to use the media to maximum effect, publishing magazines and books and broadcasting a radio program from her own radio station, KFSG, bringing evangelism into the modern age. She tirelessly preached a life made better with the Lord and love for your fellow man.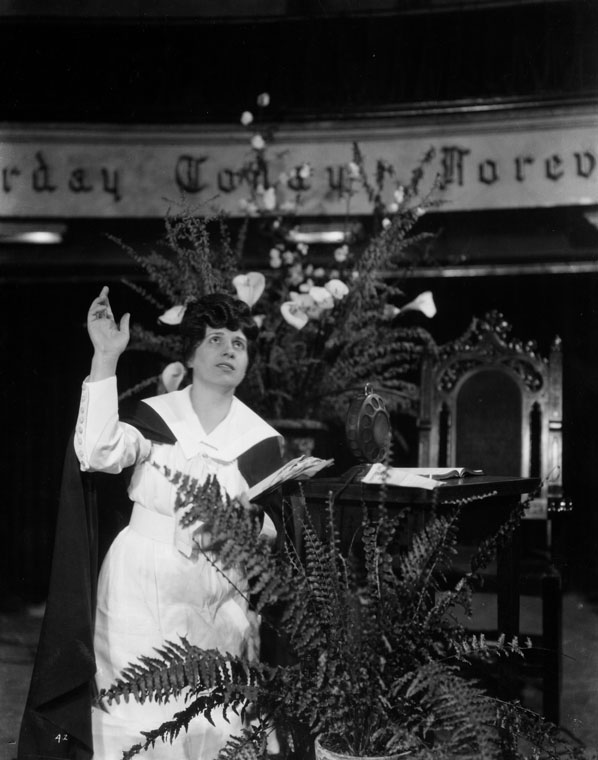 Aimee Semple McPherson preaching (Security Pacific National Bank Collection, no date given).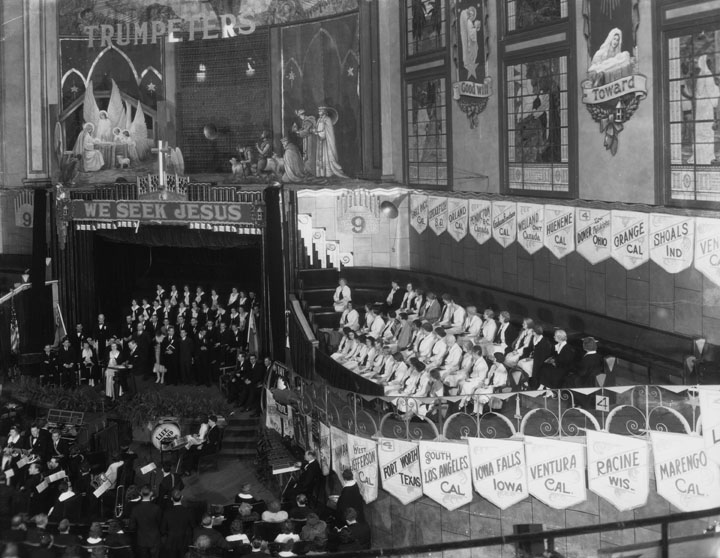 Church service at Angeles Temple (Security Pacific National Bank Collection, 1930).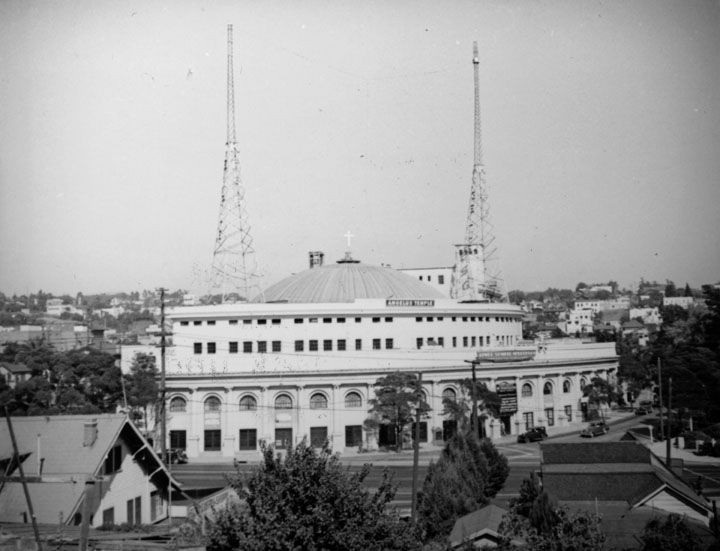 Radio towers visible on roof of Angeles Temple (Herman J. Schultheis Collection, 1937).
Having been raised by a mother active in the Salvation Army, McPherson's church placed an emphasis on charitable work. She believed it to be just as important to take care of a person's physical needs as well as their spiritual needs, and organized food drives, built a commissary, and distributed necessities from blankets to baby clothes.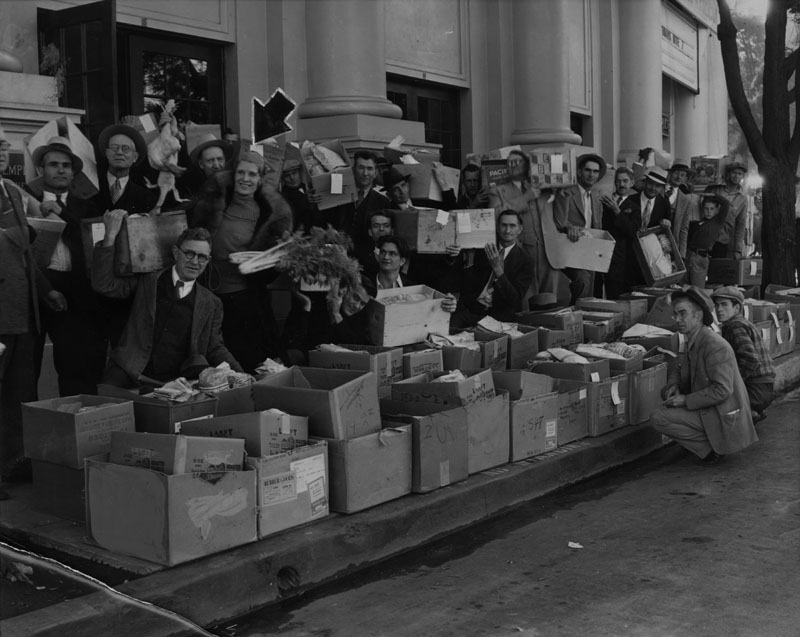 Christmas food baskets to be given to the poor by members of Angeles Temple; arrow points to Aimee Semple McPherson (Herald-Examiner Collection, 1934).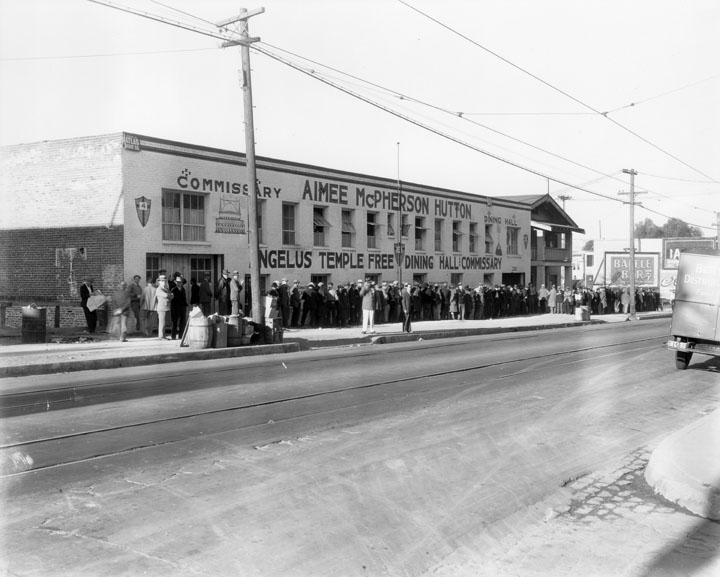 Angeles Temple dining hall that provided free meals for destitute men (Security Pacific National Bank Collection, 1932).
Always interested in making life better for the common man, McPherson supported many civic causes. One cause was the police safety campaign in 1942 aimed at making the streets of Los Angeles safer for pedestrians.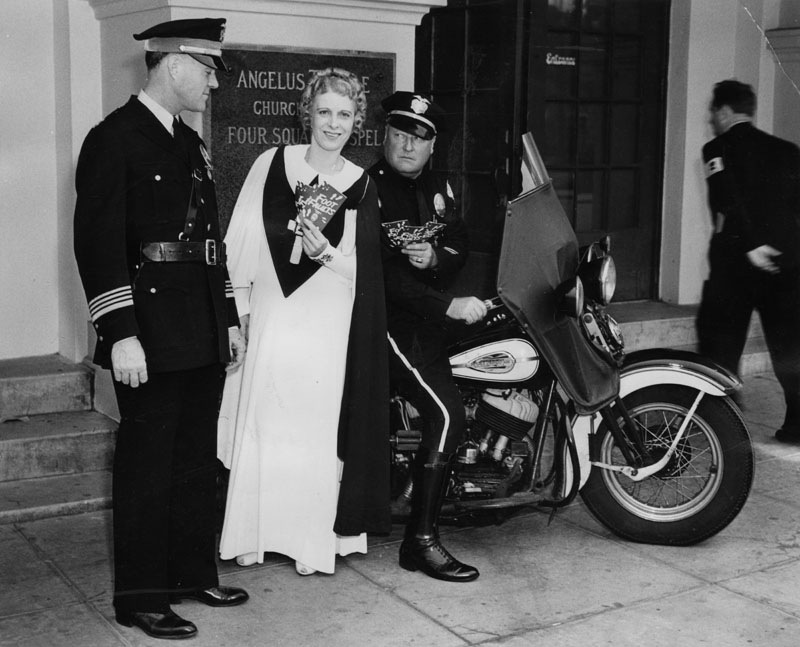 Aimee Semple McPherson pledges support for the Police Safety Campaign (Herald-Examiner Collection, 1942).
As with any public figure, McPherson was not without her detractors, controversies, and scandals. McPherson's support of the war effort in WWII alienated those who remained pacifists or uncommitted. She entertained celebrities and loved the camera, which raised eyebrows with more conservative factions. A reorganization of Angeles Temple upset many staff members, with fallout leading to McPherson's daughter, Roberta Semple, suing McPherson's attorney for slander.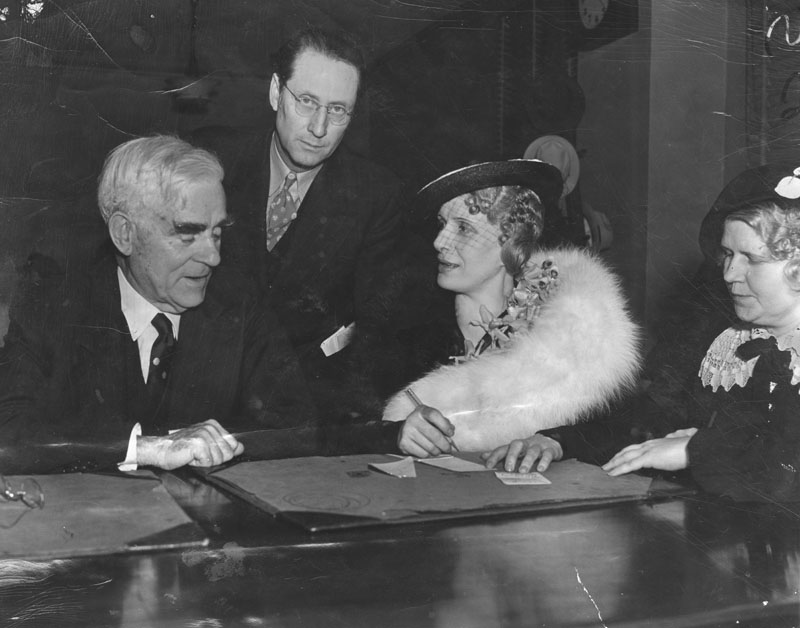 Aimee Semple McPherson in court for the defamation of character suit against Angeles Temple attorney, Willedd Andrews, a suit brought by her daughter, Roberta Semple (Herald-Examiner Collection, 1944).
McPherson's biggest scandal, however, began at Venice Beach, California, on May 18, 1926. McPherson disappeared while swimming and was believed drowned. Five days later she appeared in Mexico just across the border from Arizona, claiming to have been kidnapped and tortured before she escaped. Controversy arose when several witnesses reported seeing McPherson with a man during her five-day absence. While many welcomed her return to Los Angeles, others accused McPherson of being involved in an elicit love affair in a cottage by the sea with a married man.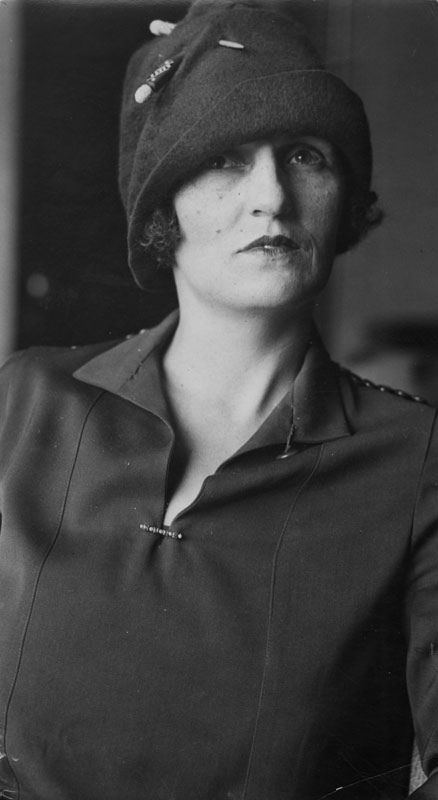 Lorraine Wiseman-Seilaff, a key figure in the Carmel-by-the-Sea story who accused Aimee Semple McPherson of faking a kidnapping (Herald-Examiner Collection, 1937).
Aimee Semple McPherson died on September 27, 1944. While the cause of death is officially listed as unknown, it was generally agreed by the coroner and other medical officials that Aimee died of an accidental overdose of sleeping pills. Her body lay in state at Angeles Temple for three days while over forty-five thousand people paid their respects and mourned her passing.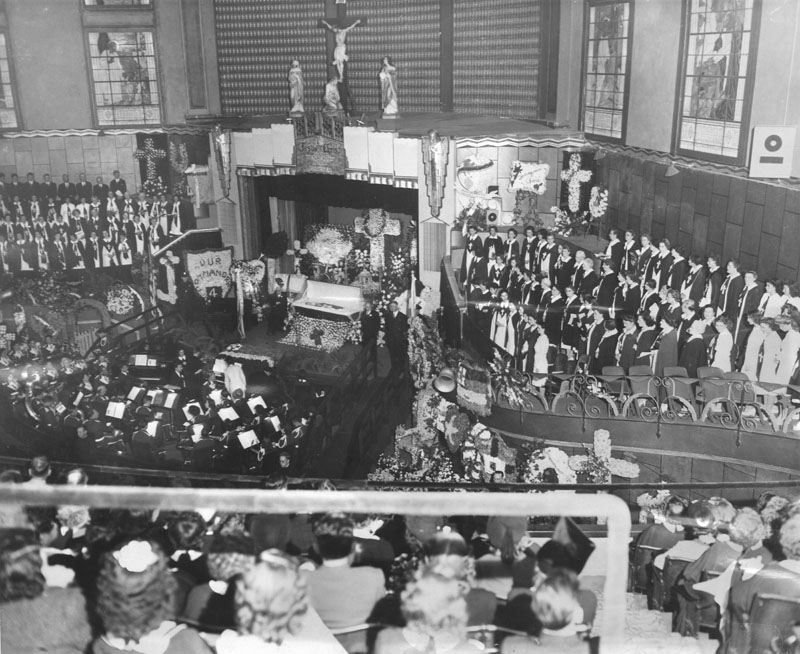 Funeral for Aimee Semple McPherson (Herald-Examiner Collection, October 9, 1944).