In an effort to end the Great Depression that had plagued the United States since the stock market crash of 1929, President Franklin Delano Roosevelt and his administration created the New Deal, a series of programs, projects, and policies that would help citizens get jobs, businesses turn a profit, banks become more stable, and the country gain a better financial footing. The New Deal spawned many agencies (known as New Deal agencies and also referred to as alphabet agencies) with missions ranging from financial reform (Federal Deposit Insurance Corporation, Farm Credit Administration, Securities and Exchange Commission) to increasing funding for the arts (Federal Theatre Project, Federal Art Project). The largest agency was the Works Progress Administration (eventually renamed Work Projects Administration) which built public roads, bridges, buildings, and other structures. The WPA employed over eight million people between its inception in 1935 and its disbandment in 1943, and almost every area in the U.S. was improved by the work of the WPA.
The WPA also produced the American Guide Series, a collection of guide books written and compiled by the Federal Writers' Project (FWP) which employed more than 6,000 writers. The guide books were printed by individual states and provided historical information on each state, descriptions of major cities, and suggestions for road trips and sightseeing. The original guide book for California was titled California: A Guide to the Golden State and was sponsored by Mabel R. Gillis, the California State Librarian. (The original and updated versions are available at the Los Angeles Public Library.)
The photo collection of the Los Angeles Public Library (now housed under Tessa) proudly features the Works Progress Administration Photo Collection which features photos taken by the Federal Writers' Project for possible inclusion into the California guide book. All photos in this blog post are from said collection. (Some of the structures pictured here have been built by WPA workers – a fact duly noted in the photo's description.)
The following two photos show the mural created by artist Edward Biberman for the post office located in the Federal Building in downtown Los Angeles. The Federal Building was being built by WPA workers. Both photos were taken in 1939.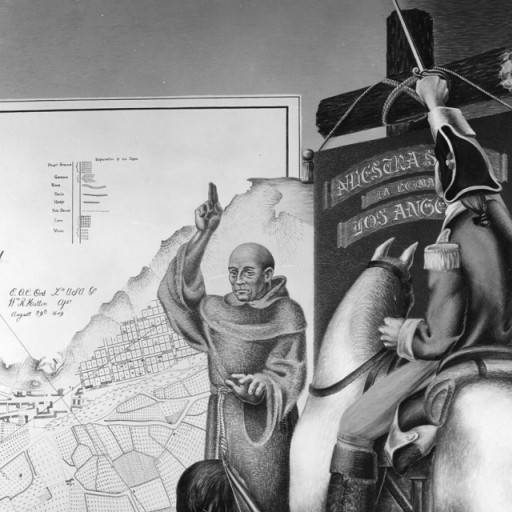 Right half of mural on post office wall.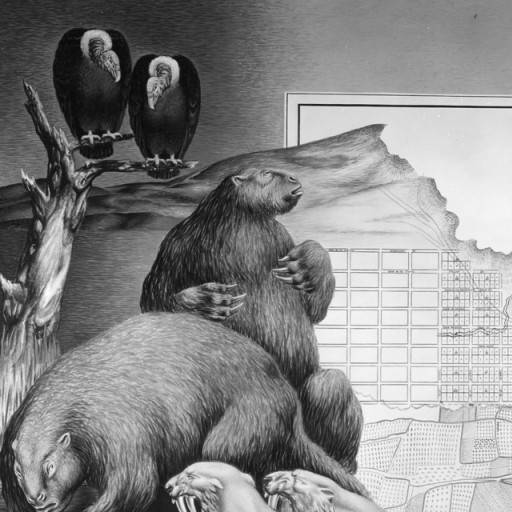 Left half of mural on post office wall.
Philanthropist Griffith J. Griffith wanted to make astronomy accessible to the public and thus designated funds in his will to build an observatory. The Works Progress Administration began work on the Griffith Observatory and Planetarium in June of 1933 and finished in May of 1935. The observatory welcomed more than 13,000 visitors in its first week of operation.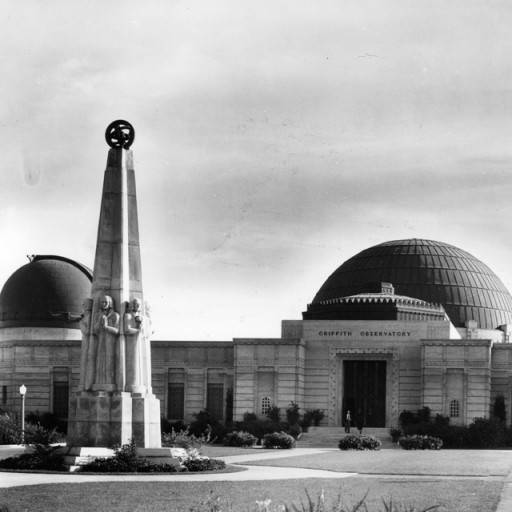 Photo taken in 1939.
St. Vincent de Paul, a Roman Catholic church built in the 1920s, was funded by local oilman Edward J. Doheny. It was located close to one of Doheny's homes in the very posh neighborhood of West Adams in Los Angeles. It has been designated Los Angeles Historic-Cultural Monument No. 90.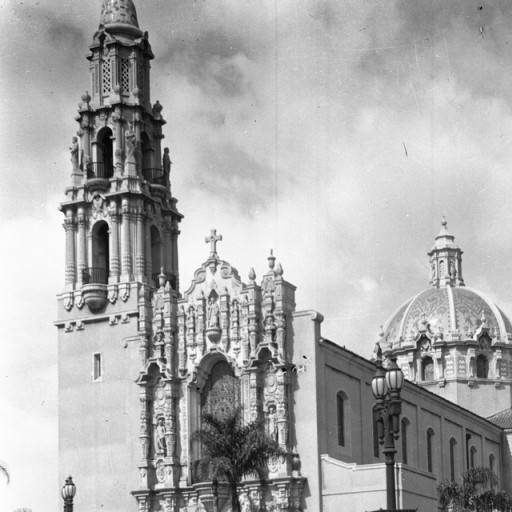 Photo taken in the 1940s. 
The Los Angeles Pet Cemetery (later renamed the Los Angeles Pet Memorial Park), opened in Calabasas in 1928. One of the oldest pet cemeteries on the West Coast, it is the final resting place for celebrity pets including Hopalong Cassidy's horse and Rudolph Valentino's dog as well as the beloved companions of more ordinary folks.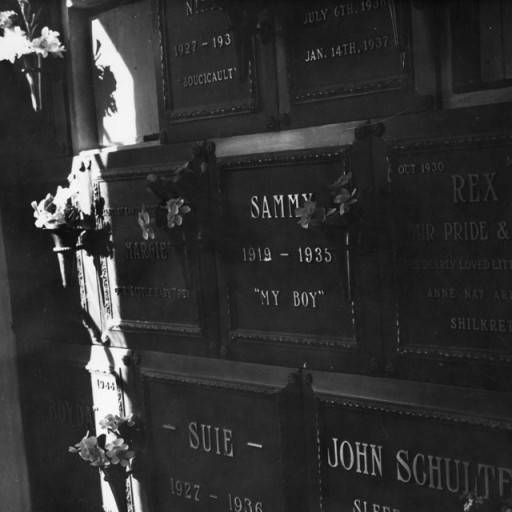 Photo taken on July 17, 1939, by photographer Burton O. Burt
who later became a newspaper columnist in Pomona.
The City of Whittier was established as a Quaker colony, and thus the Friends Church was foundational to its establishment and growth.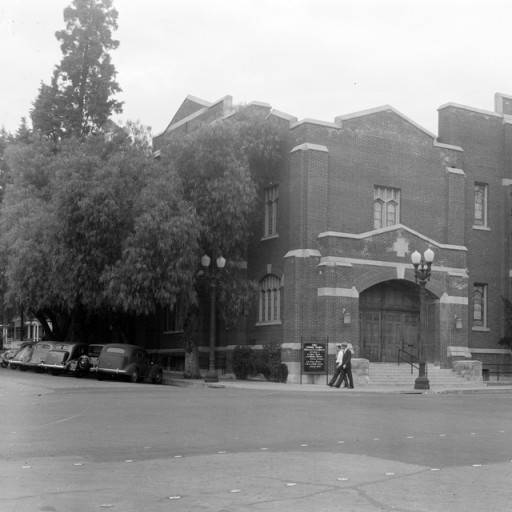 Photo taken on May 29, 1939, by Burton O. Burt.
The Villa Riviera Hotel was built in 1929 in Long Beach, California. Stately and sturdy, it was the second tallest building in the West at the time. (Los Angeles City Hall was the tallest.) Its architect, Richard D. King, won a prize for its design and gained international recognition. It has survived numerous owners and more than a few earthquakes with the only damage being a few easily repaired cracks.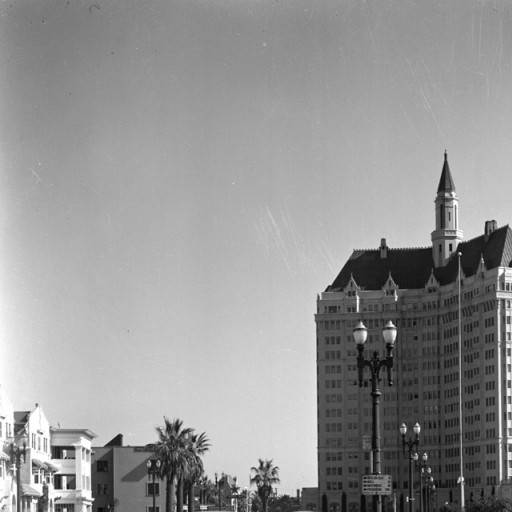 Photo taken in 1937.
RKO Radio Pictures Studio, one of the big five studios of Hollywood's Golden Age, advertises the film "Victoria the Great" which featured Anna Neagle and Anton Walbrook.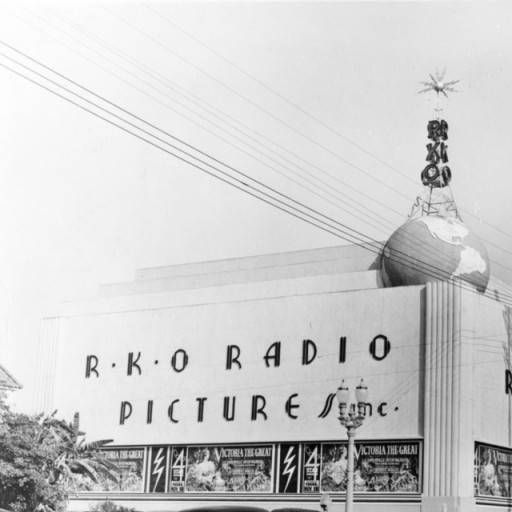 Photo taken in 1940.
Vasquez Rocks, an area located in the Sierra Pelona Mountains in the Antelope Valley in northern Los Angeles County, was used by bandit Tiburcio Vasquez as a hideout when evading law officials. Many people have visited the natural park with its odd rock formations and caves to hike, climb, shoot films, and look for any treasure left behind by Vasquez's gang.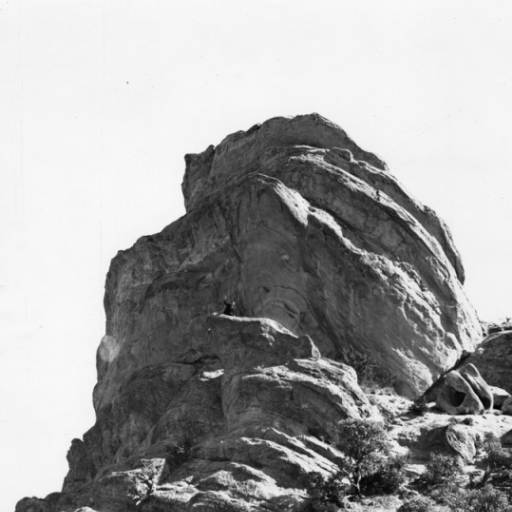 Photo taken on April 22, 1937.
The Biltmore Hotel in downtown Los Angeles was built in 1923 and was the largest hotel west of Chicago at the time of its opening. Located across the street from Pershing Square, it served as the "nerve center" for the 1960 Democratic National Convention.
Photo taken in 1937.
From its completion in 1928 until 1964, Los Angeles City Hall was the tallest building in Los Angeles. City Hall has classical details such as a Greek main entrance and Romanesque arcades at its base and the modern touch of a beacon light on top.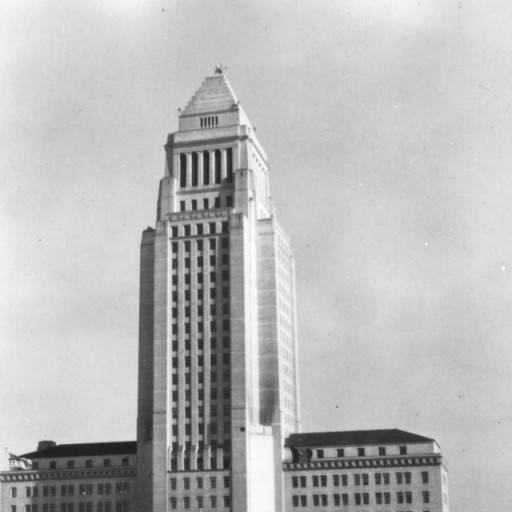 Photo taken in 1939.
The Bernheimer Estate in Pacific Palisades, designed by brothers Adolph and Eugene Bernheimer, resembled a pagoda and housed an extraordinary collection of Oriental art including priceless antiques, warrior helmets, silk tapestries, and beautiful wood carvings. The Bernheimer Gardens flourished as a tourist attraction until the outbreak of WWII. Landslides ruined the estate and it was demolished. The Bernheimer brothers built another Japanese-style estate in Hollywood which featured 30,000 species of trees, shrubs, flowers, and other plants plus koi ponds, aviaries, and monkey cages. That hilltop property was eventually sold and became the Yamashiro restaurant.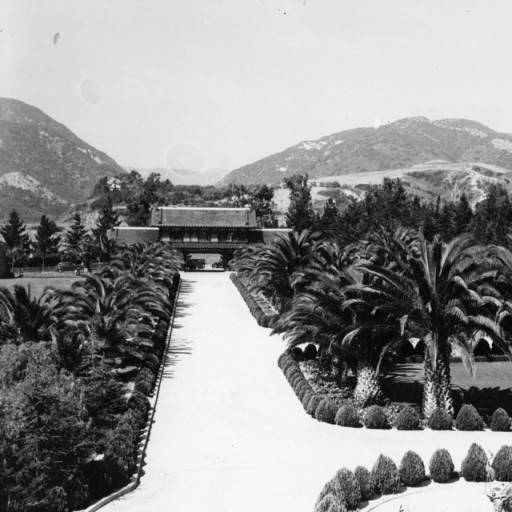 Bernheimer gardens with residence in background. Photo taken in 1939.
The Santa Catalina Bird Park on Catalina Island covered eight full acres of land. Built in 1928, it was known as the "world's largest birdcage" and housed 8,000 different species of rare and exotic birds from all over the world. The Park was an extremely popular attraction, but travel restrictions to Catalina Island that were imposed during WWII caused attendance at the Park to suffer. Alas, the Park never regained its pre-war vitality and closed its doors in 1966. All the birds were transferred to the Los Angeles Zoo.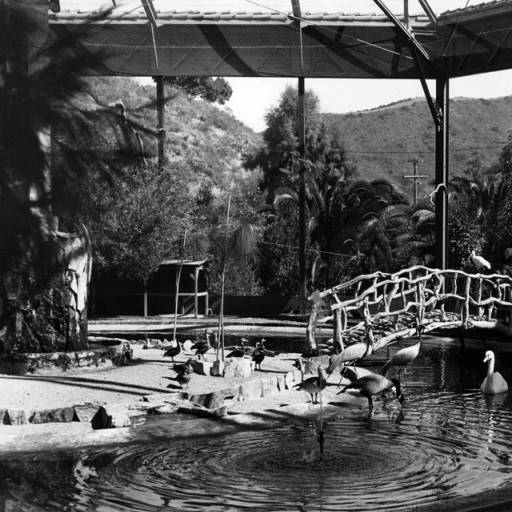 Photo taken March 18, 1940, by Alma Overholt.
Sardi's Restaurant in Hollywood, the sister of New York City's Sardi's, opened on Hollywood Boulevard in 1928 and became the favorite restaurant of Charlie Chaplin, Marlene Dietrich, Joan Crawford, Maurice Chevalier, and other celebrities plus regular folks looking for fine dining in an elegant atmosphere.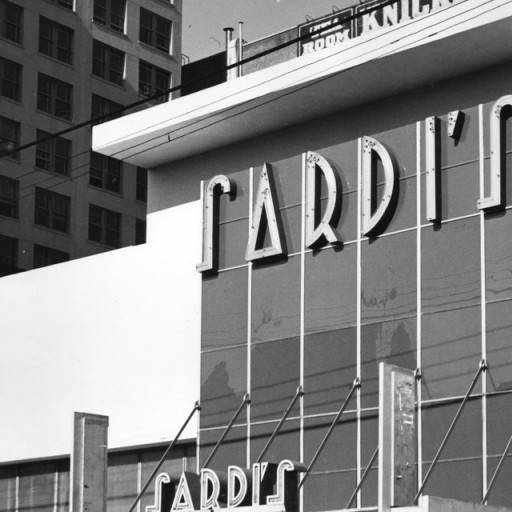 Photo taken in 1937.
The mural titled "Orange Harvest" was painted by Frank Bowers while he worked for the Federal Art Project (a division of the Works Progress Administration). The mural was painted in the California Citrus Exchange Building (also known as the Southern California Fruit Exchange) which was originally located in downtown Los Angeles.
Photo dated September 22, 1937.
Scripps College, a liberal arts college for women in Claremont, California, was founded by philanthropist Ellen Browning Scripps, who considered the college an experiment in education and desired a setting with an artistic connection between buildings and landscape. Scripps College is frequently described as one of America's most beautiful college campuses and is listed in the National Register of Historic Places.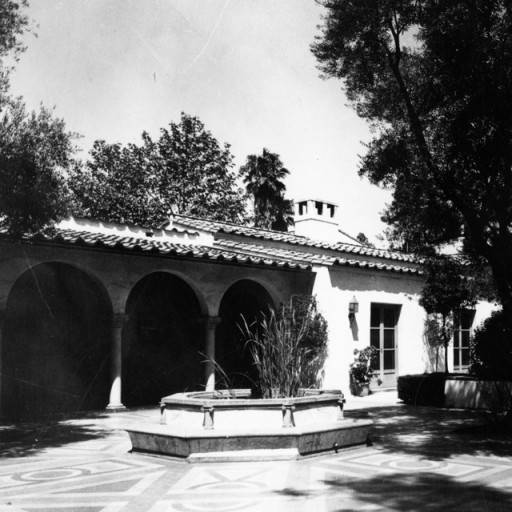 Photo dated: August 10, 1937.
The Mission San Juan Capistrano was built in 1776, one year after Paul Revere's ride. The grounds feature beautiful gardens including Garden of the Padres which is pictured here.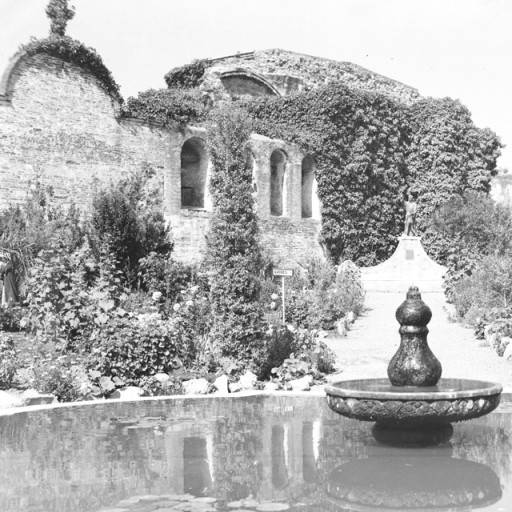 Photo taken in 1937.
The First Unitarian Church of Los Angeles was built and dedicated in 1927, with the cornerstone being laid on September 18, 1927, in a ceremony officiated by the President of the American Unitarian Association, Samuel A. Eliot.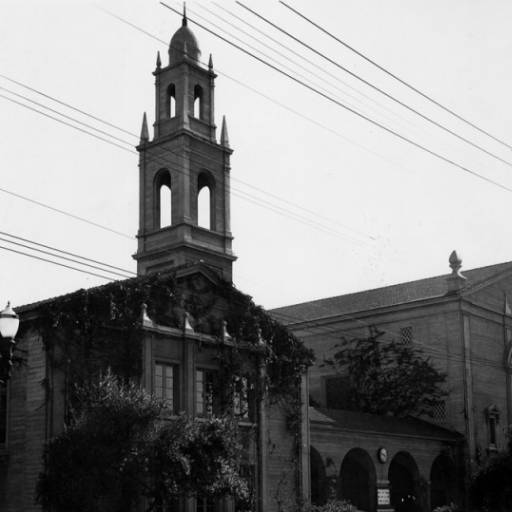 Photo taken July 21, 1937.
MacArthur Park was created in the 1880's under the name Westlake Park. It featured tropical gardens and a large lake. It was later renamed in honor of General Douglas MacArthur.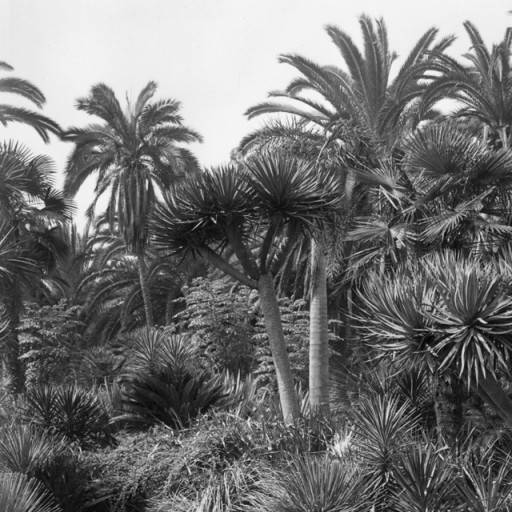 Photo taken on June 21, 1939, by Burton O. Burt.
Built in the 1920s, this Spanish-style building was first owned by actor Fred Thomson. It served for a few years as a studio commissary and space for make-up and wardrobe departments for neighboring studios. It also housed shops such as Howard Greer Couturiers and Travis Banton Clothiers.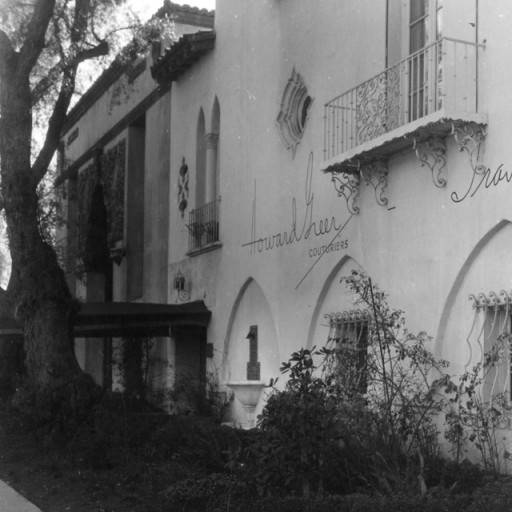 Photo taken in 1935, 50 years before the building would become the Cat & Fiddle Restaurant.